Read time:

1:30min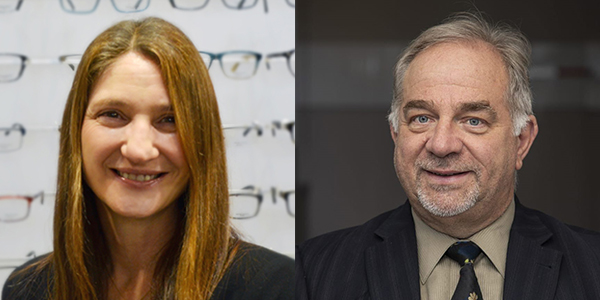 Co-investigators, Professors Fiona Stapleton and Michael Kalloniatis
By Helen Carter
Journalist
Researchers and industry are collaborating in Australia to develop a 'revolutionary artificial intelligence platform' to help optometrists improve the accuracy of diagnosis, management and referral.
The technology will combine an optometrists' expertise with AI capabilities that analyse multiple patient eye scans and medical history data. It also aims to lead to earlier disease detection and prevention of vision loss as well as assist in patient management decisions.
Co-investigator, Professor Fiona Stapleton told Optometry Australia: 'Eye care professionals will embrace this technology as it will make the system more effective and efficient.
'The optometrist has always had access to imaging, clinical data, patient history and demographics but this new platform will use AI capabilities to analyse and synthesise the full data to support more accurate management at the primary point of care.
'It involves training the AI system to consider and synthesise the analysis of multiple images and other important aspects of patient data to be able to guide the primary care practitioner in patient management.
'There is good evidence that AI can be used to develop algorithms for detecting diseases like age-related macular degeneration (AMD) and diabetic retinopathy.
'A unique feature of this project is that the platform will combine patient data such as age and other risk factors with the scans and provide a superior algorithm to help guide primary care clinicians in patient management.'
Professor Stapleton, Scientia Professor at UNSW School of Optometry and Vision Science, and Centre for Eye Health Director Professor Michael Kalloniatis are partner investigators in the project. CFEH is the major partner.
Earlier detection to prevent vision loss
Professor Michael Kalloniatis said inappropriate management at the primary point-of-care was a well-established problem that resulted in poor patient outcomes and unproductive use of limited specialist services.
'AI algorithms can provide guidance to clinicians particularly in early diagnosis of eye disease, thereby reducing the significant false positive referrals to public hospital eye departments and also help detect disease early before irreversible vision loss occurs,' he said.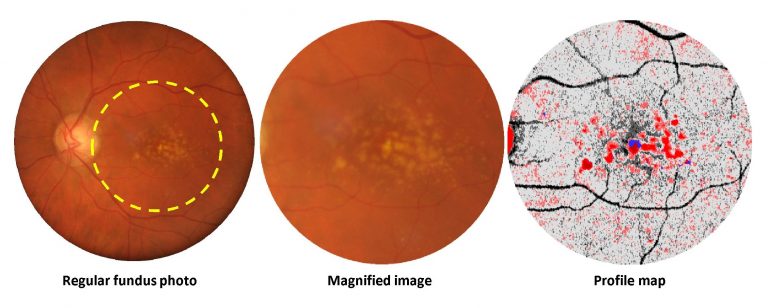 Regular fundus shot, left, next to classified images from Angelica Ly, Centre for Eye Health. Although not related to machine learning, they demonstrate the power of the computational approach in assessing ocular images.
Industry partner, global technology company, Big Picture Medical (BPM) developed a platform designed to link primary care clinicians such as optometrists to secondary care such as hospital departments. BPM wanted to improve its platform by including AI to guide the clinician in patient management, including referral.
Reduce false positives
BPM worked with Moorfields Eye Hospital in London to look at referrals to a medical retina clinic and had published high levels of false positive referrals from optometrists.
'One of the key goals is to reduce unnecessary referrals and improve patient outcomes and also include communications between all health care providers,' Professor Stapleton said.
'RANZCO (the Royal Australian and New Zealand College of Ophthalmologists) and Optometry Australia have identified that AI can improve accuracy of diagnosis, lead to better patient outcomes and is likely to play a major role in eye care in the future.'
'Having an integrated and accessible platform will likely reduce false positives and result in savings.
'The approach also lends itself to telemedicine, to identify half the glaucoma patients who are currently undiagnosed and unnecessarily losing sight, and generate new novel data to manage AMD.'
She said this type of system was already being used in other areas of health care such as breast cancer screening.
Much of the data will be from retrospective trials from the Centre for Eye Health, and prospective trials will likely start in 2021 to further develop the algorithm.
'It's about optimising the interface and understanding how best this can be used in practice. It is likely to involve focus groups of optometrists from diverse regions and types of practice in Australia and China,' she said.
Other research partners are UNSW Sydney's School of Computer Science and Engineering, the Australian Institute for Machine Learning at the University of Adelaide, Menicon Pty Ltd and the Brien Holden Vision Institute. The federal government has allocated Cooperative Research Centre Project (CRC-P) funding to this project.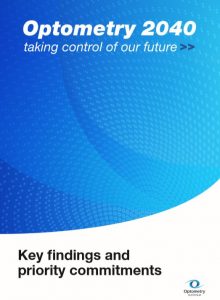 Optometry Australia's Optometry 2040 report says most forms of future technology are supported by different versions of artificial intelligence including app-based disease monitoring, wearable technologies, virtual consultations and automated, tech-enabled examinations available in the home.
The report mentions AI in the outline of trends shaping the future of optometry:
'Almost all of the trends driving optometry to its futures are influenced by emerging technology. The enabling potential of innovative clinical and communicative technologies can seem limitless.
'New technology, including AI applications, will continue to improve the services available for prevention, detection and management in eye health. Embedding new technologies in practices will increase efficiency with patients, reducing consult times and enabling the optometrist to see more patients, or spend more time with patients with complex needs.
'Increased availability and high utilisation of new technology could redirect the focus of the consult away from clinical testing and towards developing personalised, tailored care plans for each patient.'
Filed in category:
Patient care & management
,
Practice equipment
,
Workplace
Tagged as:
Awards - honours - grants-bursaries
,
Future
,
Patient management
,
Practice equipment