Read time:

1:30min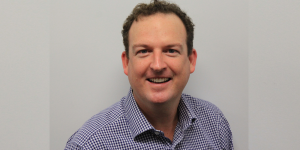 By Optometry Queensland/Northern Territory
AVC speaker ophthalmologist Dr Brendan Cronin, pictured, is the first to admit that vision science is not the easiest of fields to keep abreast of.
'Keeping up to date with new procedures and technologies in all areas of eye care is really hard,' he acknowledges. 'Our industry moves so fast.'
In the year 2020 the stakes are higher than ever to ensure that innovation in vision-related problems thrives.
'Optometrists all over the world have been waiting for this year, as it has become the un-official year of the optometrist,' says Melinda Toomey, President of Optometry Queensland & Northern Territory.
Forming an integral part of the Education Committee for OQNT, Ms Toomey leads the development of programming for professional development events, including the Australian Vision Convention.
Innovative professional development at the forefront of 'Vision Beyond 2020'
'Our theme became 'Vision Beyond 2020' to represent that we all want our patients to see their best, and to look to the future of eye care and optometry' continues Ms Toomey. 'In the brief sent to [convention] speakers, they were asked to consider innovative approaches to eye and vision problems for 2020 and beyond.'
Dr Brendan Cronin is one such speaker, presenting on the innovative procedure that can deliver rapid visual rehabilitation to patients who traditionally would have to undergo corneal transplant procedures. He has an acute understanding of the need for a forum which enables optometrists to efficiently learn about the latest procedures that their patients can benefit from.
Working in the field of corneal cross-linking, Dr Cronin has spent a recent phase of his career working with cutting edge technology that completely changes how this treatment is applied, and the effect it has on a patient's vision.
'I can't wait to share how some of these new procedures can benefit the audiences' patients,' he said.
Dr Brendan Cronin is one of 25+ world-class industry speakers presenting their research and hands-on workshops this year at AVC, which offers up to 45.75 points, up to 3 manufacturer/supplier points and up to 27 therapeutic points.
Hands-on learning at AVC's core
Significant research on learning concedes that hands-on approaches enable better retention and application of on-boarded information, which is why interactive workshops feature so integrally to AVC's program. Giving delegates the agency to decide which topics figure highly in their own professional journey is part of AVC's intention to hand over ownership of the conference experience to each delegate.
Aiming to provide evidence-based content with real-world applications,  MsToomey says the hands-on nature of the workshops at AVC means members can start implementing what they have learned as soon as they return to their practice.
Interactive learning clearly resonates with AVC delegates, evident in this year's workshop places being close to exhausted.
With registrations closing at midnight on 29th March, those wanting to secure one of the remaining places in workshops need to register quickly.
Kid-friendly is part of AVC's DNA
One way of ensuring AVC delegates can soak up the full benefit of the weekend's plenaries and workshops is through providing high quality of childcare. As always, in April delegates can take advantage of the specialised, complimentary kids' program which combines Marriott Resort & Spa's onsite kids' club with qualified childcare professionals.
This year AVC has also partnered with Currumbin Wildlife Sanctuary to offer not only a night of entertainment for the adults, but also for the kids with a special kids' dinner ticket. Covering kid-friendly (but still delicious) menu items, kids activities and a special dining area, the reduced-price kids' package rules out the search for a local babysitter and offers an enjoyable way to bring work and family life together.
For first-time conference attendees, the decision to invest in this kind of CPD can be a big one! However, whether you're an AVC newcomer or a long-standing annual delegate, if there's one year of AVC not to miss, it would have to be the 2020 edition.
Optometric milestones like the year 2020 only come around once, and the Australian Vision Convention is set to be suitably memorable. To register for AVC, the conference dinner, breakfast lectures, and interactive workshops, head to the website: http://bit.ly/avc2020.
Filed in category:
CPD, conferences & events