Read time:

1:30min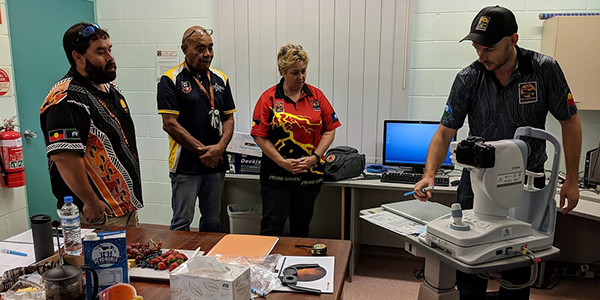 Dean Milner, far right, training health workers.
By Helen Carter
Journalist
Optometrist Dean Milner loves working remotely in the Australian bush and has recently added another string to his bow by training primary health care workers in retinal camera use.
Dean has done two stints teaching them how to take photos in diabetes patients, triage images and look for red flags requiring referral to optometrists, ophthalmologists or GPs.
The work is part of The Provision of Eye Health Equipment and Training (PEHET) consortium-led program funded by the Department of Health. The program aims to increase rates of annual retinal checks for Aboriginal and Torres Strait Islander people with diabetes via MBS item number 12325 – Retinal photography with a non-mydriatic retinal camera.
The Consortium consists of five organisations co-led by Brien Holden Vision Institute and the Australian College of Optometry, working with the Aboriginal Health Council of South Australia, the Centre for Eye Health, and Optometry Australia.
Optometry Australia's Policy and Advocacy Manager Sarah Davies said PEHET aimed to embed eye health into the workflows of existing health services.
'This will result in appropriate referral pathways, ensuring more Aboriginal and Torres Strait Islander people with diabetes receive a timely assessment from an optometrist,' she said.
Brien Holden Vision Institute provides the Consortium infrastructure to train the workers. As of July 2019, 140 cameras have been installed nationwide or were in transit to a location to be installed, and 547 primary health care workers had completed Course 1: Retinal Camera Training for Primary Health Workers which involves a two-hour on-line course plus on-site face to face training at 108 sites.  An additional 113 have completed Course 2: Retinal Image Triaging training including 85 GPs and 28 primary health care workers. The plan is for 155 cameras in action by June 2020.
The health workers do online training developed by the Consortiums' Training and Community Engagement Working Group before optometrists such as Dean give hands on instruction.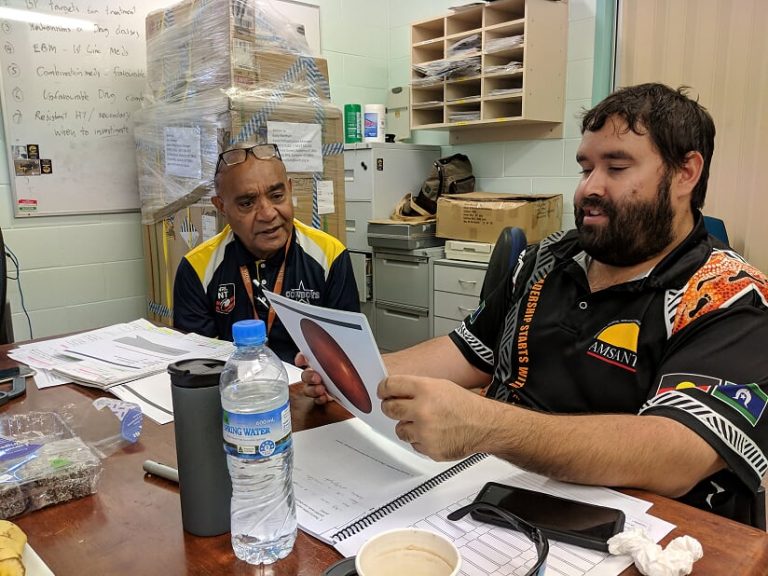 'I provide one day of training in a group session demonstrating how to use the camera and explaining what to do and the health workers then have a go,' Dean said. 'A follow-up session a few weeks later checks they are going okay and answers questions.
'The health workers vary from diabetes educators to nurses, GPs and Aboriginal health workers. It's also a chance to show our skills as optometrists and build relationships with health colleagues.'
Dean practises between the Katherine Region, Northern Territory within three Aboriginal Medical Services, Katherine Hospital, and the East Kimberley, Kununurra, Western Australia, and is looking for an optometrist to help out.
He delivered retinal camera training for health workers in Katherine in 2018, and in July 2019 at Sunrise Health Service, the second largest Aboriginal Medical Service in the NT with nine remote clinics east of Katherine in July 2019.
Great opportunity for diabetes training
'I have been lucky to work with optometrist Anna Morse and the team at the Brien Holden Vision Institute and had the opportunity to deliver camera training within Wurli Wurlinjang Health Service, Katherine in 2018,' Dean said.
'It was a great opportunity to train key staff within Wurli about diabetes, diabetic retinopathy and required interventions including improved diet, HBA1C control, anti-VEGF injections and platelet rich plasma injections for foot ulcers in a timely fashion to maintain or improve the quality of life for Wurli clients and visiting countrymen.
'I prefer to do training with Indigenous workers helping me because it adds to cultural safety so I work with Indigenous nurses Crystal Browne and Ayesha Kay. Local workers have local knowledge and know the patients.
'My main work with the project is to provide suitable staff within Wurli and the Katherine region with education regarding the relationship between diabetes and an individual's eye health. Once this is established, Aboriginal Medical Service (AMS) staff are taught how to use retinal cameras, triage images according to NHMRC diabetic retinopathy guidelines and refer or review accordingly.
'Staff include Registered Aboriginal Health Practitioners, diabetes educators, nurses – particularly within the chronic disease unit and any others who are interested in learning.'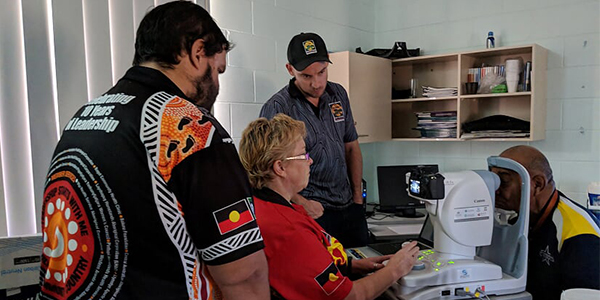 Dean encouraged optometrists to become involved providing they are local or in the area regularly and prepared to provide support after training such as leaving a mobile number or email address to answer questions or troubleshoot, or to assist with grading an image and triaging a patient over the phone.
Optometrists are paid to deliver initial and follow-up training.
Importance and benefits of program
Dean said the program was important because if delivered consistently by the right staff, it would identify patients at risk of vision loss sooner.
'Although loss of vision due to diabetes is relatively low compared to the incidence of vision loss due to uncorrected refractive error and cataract in remote Australians, for those who do experience retinopathy-related vision loss, it is often quite significant simply due to the time it takes to identify the cause and access intervention,' he said.
'Treatment is usually regular anti-VEGF injections by travelling to Katherine which results in poor patient compliance.
'This really reduces the quality of life for these individuals and impedes their ability to participate in normal life, made worse by limited access to low vision services and support in remote communities.
'Diabetic patients tend to demonstrate poor self-care and medication compliance and attendance is often a significant factor. This is where AMS deliver fantastic holistic care and follow strict recall/review systems within each clinic. With the awesome help from local staff including Aboriginal liaison officers and drivers, attendance rates improve dramatically.
'There are terrific staff within the Katherine region AMS' who will help make the retinal camera program a part of their holistic approach to a patient's well-being with hopefully, improved regular retinal checks for diabetics.'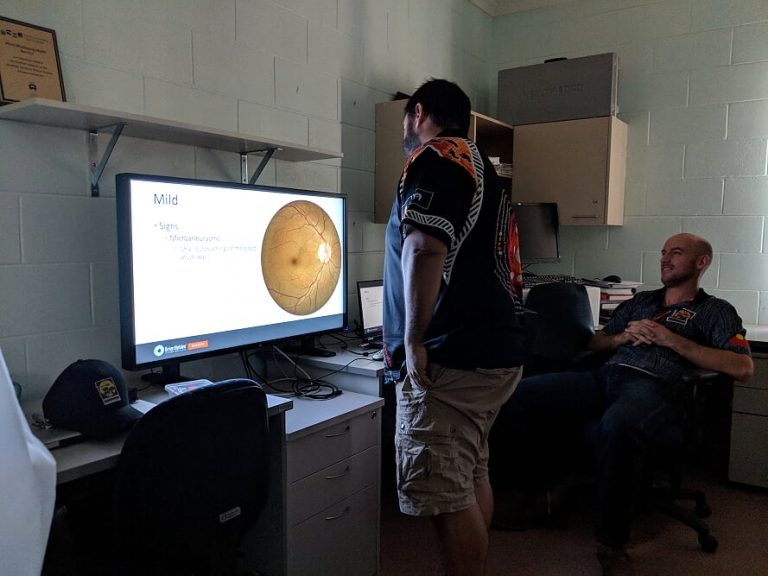 Dean believes that healthcare delivered in a remote/telehealth fashion will play a significant role in future health services across Australia.
'This is really well done in remote parts of Canada, as demonstrated by Queensland optometrist Lisa Penrose's Churchill Trust Fellowship research,' he said.
'More locally, ocular telehealth is performed superbly by the Lions Outback Vision group and should be a model for a lot of optometrists and ophthalmologists working in rural/remote Australia.
'With the help of the Top End Eye Health co-ordinator, Madeline Moore, and Specialist Outreach Coordinator Rosemary Copeland, we are trying to deliver more ophthalmological care via telehealth. I see the retinal camera project as a part of that.'
Brien Holden Vision Institute Acting Australia Programs Manager – Public Health, Colina Waddell, said no more volunteer trainers were currently needed but optometrists who visit locations that have cameras could continue to work with primary health care workers  to help embed the camera into their everyday process and ask them to take photos while the optometrist mentored them on site.
'It's all about primary health care workers being confident taking photos of a patient when the optometrist is not at the clinic and feeling confident to triage the photos,' she said.
'If the visiting optometrist has a relationship with the local GP, encourage the GP to triage and refer patients to the optometrist ready for the next visit.  If visiting optometrists would like education materials used during this program to continue mentoring, they can contact us. I also encourage visiting optometrists where possible to advocate for upskill funding as part of their VOS funding,'
Optometry Australia has developed a Guide for GPs on the use of digital retinal photography to support them in undertaking an appropriate screening and to ensure they know when referral to an optometrist for a comprehensive examination is indicated.
We encourage optometrists to discuss these item numbers with their local GP to consider where optometrists could assist with the use of camera training, and retinal image grading and assessment. In some cases, an ongoing private commercial arrangement can be established between the optometrist and GP, including a fee for the optometrist to provide these services.
Optometry Australia has also developed a Q and A on new retinal photo MBS item for members.
Filed in category:
Members & member initiatives
,
Patient care & management
,
Practice equipment
Tagged as:
Diabetes
,
Indigenous eye health
,
Practice equipment
,
Remote & rural optometry