Read time:

1:30min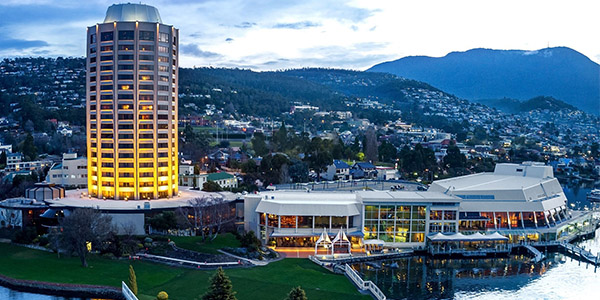 By Helen Carter
Journalist
Lid conditions, especially blepharitis, are a common cause of phantom foreign bodies in the eye, but neck problems are a main cause of phantom symptoms, ophthalmologist Dr Gordon Wise will tell TLC.
Dr Wise will discuss the common problem of phantom foreign bodies and what else masquerades at Tasmania's Lifestyle Congress (TLC 19) from August 23 to 25, 2019 at Wrest Point Casino, Hobart. He will discuss real and phantom foreign bodies at an 8pm session on Friday, August 23.
The founder and senior ophthalmologist at Tasmanian Eye Clinics said phantom foreign body symptoms were almost exclusively cervicogenic, originating from the cervical spine or anatomical structures in the neck, such as nerves or muscles.
'It is common and often missed. C2 and C3 pain is often referred to the retroorbital area. The pain is characteristic, has a burning quality, and is sometimes typified as a foreign body feeling in the eye,' he will tell TLC.
'The reason is the close anatomical association in the brain stem between cervical roots and the spinal root of the fifth nerve, and convergence between the pathways.'
Dr Wise said optometrists could tell if something in the eye was causing the foreign body feeling by using the benoxinate test because if the patient still has the sensation after the anaesthetic drop is applied (ie numbing the eye makes no difference to symptoms), the cause must be cervicogenic.
'If there's nothing physical causing the foreign body feeling, then a common cause is neck problems. Convergence (between pathways of the fifth nerve) confuses the brain as to where the sensation is coming from. It's probably a bit controversial but there's evidence in the medical literature,' he told Optometry Australia.
In such cases, he suggested the patient be referred for neck treatment, for example to a physiotherapist.
Blepharitis and lid conditions common causes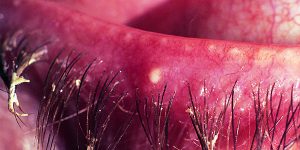 Blepharitis 
In other cases, ocular conditions could cause the feeling of having something in the eye, he said.
'All lid conditions from minor ectropions to blepharitis, trichiasis and entropia can be described by the patient as phantom foreign bodies,' Dr Wise said. 'The commonest not so obvious cause is blepharitis with evaporative dry eye as a consequence. Aqueous dry eye syndrome also gets a mention as a common occurrence.'
He said dellen or limbal ulcers could also cause a foreign body sensation, as could recurrent erosion syndrome post injury, usually from an object with an irregular edge such as a leaf or twig with epithelial loss to different depths in the cornea.
At TLC Dr Wise will review the common scenario of phantom foreign bodies, explore diagnostic alternatives including referred pain, and come to a decision in how to manage this problem. He will explore other reasons for symptoms and relate symptoms to anatomy and physiology of ocular pain.
'I will broadly discuss the various scenarios that occur when somebody says, "It feels like I have something in my eye,"' he said. 'This can mean almost anything. What to some people is a foreign body sensation, others will describe as burning, dryness, discomfort or irritation.
'There is enormous variation in pain threshold between patients and the symptom can mean almost anything and frequently does.'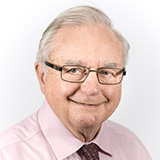 Dr Gordon Wise
Dr Wise said surface disturbance was interpreted as pain varying from a dry feeling, irritation and in a localised form as a foreign body feeling.
'The more central the irritation the worse the sensation,' he will tell TLC. 'Central corneal irritation is often interpreted as a foreign body.
Dr Wise said always getting the story about the foreign body could save embarrassment and occasionally a disaster. The patient 'always knows it is under the top lid' but foreign bodies sometimes hide in the upper or lower canaliculi, typically a lash, or the upper or lower lid margin, such as a wooden splinter driven end-on.
'This is very hard to find and sometimes the only way is to wait until a reaction occurs around the foreign body and the site becomes obvious as it becomes partially extruded,' he said. 'If hidden in a medial or lateral pingeculum, there is lots of vascularisation and reactive oedema.'
Other TLC events
A practice support seminar, relevant for practice management staff and optical dispensers, has been introduced to TLC. Australasian College of Optical Dispensing is providing the seminar on August 24, concurrently with the clinical conference. Optometrists can also attend the seminar and receive non-clinical CPD points.
Optometry Australia's national president Darrell Baker will discuss the next steps following its Optometry 2040 project at 4.30pm on Sunday, August 25.
The 4th annual Early Career Optometry National Think Tank 2019 will occur before TLC on Thursday, August 22 at the casino. ECO representatives from all state divisions and Optometry Australia representatives will attend. After the Think Tank, participants will attend a full day governance session, which aims to expand their governance and leadership skills.
TLC registration closes on Wednesday, August 21.
Filed in category:
CPD, conferences & events
,
Patient care & management
Tagged as:
Other eye diseases
,
Patient management
,
TLC