Read time:

1:30min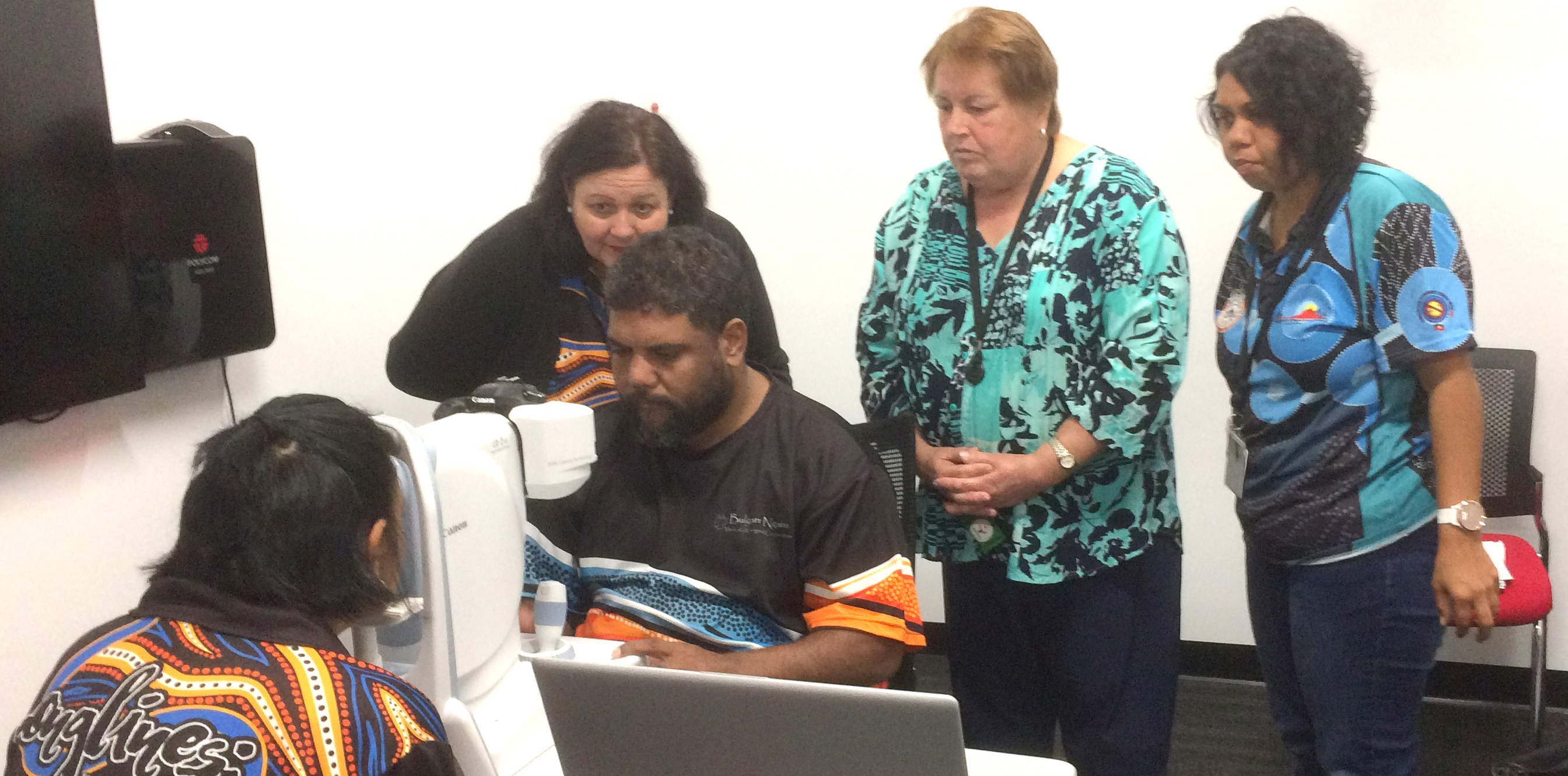 Aboriginal Health Workers receiving practical training to use the newly installed retinal camera in Bulgarr Ngaru Medical Aboriginal Corporation – Richmond Valley, Casino NSW. Photo: Brien Holden Vision Institute.
_____________________________
By Helen Carter
Journalist
New federal government funding will boost the number of sites to receive retinal cameras, and training for health care professionals to operate them, from 105 to close to 150 nationally.
Funding for the first 105 sites was announced in 2017.
The new funding of $2.5 million from the Australian Government, announced in August, will expand the original program, taking the number of sites with cameras and training to nearly 150.
The Provision of Eye Health Equipment and Training program is currently rolling out retinal cameras, training and support for health services in 105 sites and expects the rest to be rolled out by June 2020.
Optometry Australia welcomed the announcement, stating it would result in appropriate referral pathways to ensure more Aboriginal and Torres Strait Islander people with diabetes would receive timely assessment from optometrists.
An interactive map shows funding from the initial investment, revealing 105 locations where the equipment is being provided with a focus on rural and remote centres and facilities providing care for Indigenous patients. These cameras are being released in three rounds of 35 locations. Orange dots show locations receiving a camera and green dots are locations where training has occurred.
Recipient locations are determined by the Commonwealth Department of Health, following the National Eye Care Equipment Inventory Project conducted by The Fred Hollows Foundation.
The program is co-led by Brien Holden Vision Institute and the Australian College of Optometry, working with the Aboriginal Health Council of South Australia, Centre for Eye Health, and Optometry Australia.
The move means more communities across all states and territories will receive the equipment, training and mentoring for primary health care professionals who will be using the cameras to support basic screening for diabetic retinopathy in primary care settings.
The project aims to increase rates of annual retinal checks for Aboriginal and Torres Strait Islander people with diabetes, via MBS item number 12325 – Retinal photography with a non-mydriatic retinal camera.
A Department of Health explanatory note states that MBS retinal photography item numbers 12325 for Indigenous people and 12326 for non-Indigenous Australians are intended for retinal photography using a non-mydriatic retinal camera in patients with diabetes. Uptake rates have been promising for Indigenous patients.
'Any element(s) of the service may be performed by appropriately trained or qualified personnel under the direction of the medical practitioner co-ordinating the patient's care, who retains overall responsibility for claiming of the service,' the note states.
The program extension also will fund design and delivery of a new educational course aimed at embedding retinal cameras into existing health services. This will include workshops with general practitioners, health service managers and associated staff who play a role in integrating the cameras and training into their practices.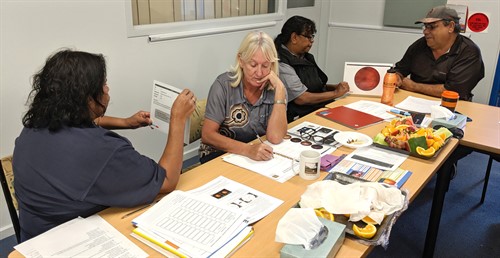 Health workers in Port Augusta, South Australia working together on the theory of using the retinal camera and eye screening processes as part of the Provision of Eye Health Equipment and Training program. A retinal camera has also been installed here and training completed. Photo: Brien Holden Vision Institute.
Referral to optometrists for assessment
Optometry Australia's Policy and Advocacy Manager Sarah Davies said: 'Many of Optometry Australia's members are heavily involved in ensuring Aboriginal and Torres Strait Islander people receive equitable access to comprehensive primary eye care.
'The program aims to embed eye health into the workflows of existing health services. This will result in appropriate referral pathways, ensuring more Aboriginal and Torres Strait Islander people with diabetes receive a timely assessment from an optometrist.'
Brien Holden Vision Institute Regional Director for Asia Pacific, Mitasha Yu, said in a media release: 'We are greatly pleased we have an extended opportunity to make further inroads towards addressing the inequalities in eye care that exist within Australia.
'At community level, our focus is firmly on ensuring the provision of cameras and our training is translating into skill uptake, enabling greater empowerment for participants to work more effectively on the ground.'
Project Manager for Australia for the institute Colina Waddell added: 'We found that all participants attending the course were satisfied and they felt it met their expectations. Most also thought it increased their confidence and abilities.
'Nearly 99 per cent of participants agreed that the course was challenging and interesting. We are grateful for the Commonwealth Government's continued support and focus on embedding retinal photography as part of primary care for patients with diabetes.'   
Australian College of Optometry Chief Executive Officer, Maureen O'Keefe, said: 'The commitment of the Australian Government to improving equity of eye health access and outcomes for Aboriginal and Torres Strait Islander people can clearly be seen in this funding extension for the program, with the total funding of $7.3 million enabling provision of retinal cameras and training across Australia.
'The embedding of this program in a sustainable way at community level continues to be the highest priority as the program is implemented.'
Resources to help optometrists and GPs
Optometry Australia has developed and promoted a resource for GPs using these items to support them in undertaking an appropriate screening and to ensure they know when referral to an optometrist for a comprehensive examination is indicated.
Optometry Australia's Professional Development and Clinical Policy Manager Simon Hanna said: 'We encourage optometrists to discuss these item numbers with their local GP to consider where optometrists could assist with use of camera training, and retinal image grading and assessment.
'In some cases, an ongoing private commercial arrangement could be established between the optometrist and GP, including a fee for the optometrist to provide these services.
'This resource helps optometrists discuss this with their local GP and we have additional resources available for members from our GP campaigns to remind GPs of the extensive services optometrists can provide to ensure appropriate referral pathways.'
Optometry Australia also developed a Q and A on new retinal photo MBS item to help its members.
_____________________________
Filed in category:
Advocacy & government
,
Patient care & management
Tagged as:
Indigenous eye health
,
Patient management
,
Practice equipment
,
Stakeholders & partners