Read time:

1:30min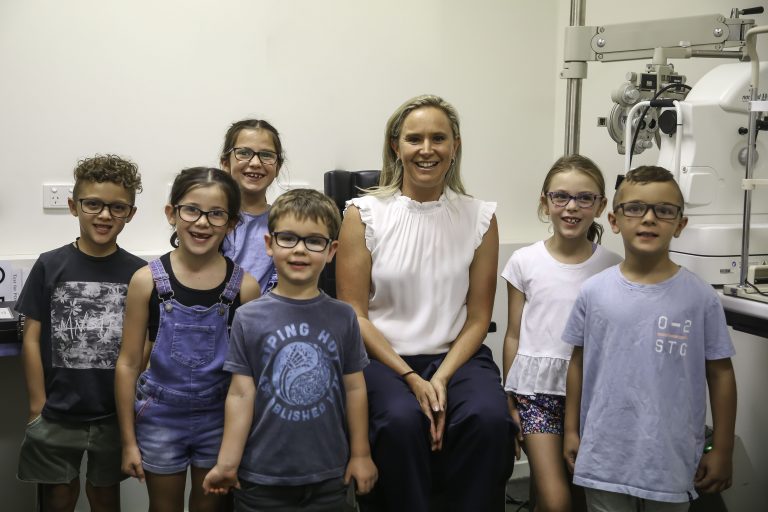 Swan Hill optometrist Jenalle Pye and some of her young patients with glasses

By Helen Carter
Journalist
Guidelines for spectacle prescribing in infants and children is the most downloaded paper from Optometry Australia's Clinical and Experimental Optometry journal in its 100-year history.
In fact, children's vision is the topic of four of the top 10 downloads, with measurement of visual acuity in children, contact lens management of infantile aphakia and bifocal lens control of myopic progression in children, rated the third, fourth and fifth most popular papers respectively.
The role of blood pressure in glaucoma, best corrected visual acuity, cataracts, links between diabetes and glaucoma plus stereopsis and vision screening were also popular topics.
Most of the top 10 papers are written by optometrists who are members of Optometry Australia.
Top 10 most downloaded papers from CXO of all time are:
| | | | | |
| --- | --- | --- | --- | --- |
| Rank | Title | Authors | Year, volume and issue |   |
| 1 | To prescribe or not to prescribe? Guidelines for spectacle prescribing in infants and children | Susan J Leat | 2011, 94, 6 | |
| 2 | The role of blood pressure in glaucoma | Zheng He, Algis J Vingrys, James A Armitage and Bang V Bui | 2011, 94, 2 | |
| 3 | The measurement of visual acuity in children: an evidence‐based update | Nicola S Anstice and Benjamin Thompson | 2014, 97, 1 | |
| 4 | Contact lens management of infantile aphakia | Richard G Lindsay and Jessica T Chi | 2010, 93, 1 | |
| 5 | Bifocal lens control of myopic progression in children | Desmond Cheng, George C Woo and Katrina L Schmid | 2011, 94, 1 | |
| 6 | Stereopsis, stereotests, and their relation to vision screening and clinical practice | Timothy R Fricke and John Siderov | 1997, 80, 5 | |
| 7 | Clinical and experimental links between diabetes and glaucoma | Vickie HY Wong, Bang V Bui and Algis J Vingrys | 2011, 94, 1 | |
| 8 | Complications of cataract surgery | Elsie Chan, Omar AR Mahroo and David J Spalton | 2010, 93, 6 | |
| 9 | What causes steroid cataracts? A review of steroid-induced posterior subcapsular cataracts | Andrew I Jobling and Robert C Augusteyn | 2002, 85, 2 | |
| 10 | Is BCVA an invention of ophthalmology | H Barry Collin | 2008, 91, 5 | |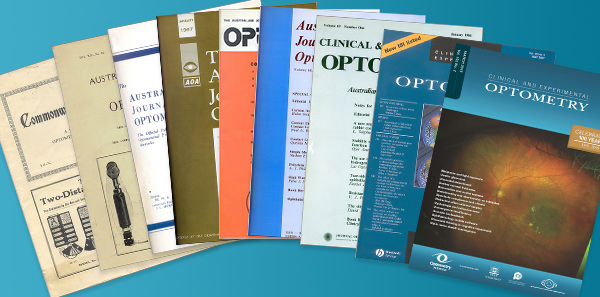 The journal's name and covers have changed over the years
Nearly 500,000 downloads and highest impact factor
As we wrap up the journal's 100th year celebrations, with the last issue of the centenary volume published this month, November 2019, we review highlights of the centenary year.
The journal, which is one of the world's top three optometry journals, was first published in 1919, then under the name The Commonwealth Optometrist. CXO moved to an online only publication in 2016.
'We're very lucky to have our entire back catalogue (that's 100 years' worth of CXO!) easily available to us online through the Wiley Online Library,' Optometry Australia's publications and digital manager Jessica Donald said.
'In 2019 CXO went from strength to strength, with downloads on track to reach 500,000 by the end of the year. Downloads have continually increased since 2016 with a 16 per cent growth from 2017, reaching 469,320 in 2018,' she said, 'and so far in 2019 we've had 406,791 downloads and we expect to reach, or get very close to, half a million by the year's end.
'Its Impact Factor also grew from 1.335 in 2017 to 1.559 in 2018. We're hoping this is a good indicator that we'll see it rise again in 2019. The impact factor is an indicator of how often articles from CXO are cited in other journals and therefore given credence by other scientists.
'The higher the impact factor the better. This is the highest impact factor CXO has had to date and indicates the journal is ranked highly in scientific circles.'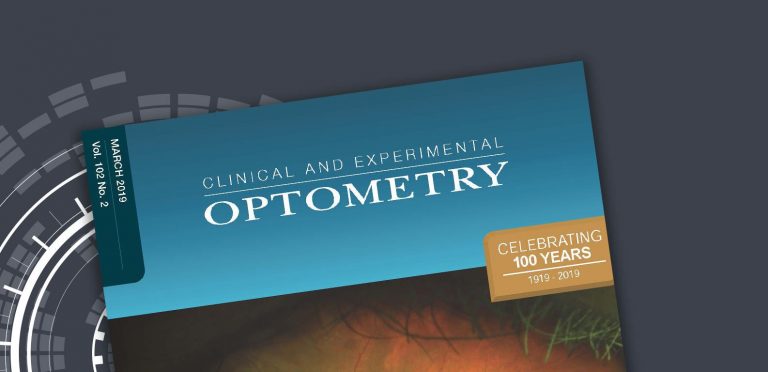 Rise in papers submitted, associate editors
The journal's popularity has also translated to a 20 per cent jump in the number of papers submitted, with the journal well on track to have received 400 submissions by the end of 2019. This means the minority of papers that are published are the cream of the crop.
Growth in submissions has meant growth in the editorial team too. To help share the reviewing load, the Associate Editor team has grown from 15 in 2018 to 18 in 2019.
Associate Professor Stephen Vincent from QUT and Dr Lauren Ayton from The University of Melbourne re-joined the team after a stint away and new members who joined in 2019 include Dr Alex Black from QUT, Dr Nicole Carnt from UNSW, Dr Cirous Dehghani from the University of Melbourne and Dr Phil Turnbull from The University of Auckland, New Zealand.
'Sadly, Dr David Hammond from Deakin University and Mr Richard Lindsay, optometrist in private practice, both stepped down this year after a number of years with the journal, and we thank them for their dedication and hard work,' Ms Donald said.
Other changes in 2019 have included publishing more open access papers of interest to the general public via the Editor's Choice selection and highlighting research and papers from each issue with a video interview with authors, promoted on Optometry Australia's social media, in its fortnightly Focus newsletter and in electronic direct mail (EDMs) to members.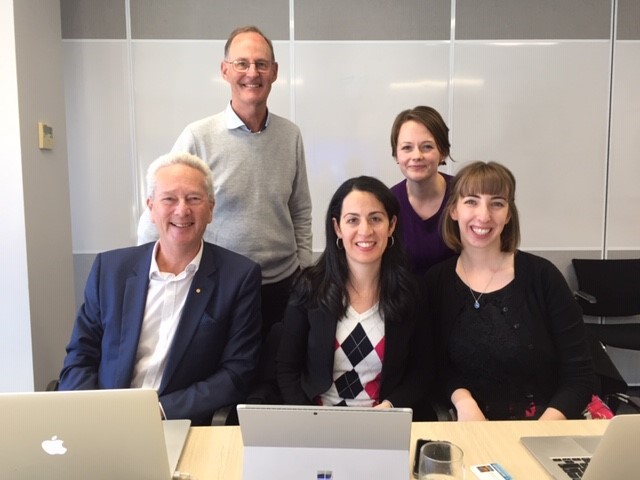 Members of the CXO Editorial Board at the annual editorial board meeting in 2019 at Wiley's offices. Top, L-R, Associate Editors, Associate Professor Ian Gutteridge and Dr Lauren Ayton. Bottom, L-R, Editor Emeritus Professor Nathan Efron, Deputy Editor Dr Maria Markoulli and Publications Manager Jess Donald.
Editors:
CXO is edited by Emeritus Professor Nathan Efron AC with assistance from Deputy Editor, Dr Maria Markoulli.
CXO's Associate Editors are:
Associate Professor Nicola Anstice – University of Canberra, Australia
Dr Lauren Ayton – The University of Melbourne, Australia
Dr Alex Black – Queensland University of Technology, Australia
Dr Mei-Ying Boon – University of New South Wales, Australia
Associate Professor Bang Bui – The University of Melbourne, Australia
Dr Andrew Carkeet – Queensland University of Technology, Australia
Dr Nicole Carnt – University of New South Wales, Australia
Dr Holly Chinnery – The University of Melbourne, Australia
Dr Cirous Dehghani – The University of Melbourne, Australia
Dr Laura Downie – The University of Melbourne, Australia
Dr Katie Edwards – Queensland University of Technology, Australia
Associate Professor Ian Gutteridge – The University of Melbourne, Australia
Associate Professor Isabelle Jalbert – University of New South Wales, Australia
Associate Professor Michele Madigan – University of New South Wales, Australia
Dr Lisa Nivison-Smith – University of New South Wales, Australia
Dr Nicola Pritchard – Queensland University of Technology, Australia
Dr Phil Turnbull – The University of Auckland, New Zealand
Associate Professor Stephen Vincent – Queensland University of Technology, Australia
Filed in category:
History
,
Member resources
,
Publications & podcasts
,
Research & surveys
Tagged as:
Clinical & Experimental Optometry (CXO)
,
History
,
Patient management
,
Scope of practice