Read time:

1:30min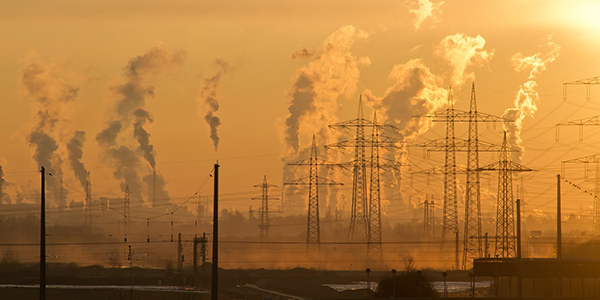 Image by Pixabay on Pexels
By Helen Carter
Journalist
Air pollution has been linked to an increased risk of age-related macular degeneration, according to a long-term UK study of more than 100,000 people.
The research, published online in the British Journal of Ophthalmology found that people who were exposed to increased levels of fine particle air pollution had a higher risk of AMD and all other pollutants, except coarse particulate matter, were associated with changes in retinal structure.
The study was the first to examine the association of air pollution with self-reported AMD, and in-vivo measures of retinal sublayer thicknesses.
It found that a small increase in exposure to tiny pollution particles (an additional 1 microgram per cubic metre) raised the risk of AMD by eight per cent. Small changes in larger pollution particles and nitrogen dioxide were linked to a 12 per cent higher risk of adverse retinal changes.
Oxidative stress or inflammation
Researchers from the UK Biobank Eye and Vision Consortium said that although it was an observational study, findings echoed those found elsewhere in the world which say ambient air pollution could plausibly be associated with AMD through oxidative stress or inflammation.
'Overall, our findings suggest that ambient air pollution, especially fine (particulate matter) or those of combustion-related particles, may affect AMD risk,' they wrote.
'It is possible that the structural features observed may be unrelated to AMD, but associated with pollution-induced retinal toxicity. However, the direction of the relationships between air pollution and both AMD and associated retinal layer thicknesses indicate higher exposure to air pollution may make the cells more vulnerable and increase the risk of AMD.
'Our findings add to the growing evidence of the damaging effects of ambient air pollution, even in the setting of relative low exposure. If (they) are replicated, this would support the view that air pollution is an important modifiable risk factor for AMD.'
The cross-sectional study used data from 115,954 people in the UK Biobank database aged 40 to 69 with no eye problems at the start of the study in 2006. Participants with self-reported ocular conditions, high refractive error (< −6 or > +6 diopters) and poor spectral-domain optical coherence tomography (SD-OCT) image were excluded.
Structural changes in the thickness and/or numbers of light receptors in the retina – indicative of AMD – were assessed in 52,602 people for whom complete data were available in 2009 and 2012, using retinal imaging (non-invasive optical coherence tomography.) The scans examined the health of the retina, photoreceptor sublayers and retinal pigment epithelium (RPE) layer thicknesses. SD-OCT imaging derived photoreceptor sublayer thickness and RPE layer thickness were used as structural biomarkers of AMD.
Measures of ambient air pollution included those for particulate matter (PM2.5), nitrogen dioxide (NO2), and nitrogen oxides (NOx).
Overall, 1286 or just over one per cent of study participants were diagnosed with AMD. Among the 52,602 people whose eyes were assessed, 75 per cent of those with a clinical diagnosis of AMD had signs of AMD on retinal imaging compared to only 12 per cent of those without a clinical diagnosis of AMD.
After accounting for potentially influential factors, including underlying health conditions and lifestyle, higher fine particulate matter (PM2.5) exposure was associated with an eight per cent higher risk of AMD, while all other pollutants, except coarse particulate matter, were associated with changes in retinal structure.
The researchers said the eyes had a particularly high flow of blood, potentially making them vulnerable to damage caused by tiny particles which are inhaled and travel around the body. They felt that because of this, the distribution of pollutants may be greater to the eye than to other areas.
Optometry Australia's chief clinical officer Luke Arundel said if the findings were replicated in further high-quality studies, air pollution may be added to the list of risk factors for AMD.
'This is an interesting study as air pollution is being linked to an increasingly wide range of diseases and the World Health Organisation has said 90 per cent of the world's population live with dirty air,' he said.
In 2019 a Taiwanese study of nearly 40,000 people found that traffic-related pollution was linked with AMD. Chronic exposure to the highest quartile of ambient nitrogen dioxide (NO2) or carbon monoxide (CO) significantly increased the risk for AMD.
Other research reported in 2019 in 111,000 people from the UK BioBank found a link between polluted air and glaucoma.
Members register for our free Current Realities and Future Possibilities of AMD webcast next Tuesday, 16 February.
REGISTRATION: https://lms.optometry.org.au/course/view.php?id=237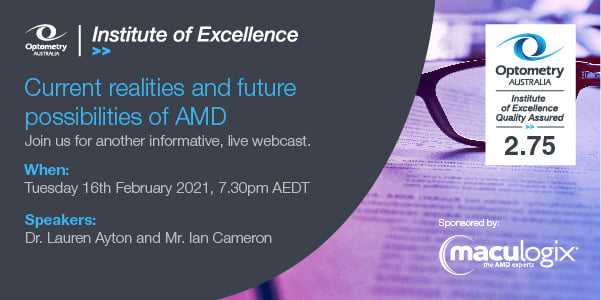 Filed in category:
Research & surveys
Tagged as:
AMD
,
International