Read time:

1:30min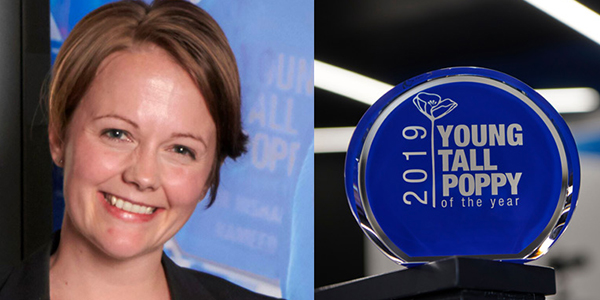 Dr Lauren Ayton and her Tall Poppy award. Photo, Matt Irwin Photography
By Helen Carter
Journalist
Melbourne optometrist Dr Lauren Ayton is the 2019 Victorian Young Tall Poppy Scientist of the Year.
Dr Ayton from the University of Melbourne was one of 11 Victorian Tall Poppies named at an awards ceremony last Thursday, October 10 and went on to become the overall state winner.
The Young Tall Poppy Science Awards are run by the Australian Institute of Policy and Science (AIPS) to honour up-and-coming scientists who combine world-class research with a passionate commitment to communicating science.
Dr Ayton represented the fields of optometry and ophthalmology and received the award for her work researching methods for detection and prevention of eye diseases, including research on the bionic eye and gene therapy for retinitis pigmentosa, and her science communication work.
The win places her on a platform to promote optometry and vision science within education and community sectors, as awardees demonstrate their value as role models by promoting and encouraging an interest and engagement in science.
She follows in the footsteps of Adelaide optometrist and Foundation Chair of Optometry and Vision Science at Flinders University from 2009-2017, Professor Konrad Pesudovs who was awarded a Young Tall Poppy Science Award for South Australia in 2007-2008.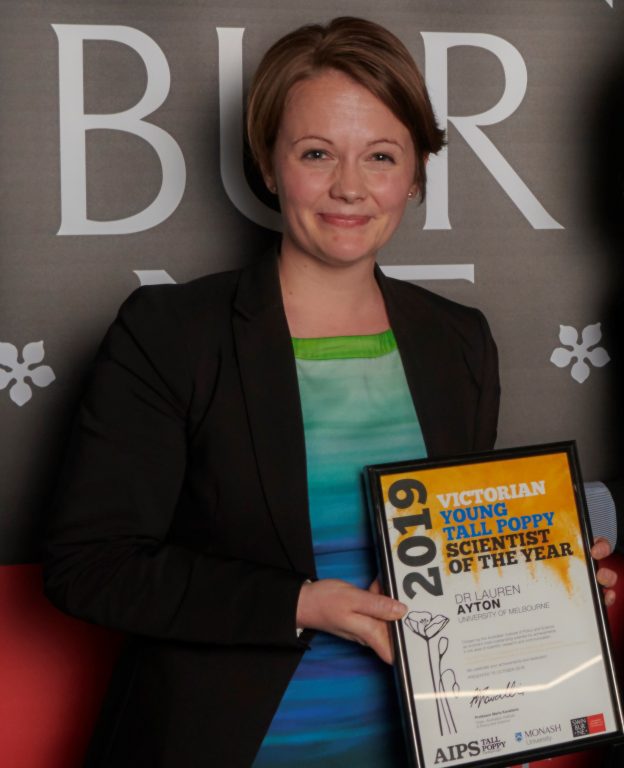 Dr Lauren Ayton. Photo, Matt Irwin Photography
The Tall Poppy Campaign was established in 1998 to promote public awareness of Australia's intellectual achievements and an important component is the science awards which recognise the achievements of outstanding researchers in the sciences.
The Young Tall Poppy Science Awards recognise the achievements of Victorian researchers from a mix of scientific areas and acknowledge the recipients' research achievements alongside their capacity and commitment to communicate science and its significance to the broader community.
Dr Ayton's public outreach includes co-hosting a weekly radio show Einstein A Go-Go on 3RRR, co-hosting The Conversation Hour on ABC radio, public lectures, media interviews and being an associate editor with Optometry Australia's Clinical and Experimental Optometry journal.
Award a great honour
'The awards are for people within 10 years of their PhD who are involved in research, community engagement and science communications,' Dr Ayton told Optometry Australia. 'It's a great honour.
'I will be involved in the Institute's outreach work, including engagement with schools, and will also be an ambassador for women in science and medicine.
'I love my work in science communications, including as associate editor on CXO. It was an honour to receive this award, and I look forward to working with my fellow Tall Poppy award winners to raise the profile of science in Australia.'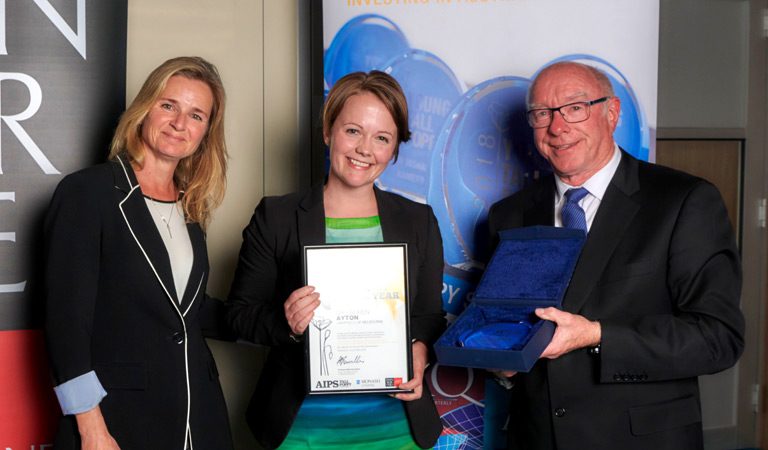 L-R, AIPS board member, former Tall Poppy and immediate past chair of the Victorian Tall Poppy Selection panel Dr Sarah Meacham, Dr Lauren Ayton and chair of the panel, Burnet Senior Principal Research Fellow, The Macfarlane Burnet Institute for Medical Research and Public Health Ltd, Professor Mark Hogarth. Photo, Matt Irwin Photography
Dr Ayton received her PhD from the University of Melbourne in 2009, and is a Senior Research Fellow in the University's Department of Optometry and Vision Sciences and the Department of Surgery (Ophthalmology) and an Honorary Senior Fellow at the Centre for Eye Research Australia and the Royal Victorian Eye and Ear Hospital.
The young mum recently returned from New York where she worked as Director of Clinical and Regulatory Affairs at the Boston Bionic Eye program, affiliated with Harvard and Cornell universities. She returned to Australia on a University of Melbourne Driving Research Momentum Fellowship and is also an NHMRC Medical Research Future Fund Next Generation Clinical Research Fellow.
Her research focuses on vision restoration and disease biomarkers in retinal disease, including retinitis pigmentosa and age-related macular degeneration. Her current work aims to develop new vision restoration measures for inherited retinal degenerations.
'My nomination was in part for my work with the bionic eye, which I continue to work on as a consultant, and newer gene therapy research for inherited retinal diseases,' she said.
'I am collaborating with world-leading ophthalmologists in the field of gene therapy at the Centre for Eye Research Australia and the Royal Victorian Eye and Ear Hospital, including Dr Tom Edwards and Professor Keith Martin.
'We are making huge advances in our understanding of the natural history of inherited retinal degenerations, and hopefully new treatment options will be available very soon.'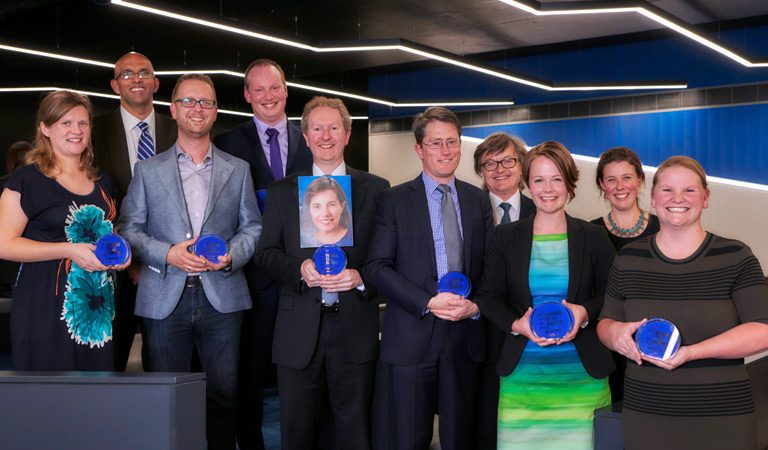 The 2019 Young Victorian Tall Poppies. Photo, Matt Irwin Photography
 AIPS Chair Professor Maria Kavallaris OAM said: 'These Tall Poppies are excellent examples of the cutting-edge research being undertaken here in Victoria. They also become role models by working with the education and community sectors to encourage greater engagement in science.'
Dr Riccardo Natoli from ANU was also named a 2019 ACT Tall Poppy for his work in vision science including research focusing on reducing the severity and progression of AMD.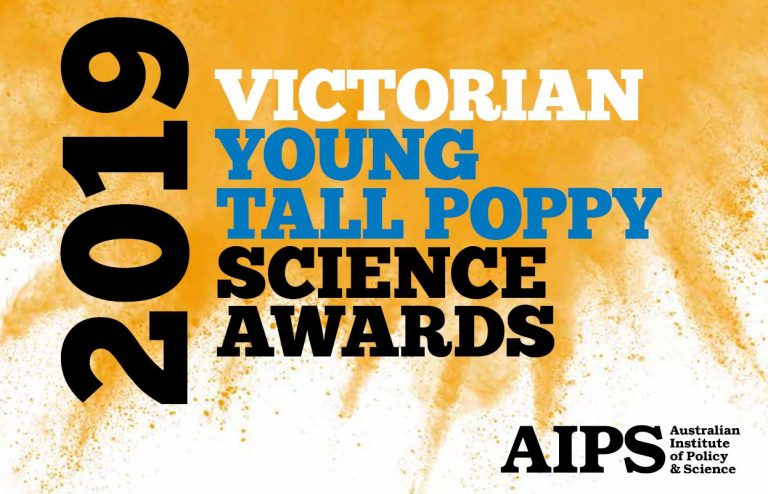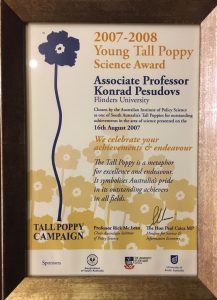 Left, Associate Professor Konrad Pesudovs in 2007-2008 when he received his Young Tall Poppy Science Award for South Australia.
Filed in category:
Members & member initiatives
,
Research & surveys
Tagged as:
Awards - honours - grants-bursaries
,
Leadership
,
Universities