Read time:

1:30min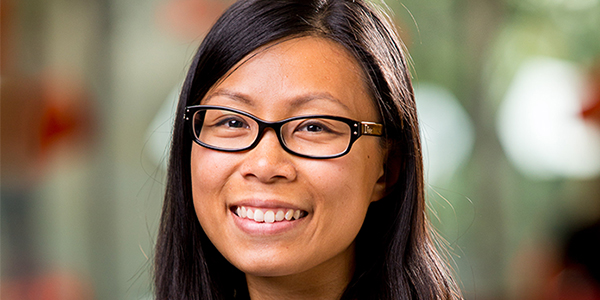 Optometrist Bao Nguyen
By Helen Carter
Journalist
Three Melbourne optometrists are on a mission to improve screening for migraine in optometric practice to help improve the quality of life of these patients.
Results of their project aim to assist the development of future educational resources for optometrists about headache disorders and the role of optometrists in migraine management.
Optometrist and Research Fellow at The University of Melbourne's Department of Optometry and Vision Sciences, Dr Bao Nguyen, said the project aimed to firstly understand current approaches for identifying and managing migraine in optometric practice, and secondly, to educate optometrists about the utility of a validated migraine screening tool.
'Optometrists, as primary health care providers, are ideally placed to identify and refer patients who suffer migraines and to support the initiation of proper treatment with flow-on effects including improved quality of life,' Dr Nguyen said.
'Optometrists will be encouraged to participate in a pilot program to implement a screening tool as part of their routine eye examinations and to provide feedback on whether the screening tool has influenced their patient management.
'We have not developed a screening tool – we are simply educating optometrists about a validated migraine screening tool that already exists which works well in primary healthcare practice, for example for GPs.
'We assume that this tool is not being utilised outside of physicians, so we are hoping to find out whether optometrists are aware these tools exist, and whether there is a benefit to using these in primary eyecare practice.'
The project entitled 'Improving headache screening in optometric practice' received a Victorian Optometrists Training and Education (VOTE) Trust grant in 2018.
It is a collaboration between Dr Nguyen and her fellow colleagues from the Department of Optometry and Vision Sciences at The University of Melbourne, Professor Allison McKendrick and Dr Laura Downie.
'Migraine is a common, primary headache disorder affecting about 15 per cent of the population, but remains underdiagnosed and undertreated,' Dr Nguyen said.
'Optometrists are likely to encounter migraine patients because of its prevalence and because visual symptoms such as blurred vision, visual aura and photophobia often occur during attacks.
'However, less than half of current migraine sufferers have ever been formally diagnosed and only one-third receive appropriate treatment with prescription medications.'
The research project has been approved by the Human Research Ethics Committee of the University of Melbourne.
The first step is to survey optometrists about current practice and behaviour around screening for migraine. The survey, which takes about five minutes to complete, can be accessed here and will also be available at The University of Melbourne booth at the O=MEGA19 conference in Melbourne next week, 19-21 July 2019. It can also be obtained by contacting Dr Bao Nguyen directly on bnguyen@unimelb.edu.au
Filed in category:
CPD, conferences & events
,
Patient care & management
,
Research & surveys
Tagged as:
O=Mega Vic
,
Patient management
,
Universities