Read time:

1:30min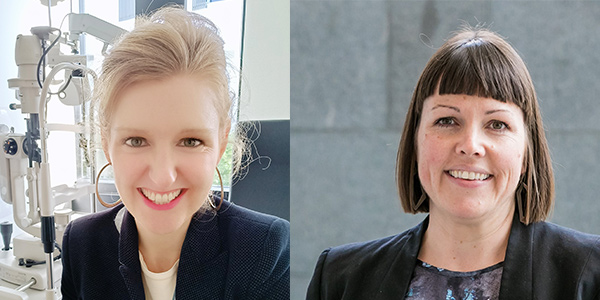 Nicola Mountford, left, and Dr Shelley Hopkins
By Helen Carter
Journalist
Queensland optometrists Nicola Mountford and Dr Shelley Hopkins are the inaugural recipients of Optometry Australia's LOOK Scholarships and will investigate optometric advancements internationally that are not yet available, or readily available here.
In February, we launched the Looking Outward on Optometric Knowledge (LOOK) scholarship program to fund study tours that investigate advancements in optometric clinical and patient management and/or eye health and disease diagnosis.
The program selects several Optometry Australia members to take part in a study tour of their choice to investigate optometric advancements internationally that are not available, or readily available, in Australia.
Due to current travel restrictions because of COVID, the LOOK International Scholarships have instead been awarded to support virtual study tours.
Dr Hopkins and Ms Mountford will complete at least 50 hours of desktop research and remote engagement with international colleagues in two topical areas of interest to Optometry Australia.
Investigate injectable drugs and laser treatments
Ms Mountford will focus on the expanded scope of practice in the USA where some laser therapies, injectable drugs and minor surgical procedures have been successfully delivered by optometrists for more than 20 years.
'I am honoured to receive this scholarship and thank Optometry Australia for developing this remarkable initiative to inspire further learning and development within the profession,' she said.
'In this virtual study tour, I will interview overseas colleagues to learn more about the varying levels of practice in the USA, where some states such as Oklahoma have the right to use injectable drugs and surgical techniques for lid procedures, and perform certain laser treatments such as laser trabeculoplasty and YAG capsulotomies.
'I will objectively assess the safety and efficacy of these procedures being performed by optometrists, and raise questions about legislation, training, challenges and patient outcomes in the US experience.
'I will present to Optometry Australia and my colleagues the advantages and disadvantages of this expanded scope of practice, and propose how some beneficial characteristics of their model could fit into the Australian optometry landscape.'
Since graduating in 2006 from QUT, Ms Mountford has worked in a variety of clinical settings including private and corporate practices, alongside ophthalmologists, and in Indigenous healthcare.
Expansion of scope of practice
'I am energized by my role at Queensland Retina Specialists in Brisbane, and the comradery I feel within optometry,' she said.
'My main areas of interest within the profession are diagnosis and co- management of ocular disease, closing the gap for Indigenous eyecare, and the important and evolving role of optometry in screening for systemic and neurological conditions.
'I have found through my career that the purest joy in our profession is that of communicating well with our patients.
'Even through the application phase, this scholarship has inspired me to think outside the square of day to day practice and consider how our profession will continue to facilitate equitable and quality eyecare into the future.
'I hope that through my research, Optometry Australia members will gain further insight into different avenues for expansion of scope, the implications for patient care, and a path forward towards this.'
School-based eyecare programs
Dr Hopkins will consider optometry's role in assessing and managing children's vision conditions through school-based eye care programs, by comparing programs across the US, UK, Europe and Asia.
A lecturer at the School of Optometry and Vision Science, Queensland University of Technology, she provides regular clinical optometry services in Aboriginal Medical Services and in 2019, was awarded Optometry Queensland/Northern Territory's Peter J Montgomery Award for Social Justice.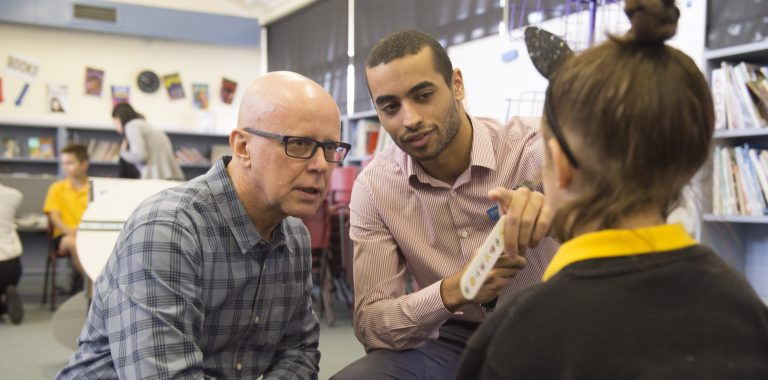 Pictured at an Essilor Vision Foundation school screening in 2019 are Deakin University Senior Lecturer in Optometry Dr Geoff Sampson and optometry student Ben Eskander 
'School-based eye care is an approach that connects students to eye care services in schools,' Dr Hopkins said.
'A number of different delivery paradigms currently exist, but the model is broadly based around an eyecare provider visiting a school and performing comprehensive eye examinations onsite.
'Optometry is best positioned to provide primary eye care to children (following 'vision screenings') and can instigate prompt treatment through spectacle correction.'
Dr Hopkins has a special interest in children's vision, school vision screenings, vision and learning as well as Aboriginal and Torres Strait Islander eye health.
She completed her Bachelor of Optometry at the University of Melbourne in 2007 and moved to Queensland where she worked in a corporate optometry setting.
In 2010, Dr Hopkins began a PhD at Queensland University on Aboriginal and Torres Strait Islander children's vision and a component of her research evaluated existing children's vision screening programs.
Since completing her PhD in 2014, she has continued to undertake school-based research on children's vision and supervises optometry students participating in school vision screenings.
Establish feasibility of school-based eye care programs
'I hope to explore school-based eye care programs currently undertaken in the US, as well as look at other children's vision screening models internationally,' she said.
'The goal of this virtual study tour is to understand the strengths and weaknesses of different school-based eye care programs available in some states of the USA. Evaluating these programs in terms of their screening protocol, eye care team, coverage/age groups screened, follow-up procedures, costs and funding models will help inform the development of a model that could be applied in Australia.
'Understanding how the programs were initially set up, and what advocacy was required will be critical in establishing the feasibility of school-based eye care programs in an Australian context with the ultimate objective of improving access to care and decreasing loss to follow up.'
Optometry Australia's General Manager, Policy, Skye Cappuccio said the calibre of applicants was high and the organisation was delighted to award the inaugural scholarships to Nicola and Shelley. She said they would share their insights and learnings with the broader membership and share innovations amongst those well positioned to foster new approaches.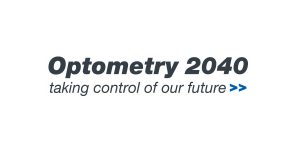 Filed in category:
Scope of practice
Tagged as:
Awards - honours - grants-bursaries
,
Future
,
International
,
Scope of practice