Read time:

1:30min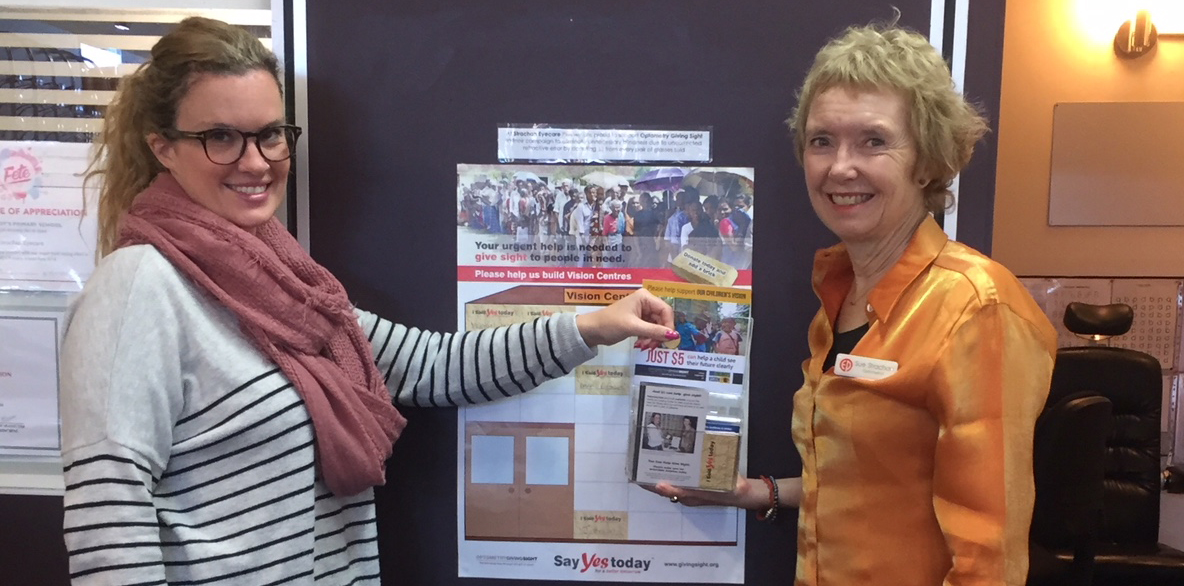 Front office manager of Strachan Eyecare Plus Optometrist's Blackburn practice Gemma Sell, left, and optometrist Sue Strachan.
_____________________________
By Helen Carter
Journalist
There are many ways optometrists and their patients can change the lives of underprivileged people worldwide by donating to Optometry Giving Sight (OGS) programs which enable access to spectacles and vision care.
Melbourne optometrists Sue and Greg Strachan and their patients are among many regular donors who are making a difference. They have donated about $60,000 since they began supporting the charity 11 years ago when it started.
The Strachans own Strachan Eyecare Plus Optometrists in Blackburn and Balwyn and employ seven optometrists including their son Daniel.
'I'm amazed that by just setting up a few simple things in our two practices we have raised this amount for Optometry Giving Sight,' Mrs Strachan told Optometry Australia. 'It doesn't take long to set these up and once set up, they're easy to maintain.'
The Strachans donate in three ways. The first is by adding $2 to the price of every lens or frame they sell and this goes to OGS as part of the charity's Care & Share scheme.
They also have a donation box in their Blackburn and Balwyn practices where patients can donate a gold coin to OGS in lieu of being charged for minor repairs to spectacles. Posters in the practices explain what the charity does.
Thirdly they have a 'giving wall' behind the reception desk at each practice where patients can place a gold coin in the donation box to help build a vision centre and write their name on paper bricks stuck on the wall, an activity which paediatric patients enjoy.
'We first heard about Optometry Giving Sight at an optometry conference in Queensland in 2007,' Mrs Strachan said. 'The charity was asking for optometrists to donate $2 for every pair of lenses or frames sold.
'We thought what a wonderful idea and went home and increased the price of our lenses by $2.
'It didn't cost us anything and it was a great thing to do.
'I was already doing regular overseas aid trips with another charity, Equal Health, which takes teams of health professionals to India, and was going to East Timor with a ProVision aid program and to Papua New Guinea so I was aware of what a huge difference these programs can make to people not able to access glasses and eye care services.'
Positive patient feedback
The Strachans have had great feedback from patients about the program. The practices also mention OGS on their receipts and in a monthly newsletter.
'We've had positive feedback about it from a lot of patients. The giving wall is very visible behind the reception desks and parents especially are keen for their children to write their name on a brick so they take ownership and it also creates awareness,' she said.
Mrs Strachan, a former member of the national committee of OGS, encouraged more optometrists and practices to consider donating.
'It's fantastic to know that through your day to day procedures, you can help those less fortunate,' she said.
Tick yes for annual giving at renewal
Optometry Giving Sight, Australian Manager, Ron Baroni said practices could donate, or optometrists could donate individually. Many choose to donate at the same time they are renewing their Optometry Australia membership.
'A large percentage of practices in Australia donate to Optometry Giving Sight,' Mr Baroni said.
'Another popular way to donate is through our major fund-raiser, the World Sight Day Challenge in October.
'People can do anything they want during the month of October to raise money but one of the simplest fund-raisers is to donate your examination fees for one day – World Sight Day.
'Elise Pocknee-Clem and Phil Clem from Eyre Eye Centre in South Australia do this.'
Mr Baroni said practices could organise their own fund-raiser, the World Sight Day challenge. This might be an event involving staff, or something involving patients or the community.
For example, one Port Douglas practice, Coral Sea Eyecare, involved local children who sold painted rocks, sea shells and drawings outside the practice to raise money on World Sight Day.
Since 2007, OGS has distributed funds to more than 117 sustainable projects in 39 countries, including Australia. Currently there are 47 projects being funded in 24 countries. Many of these projects are implemented by Brien Holden Vision Institute.
Mr Baroni said these included 14 new schools of optometry globally in countries without optometrists or very few practitioners. This includes the recently opened Haiti School of Optometry and Vision Sciences which aims to overcome the disparity of Haiti having only three optometrists for a population of more than 10 million people.
Other programs include outreach programs with ProVision optometrists in East Timor, Sumba and Bangladesh.
Donations are tax deductible and the end of the financial year is a good time to donate. To inquire about donating to OGS email Australia@givingsight.org.
World Sight Day 2018 is on 11 October. More information about World Sight Day Challenge
_____________________________

Filed in category:
General news
,
Sector news
Tagged as:
Stakeholders & partners