Read time:

1:30min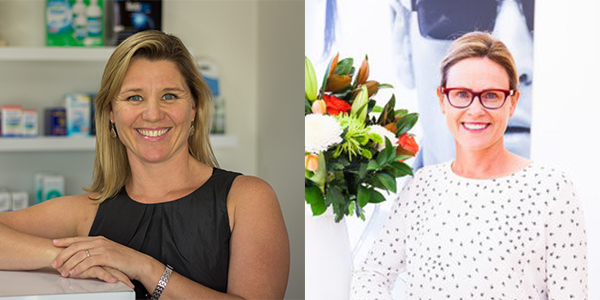 Kelly Gibbons,  left, and Elise Pocknee-Clem, right.
By Helen Carter
Journalist
Juggling practice ownership and motherhood is not easy but rural optometrists Elise Pocknee-Clem and Kelly Gibbons are prime examples of how to do it successfully and maintain a healthy work/life balance.
Apart from practising optometry, owning their own practices and raising a family, Elise from Port Lincoln, South Australia, and Kelly from Wodonga, Victoria have also taken on many other roles including educating GPs, hosting student optometrists, being on optometry and school boards and doing eye talks in their communities.
Both returned to work within weeks of giving birth to their first child and bought their first practice when their children were young but credit supportive husbands, staff and child care with enabling the process.
While the terms superwoman and super-mum spring to mind, both argue that many women in optometry are doing the same, although agree it isn't always smooth sailing.
The increasing feminisation of Australia's optometry workforce means the face of the workforce is changing, as more practitioners job share and work flexible hours. Optometry Board of Australia statistics show that 55.4 per cent or 3313 of Australia's 5981 registered optometrists are now female, and our optometry student intake is also become increasingly female.
Elise, who is Optometry Victoria South Australia president, and her optometrist husband Phil Clem own Eyre Eye Centre in SA incorporating three practices in Port Lincoln, Whyalla and Ceduna. They also part own another practice in Victor Harbor, and do visiting outreach services to six other towns.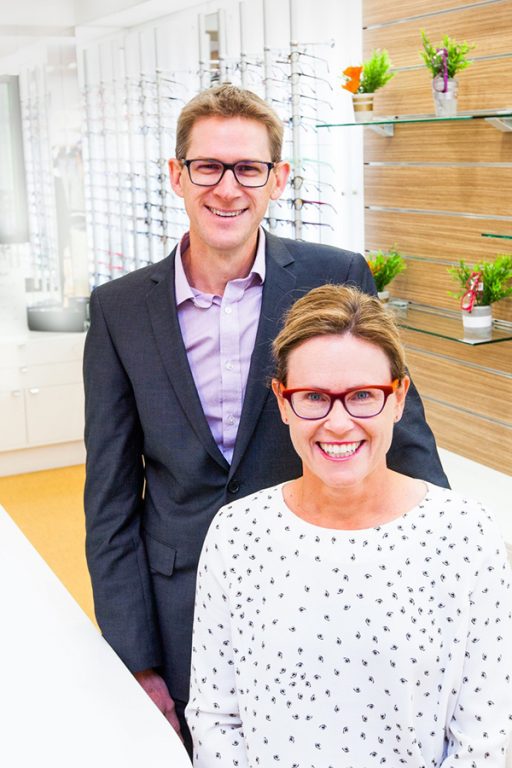 Elise Pocknee-Clem and Phil Clem practising together
Power work 
One of Elise's best tips which has helped them run a business and juggle a family is to 'power work.'
'Once our three kids were at school, the demands of owning our own business meant we needed to take breaks and get away from the practice in order to enjoy quality time with our children. We did this by promising ourselves that we would take school holidays off,' she said.
'So, we power work for ten weeks (work long hours during term time) and then take two weeks off for school holidays, and continue on with this pattern. The other optometrists who work with us are able to look after our practice while we are away. When the children were little, good child care was also pivotal.'
Elise studied optometry at QUT and ended up in SA after optometrist Mike Burnside from Port Lincoln visited and spoke to students, looking for graduate optometrists to employ. He employed her in 1993 and five years later, she bought the business.
In between she worked in Adelaide and found city practice very different from rural practice where a lot of travel was involved and the patient base was different, with more pathology. She moved back home to Brisbane and worked in corporate and locum jobs, then in Townsville before returning to SA.
'I missed independent optometry and after meeting and working with Phil in Townsville, we moved back to Port Lincoln in 1998 when Mike invited me to join him in the business partnership,' she said. 'Over the next six years Phil and I expanded the business, adding practices and we now employ four other optometrists and share partnership of the business.
'Four years into ownership of the first practice we had the first of our three children. It helped that both Phil and I worked together as we understood each other and could work around the needs of the kids and the practice. I have a very supportive mother who was able to visit us for three months at the birth of each child and as such I was able to go back to work very promptly. We also were fortunate to have great day care and two lovely nannies until our youngest started school. Now that the children are older, we can work more during the day with one doing school drop off and the other pick up.'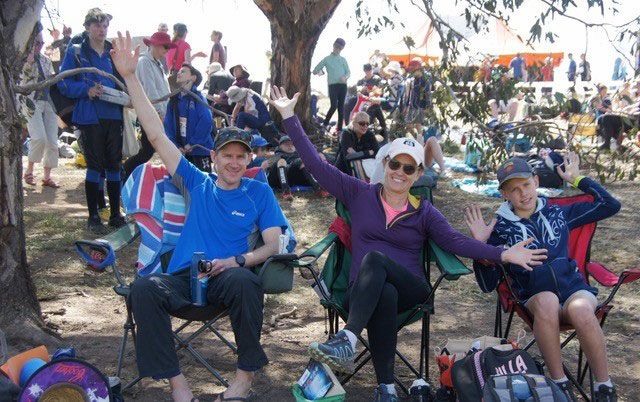 Family time for Phil, Elise and youngest son Austin at an orienteering event
The business has been a member of ProVision for 15 years, and benefitted greatly, Elise says, from education, management advice, and coaches who visit every six weeks bringing new ideas, advice on HR, profits and losses and fresh eyes to look over the business.
Inspired to be board member
As Mike Burnside was a former president of Optometrists Association SA, he talked a lot about what it involved and he encouraged and inspired Elise to become a board member of Optometry SA.
'I joined the OSA board not long after Portia was born and remember taking her to Adelaide with me as a baby to attend board meetings,' Elise recalled
She remained on the SA board for ten years including five as president, despite initially being unsure of how she could do this remotely but she has managed admirably and is now Optometry Victoria South Australia's inaugural president, covering two states.
'It's great. I enjoy new challenges, and it's been a really exciting time for our two states. We have been able to expand our member services and events calendar and we are working to maximise the efficiencies achievable through having just one office; the decision of our members to merge has been a good one and we are evolving into a larger and stronger division,' she said.
Elise practises 1.5 to two days and the other three works as practice manager overseeing all the practices.
Huge rewards from practice ownership
'I think for women, practice ownership is an investment with huge rewards,' Elise said 'We worked hard early on so we could work more flexibly later. We need flexible options in our workplaces. There will be more job sharing in future and practices will have to be flexible for staff and the increased part-time workforce. It can be difficult to manage a full book with kids at home.
'Women working part time can be very productive, engaged and enthusiastic and get the job done in limited days, completing tasks with a sense of achievement.
'Family time is important and I love spending time with my husband and our three children. I'm passionate about orienteering, hockey, camping, travelling and seeking knowledge and I've represented SA for hockey on seven occasions in State Country Hockey and more recently at the Australian Women's Masters Games.'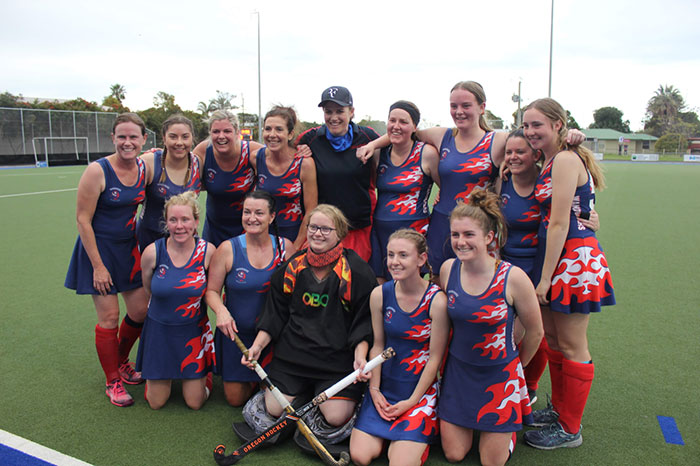 Elise, far left, with some hockey team-mates
Good work balance and lifestyle
Kelly Gibbons bought Wodonga Eyecare in 2004 when her son was one year old.
'Some positives are that owning a business has allowed me to do the things I love, like holidaying with the family and riding my horse,' she said. 'I don't know that I would have been able to find the good work/life balance that I have now – working three days a week but still being able to afford the lifestyle I want – if I didn't own my own business.
'Another positive is that my kids get to see that a woman can run a successful business and live a full life at the same time. I feel like I'm a good role model for my kids and for the students I teach.
'One negative of owning a business is feeling like I sometimes missed out on some of the kids' activities such as swimming sports, school sports and tuck shop duty when they were younger because I was always working.
'Having said that I wouldn't change my choices if I lived life over again. But for some women, waiting until the kids are at school before buying a practice might work better if they want to miss out on fewer activities.'
Expect change
Another challenge is finding the right staff.
'You just find them then they move overseas, or have a baby, so finding the right balance can be hard but my advice going into your own practice, is to expect change because you'll cope better with change if you expect it and adapt,' Kelly said.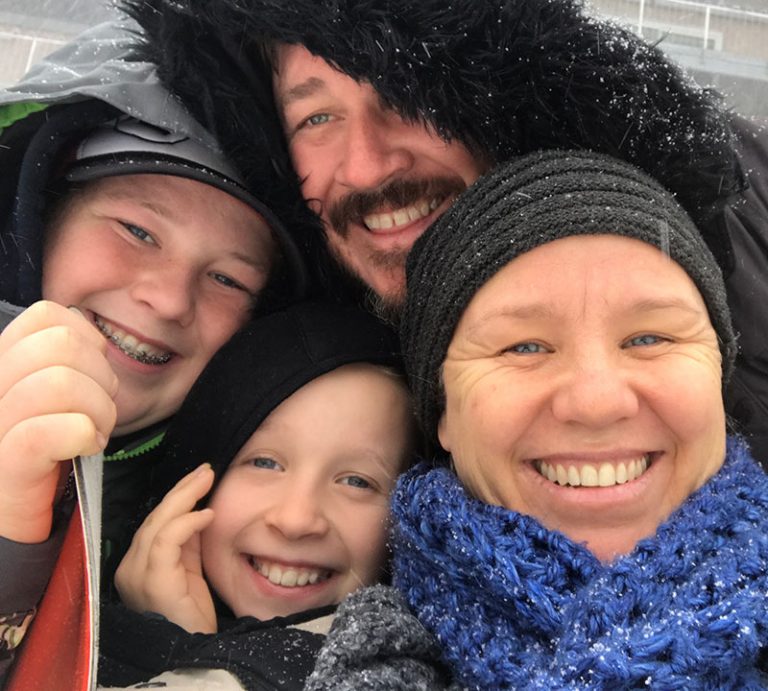 Kelly and Kurt enjoying a snow holiday with their children
Kelly grew up in Sydney and watched her father run a successful shop-fitting business. She spent four years studying orthoptics and science before realising she too wanted to be a businesswoman and an optometrist. Upon graduating from the University of Melbourne, she moved to Kalgoorlie and worked for Laubman and Pank, managing the practice and working as an optometrist.
'When I was a final year student, Laubman and Pank gave me a $50 a week cadetship to help pay university costs and in return I pledged to work for them for a year in Kalgoorlie upon graduating. I received a good wage plus 10 per cent commission on turnover which was great because it was a mining town!' she recalled. 'I also did a store management course which was really helpful.'
She later moved to Melbourne with her husband Kurt and worked for Peter Larsen in his Collins-St, Melbourne practice, before it became the first Australian SpecSavers store. In 2003 after the birth of Kurt and Kelly's first child, the couple moved to Wodonga to be nearer her parents.
'But Kurt's job fell through so when our son was two months old and after eight weeks of living on credit cards, I went back to work, practising at an OPSM practice and for an independent optometrist who owned three practices in local towns,' Kelly said. 'After a while I thought 'I could do this' so I bought the Wodonga practice in 2004.'
Her husband was the stay at home parent for their son, and four years later, for their daughter while Kelly worked full-time.
'He also did the practice's book-keeping and computer work at home at night when the kids were asleep,' she said. 'Later when they were at day-care and school he helped with dispensing, and we juggled the kids around our jobs.'
Seek good financial advice
Another good piece of advice is to find a good accountant. Kelly did and has stuck with the same accountant for 16 years. However, she wished she had asked for advice before buying the optometry side of an eye laser clinic as it cost her just as much to buy that business as the original practice so it was like starting again financially.
'At that stage, if I'd gotten good advice, I would have moved the practice to a house instead. It set us back a few years,' she said.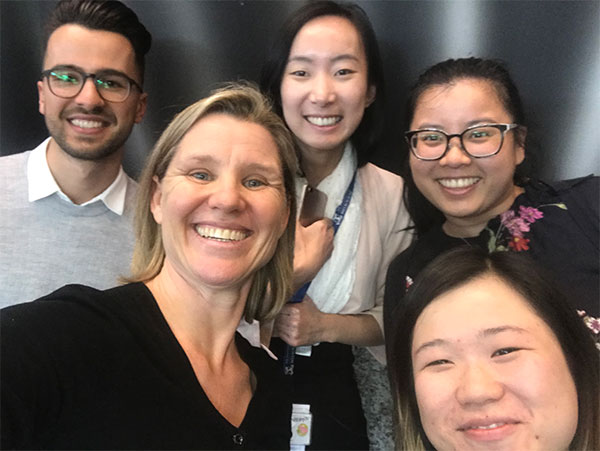 Kelly, second left, with some of the optometry students she hosted in 2019
Kelly loves living in a rural area and is a big part of the community, doing community and school eye screenings, educating GPs especially new young doctors about eye care and teaching them foreign body removal as well as hosting optometry students on rural placements.
Hosting optometry students is rewarding and you can pick the best ones to employ which we have done,' she said. 'They stay at our house while on placement too.
'A lot of students come up and I say don't be like me and mismanage your money because I have never been good with money management at home or in business.
'I was recently staying this to a student while driving into work and he said well, give me some tips and he started taking notes on his phone.'
The notes ended up as a financial pep talk for Flinders students, and other early career optometrist groups and optometry students.
'I was urging them to put away 20 to 30 per cent from the start of receiving a wage and they will never notice, and invest it in property, for example,' Kelly said. 'They should seek proper financial advice early on and do so throughout their career.'
Kelly changed her financial situation after reading several books about wealth building, investing and saving money including The Barefoot Investor.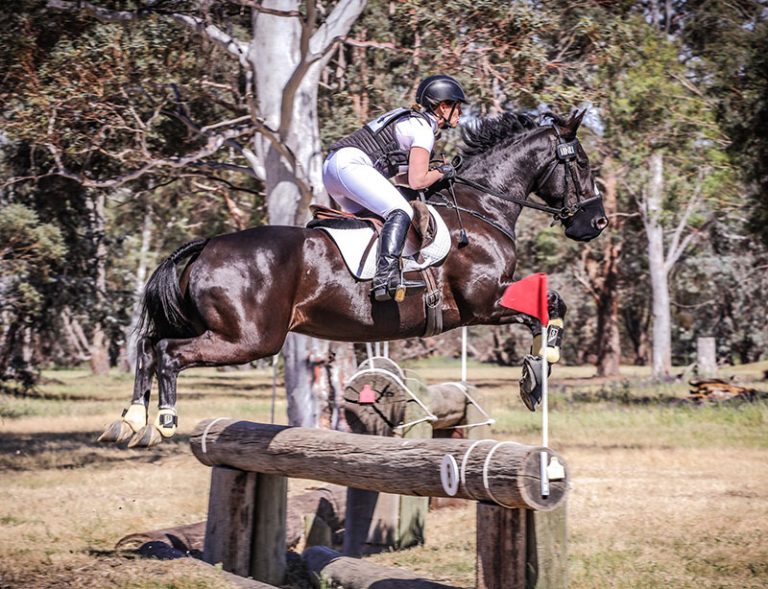 Kelly horse-riding
INTERNATIONAL WOMEN'S DAY COCKTAILS AND SPEAKERS EVENT
To celebrate International Women's Day on Saturday March 8, Optometry Australia's inaugural Cocktails and Conversations event will be on Wednesday March 11. The evening will focus on exploring the impact of gender in the optometry profession and opportunities our profession provides for women to foster fulfilling and rewarding careers within and outside of practice.
Hear from Tasneem Chopra and Optometry Australia Deputy President Kylie Harris before being invited to share your thoughts and experiences.
Members in Melbourne and Adelaide – join us at face-to-face events with beverages and canapes provided. The Melbourne event will be live with presentations live-streamed to the Adelaide event.
Melbourne: 7pm to 9pm March 11 at The Craft and Co – 390 Smith St, Collingwood Register here
Adelaide: 6:30pm to 8:30pm March 11 at Adelaide Pharmaceutical Society Australia, 7/102 B26, Unley SA 5061 Register here
Members in other areas can connect to the live stream remotely by emailing to receive access details to our Member Support and Optometry Advancement team, policy@optometry.org.au
If you would like to host a local viewing party and bring together optometrists in your area to view and discuss the live streamed presentations, send an expression of interest to policy@optometry.org.au for the chance to have your bar snacks covered by us.
Elise said: 'The event will be a great opportunity to chat with female optometrists, support each other and talk about challenges as we have so much in common.'
Filed in category:
Workforce
Tagged as:
Career
,
Employment