Read time:

1:30min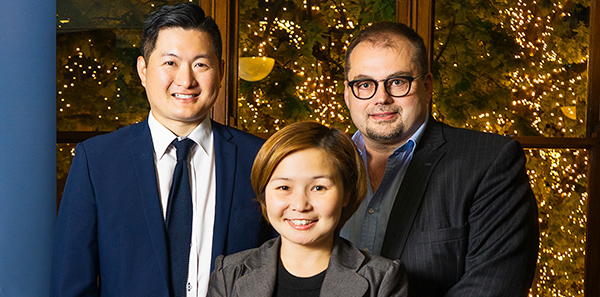 (L-R) Griffin Ngo, Margaret Lam and Chris Beer
______________________________
By Helen Carter
Journalist
theeyecarecompany joins George & Matilda
Independent optometry group theeyecarecompany has joined Australian-owned acquisition group George & Matilda Eyecare.
Theeyecarecompany was founded in 2005 by Margaret Lam and Griffin Ngo, and now has four practices in the greater Sydney region.
George & Matilda Eyecare was launched in May 2016 by former Luxottica Asia Pacific CEO Chris Beer. Initial signings to the network included Peter Hewett Optometrist and Hanks Optometrists.
mEYE photo competition open
'See my world' is the theme of this year's annual mEYE World Photographic Competition, run by Macular Disease Foundation Australia.
The competition, in its sixth year, offers more than $8,000 in prizes including cash. There are four categories: open, junior, macular disease community and health-care professionals.
Foundation patron and competition judge Ita Buttrose said the competition reminded everyone to appreciate seeing the world in which we live.
Entries close on 18 October. For information or to enter visit mEYE World.
Cooper Companies on S&P 500
The parent company of CooperVision Inc, The Cooper Companies, has been listed on the Standard and Poor's 500 Index as part of the health-care sector of the index.
Executive vice president, chief operating officer of The Cooper Companies and president of CooperVision, Dan McBride, said in a media release that being named on the S&P 500 Index recognised the company's performance in the health-care sector.
The S&P 500 Index, a listing of publicly traded companies, is relied on by investors globally and is a benchmark for the health of the stock market and the US economy.
CooperVision is a leading manufacturer of soft contact lenses and The Cooper Companies is a global medical device company publicly traded on the NYSE.
Essilor wins awards
Essilor has won two awards at Silmo Paris for a blue light lens and a visual aid for people with low vision.
Its Eye Protect System lens helps protect the eye from harmful light by partially filtering out blue-violet light by absorption while remaining aesthetically clear.
Essilor was also awarded a Silmo d'Or in the low vision category for MyEye, a visual aid for people with low vision which reads text and recognises people's faces and everyday objects.
Silmo is one of the world's largest shows for professionals in the optics and eyewear trade. The Silmo d'Or innovation awards are given in recognition of the profession's intrinsic values: innovation, technological advances and creativity.
Chaperone submissions close
Submissions to the independent review on the use of chaperones to protect patients close on 3 October.
The review will consider whether and when it is appropriate to impose a chaperone condition on the registration of a health practitioner or student to protect patients while allegations of sexual misconduct are investigated.
The review, commissioned by The Medical Board of Australia and the Australian Health Practitioner Regulation Agency, is being undertaken by Professor Ron Paterson, Professor of Law at the University of Auckland.
'I am keen to hear from patients, community groups, especially from people who may have had experience of having a chaperone in the room when they went for a consultation, but I am also interested to hear from doctors and other health practitioners who may have faced allegations or may have worked in a situation where a chaperone condition has been imposed,' he said.
Submissions can be emailed to ChaperoneReview@nhpopc.gov.au. For information see www.nhpopc.gov.au.
Filed in category:
Uncategorised