Read time:

1:30min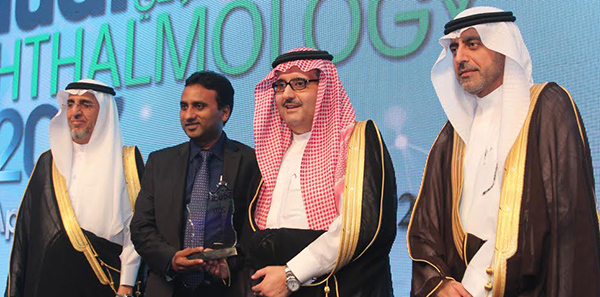 Professor Kovin Naidoo (second from left) receiving the Saudi Ophthalmology Society award   Photo: Brien Holden Vision Institute
______________________________
By Helen Carter
Journalist
Chloramphenicol added to list 
Chloramphenicol (Chlorsig) 0.5 per cent eye-drops, 10 mL have been added to the Optometrical Pharmaceutical Benefits Scheme for patients who identify as Aboriginal or Torres Strait Islander.
The drops are among new medicines listed on the PBS, announced by the Australian Government this week.
Indigenous patients will pay a maximum of $6.10 for the drops compared with a maximum of $20.11 for other patients. Rates of eye infections including trachoma are higher in Indigenous Australians.
Another award for Naidoo
CEO of the Brien Holden Vision Institute, optometrist Professor Kovin Naidoo, has received an award from the Saudi Ophthalmology Society for his work in preventing childhood blindness and cataract.
Society president Prince Abdulaziz bin Ahmad al Saud presented Professor Naidoo with the Prevention of Blindness Shield Lecture award on 1 May. Professor Naidoo spoke about his research and public health optometry work at the Saudi Ophthalmology 2017 conference.
The award recognises those who have made a significant contribution to the prevention of blindness and vision impairment in their country or globally.
Extra benefit from diabetic eye therapy
Eyes receiving anti-VEGF therapy for diabetic macular oedema may experience retinopathy improvement as well as improved visual acuity, a US study shows.
Researchers found that among eyes with non-proliferative diabetic retinopathy, the aflibercept (Eylea) and ranibizumab (Lucentis) groups had significantly higher improvement rates at one year, but no apparent treatment differences at two years.
For eyes with proliferative diabetic retinopathy, one- and two-year improvement rates were significantly higher in the aflibercept group. Rates of diabetic retinopathy worsening were low over two years.
After one year of treatment, non-proliferative diabetic retinopathy improved in 22 per cent of patients treated with bevacizumab (Avastin), 31 per cent of those treated Eylea and 38 per cent of people treated with Lucentis.
Test spots glaucoma early
A new test might be able to diagnose glaucoma 10 years earlier than is currently possible.
The detection of apoptosing retinal cells or DARC technique uses a fluorescent marker which attaches to cell proteins when injected into patients, showing sick cells as white fluorescent spots during eye examination.
Professor Francesca Cordeiro from University College London Institute of Ophthalmology said it was the first time researchers had been able to show individual nerve cell death in the back of the eye and detect the earliest signs of glaucoma.
She said most patients had lost one third of vision by the time they were diagnosed but the test might enable earlier treatment.
Initial clinical trials in glaucoma patients and healthy patients established safety of the test.
AMD therapy may increase glaucoma risk
Patients who have seven or more injections of bevacizumab (Avastin) per year for wet AMD may double their risk of needing glaucoma surgery, a new study suggests.
Canadian researchers found that repeated intravitreal injections of the vascular endothelial growth factor inhibitor might increase the risk of uncontrolled glaucoma.
Patients who had seven or more injections a year had more than double the rate of glaucoma surgery than patients who had three or fewer injections per year, and those who had 12 or more had an even higher rate. Those who had four to six injections annually had no statistically significant increased risk of glaucoma surgery.
Previous studies found repeated injections could raise IOP but this study expanded findings by showing sustained IOP elevation may lead to an increased risk of surgery for glaucoma. 
Filed in category:
Uncategorised