Read time:

1:30min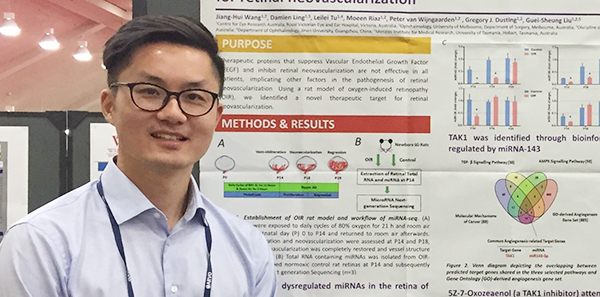 Sloan Jiang-Hui Wang at ARVO 2017
______________________________
By Helen Carter
Journalist
Sloan takes top prize 
Melbourne researcher Sloan Jiang-Hui Wang has won the student prize for best poster presentation at leading vision research conference ARVO 2017.
Sloan, a PhD candidate at the Centre for Eye Research Australia, presented at the 2017 annual meeting of the Association for Research in Vision and Ophthalmology in Baltimore, USA on 7-11 May. ARVO is the largest gathering of eye and vision researchers in the world.
Sloan is working on gene therapy for ocular disorders and his research aims to develop a switchable gene therapy for ocular disorders at post-transcriptional or post-translational level. His PhD project is to develop a gene therapy merged with a regulation system for diabetic retinopathy.
Glaucoma drug halts myopia
A generic glaucoma drug has been shown to halt the progression of myopia, according to new research presented at ARVO.
Scientists induced myopia in guinea pigs then treated their eyes with artificial tears or topical latanoprost which is commonly used to treat glaucoma. Latanoprost significantly slowed myopia progression over three months.
Gestational cannabis affects newborn eyes
Gestational exposure to marijuana smoke may have lasting effects on vision, Brazilian researchers told ARVO.
They showed for the first time that gestational exposure to marijuana smoke in animals affects the development of the eye by exposing pregnant mice daily throughout their pregnancy to marijuana smoke in doses that mimicked human exposure, or to filtered air.
They evaluated the newborn mice at three, six and 12 months of age and found that retinas of mice whose mothers were exposed prenatally to cannabis were significantly thinner. Retinal thickness did not normalise as the mice aged.
Eye conditions linked to car crashes
Cataracts, glaucoma and other conditions that impact visual acuity help explain a surge in vehicle collisions which occur in drivers over 70 years of age, a study of 2,000 drivers presented at ARVO suggests.
MDmag reported that the US study was the first to show that cataract surgery can have a significant impact in reducing the chance of vehicle collisions, finding that the rate of crashes was half in those who had cataract surgery compared with those who chose to live with their cataracts.
It also found that contrast sensitivity impairment in one eye increased the chance of crashing by three times and those with impairment in both eyes were nearly six times more likely to have had a recent accident.
Drivers with glaucoma were more likely to be involved in a crash because of visual impairment in the field of view including the front windshield, front driver and passenger side windows, and dashboard.
Impairment in the left, lower and upper visual field seemed the most detrimental for glaucoma patients, and the left visual field had the strongest association with collisions for US drivers, causing difficulty viewing oncoming traffic.
Preschoolers' vision problems rising
The number of preschool children with visual impairment is projected to increase by one-quarter in the USA over the next 45 years, a new study suggests.
Researchers based findings on prevalence data from two major US studies to estimate that by 2060, the number of children aged three to five years with visual impairment would increase by 26 per cent. At the same time, the total number of children aged three to five would jump 14 per cent.
Predictions include a 28 per cent increase in visual impairment in this group from simple uncorrected refractive error, a 25 per cent rise from bilateral amblyopia and a 16 per cent jump from ocular disease.
Hispanic white children represented most of the visual impairment cases and were projected to remain the most affected but the second most affected group was predicted to shift from non-Hispanic whites to African Americans.
Researchers said vision screening for refractive error and related eye diseases may prevent a high proportion of preschool children from experiencing unnecessary visual impairment and associated developmental delays.
Macular oedema treatments equal
Intravitreal bevacizumab (Avastin) gives similar visual acuity outcomes after six months of treatment as aflibercept (Eylea) in patients with macular oedema due to central retinal or hemiretinal vein occlusion, a study has found.
The SCORE2 trial randomised 362 patients at 66 private practices or academic centres in the USA to either treatment and found the mean visual acuity letter score increase from baseline was 18.6 in the bevacizumab group and 18.9 in the aflibercept group. Apart from similar efficacy, rates of adverse events were also comparable.
An editorial said this important information about the comparative effectiveness of the monthly injections, along with other trial results, confirmed that all three commonly available anti-VEGF agents (bevacizumab, aflibercept and ranibizumab [Lucentis]) were effective and safe treatments for the condition.
Filed in category:
Uncategorised