Read time:

1:30min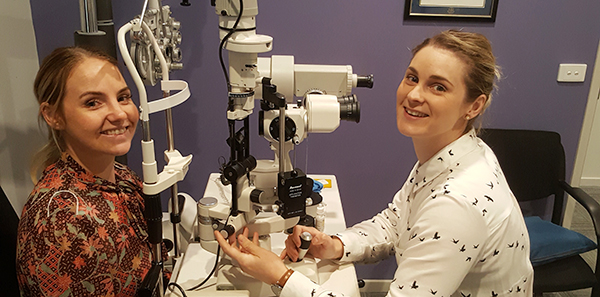 Optometrist Miranda Friend (R) and optical dispenser Brooke Shingles
______________________________
By Helen Carter
Journalist
The Macular Disease Foundation Australia has developed with the support of Optometry Australia a communications toolkit to help optometrists promote Macular Degeneration Awareness Week, 21- 27 May 2017.
The toolkit is a new initiative for optometrists and includes information they can email to patients, website promotions, digital resources, social media ideas and campaign graphics.
Posters can also be downloaded or hard copies can be ordered from the foundation, and a media release template is available for Optometry Australia members to download to help attract publicity in their local press.
Early career optometrist Miranda Friend from Sale in country Victoria used the template for the first time last year with success. She encourages optometrists to use this year's template to gain free publicity from their local media outlets during the awareness week.
Ms Friend, who graduated from the University of Melbourne in 2011, returned to her home town and is the sole optometrist at Acuity Eyecare, Sale.
She read about the template in an awareness week kit mailed to her and used it to attract news coverage in the local Gippsland Times and Maffra Spectator newspaper for the 2016 awareness week.
'I wanted to get some awareness about macular degeneration and promote the practice in a fruitful way instead of just putting an advertisement in the newspaper,' she said. 'Some of our patients later commented that they had read the story and it did lead to a few more patients coming in to have their macula checked.'
Face the Facts
Optometry Australia and the foundation are appealing to optometrists and other eye-care professionals to help Australians 'Face the Facts' about macular degeneration.
The facts are that macular degeneration causes blindness, an eye examination can save your sight, one in seven Australians over 50 years of age has some evidence of the disease, there is a 50 per cent chance of having it if there is a direct family history, people can have the early signs without knowing, and a healthy diet and lifestyle support good macular health.
The campaign resources encourage people to have their macula checked in an eye examination if they have not done so in the past two years because early detection can save sight.
The resources are free and postage is free until 26 May 2017 for optometrists, ophthalmologists, orthoptists, pharmacists, librarians, community health centres and parliamentarians. Order through the order form in the toolkit.
Material which is free until 26 May includes Amsler grids, MD information fliers, booklets, helpline contact cards, nutrition and supplements fact sheets, research updates, diabetic eye disease booklets, low vision guides, carers guides, falls guides, low vision aids and technology guides, and injection rebate information. Booklets are available in languages other than English.
Optometrists are advised that their Macular Degeneration Awareness Week Kit should have arrived in the mail. They can call the foundation on 1800 111 709 if the kit has not been received.
See also www.mdfoundation.com.au
Filed in category:
Uncategorised