Read time:

1:30min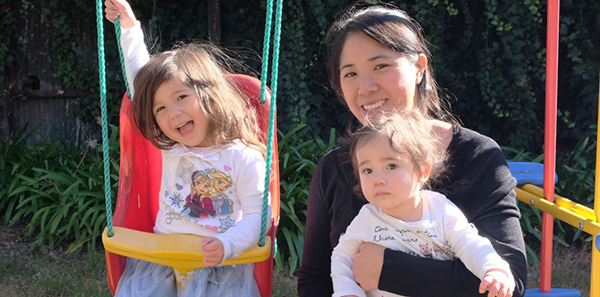 Aimee Patten with her daughters Eve (L) and Mae
______________________________
By Helen Carter
Journalist
Optometry South Australia's Mums and Bubs Hub is going great guns, helping optometrists who are mothers juggle the delicate work-life balance of being a busy optometrist and a mother.
The hub, which started in 2014, now has 15 members. It will have its next get-together with the children on 19 May and is planning a fun child-free evening to do Pharma CPD.
Hub facilitator Aimee Patten said the child-free evening soon would enable members to enjoy chocolate and ice-cream and read Optometry Australia's Pharma magazine at a dessert café, to catch up in a relaxed environment and complete some CPD.
Optometry South Australia established the hub for mothers who are optometrists, to enable them to participate in regular, informal, confidential discussions about their professional challenges. They meet regularly for social gatherings with their children and give each other support and advice.
The Mums and Bubs Hub started meeting at the Optometry SA office when the members' children were babies. For part of the session the children were in an on-site crèche while their mothers listened to talks and gained CPD.
Now that some of the children are toddlers, the group meets at playgrounds and play cafés so the children can run around. There is no set schedule to the meeting dates as the mothers, who mostly work part-time as optometrists, arrange get-togethers whenever they can.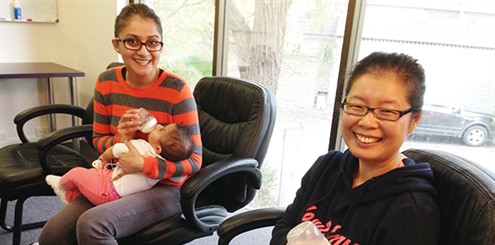 Nisha Sharma (L) with her daughter Aliyah, and Lona Zhang with her daughter Eva at the first hub meeting in 2014
Ms Patten, who works part-time in an OPSM practice, says the group is great for her to keep in touch with other optometrists because she is the only optometrist at the practice where she works.
'We have become a close group of girls sharing invaluable parenting advice and support out of meeting times, too,' she said. 'There are regulars in the group and a few more join us on our private Facebook page.'
The group has discussed maternity leave entitlements, child care, how they feel about going back to work, how supportive their employer is of them returning to part-time work and coping with life in general, life at home and the work-life balance.
'It's nice to have a social get-together with similar people who can help shape your ideas. Mums can feel a bit isolated. The group is open to all optometrist parents so dads are welcome too,' Ms Patten said.
The hub's next meeting will be next Friday morning, 19 May at Glenunga Hub playground on L'Estrange Street, Glenunga. All Optometry South Australia members who are mothers or fathers are welcome to join the hub and can contact Ms Patten at aimee@tenderness.org. 
See also Give and take together
Filed in category:
Uncategorised