Read time:

1:30min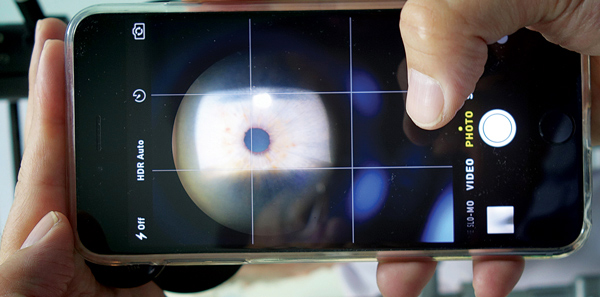 By Tin Nguyen
Policy and advocacy adviser
The Office of the Australian Information Commissioner has published guidance for health practitioners on the use of their personal smartphone or tablet to take clinical images.
According to a study in 2013, one in five hospital doctors and nurses in Australia used their personal smartphone to take clinical photos of their patients.
Whether it is for research purposes or clinical diagnosis, optometrists are increasingly using their personal mobile devices in clinical practice to take images or videos of their patients' eye conditions or to provide outreach services.
For example, for an anterior eye condition such as a pterygium that doesn't require diagnosis using a slitlamp, a smartphone may be a more efficient method to capture the image. Optometrists can also record a patient's eye movements using their smartphone video camera if they suspect an eye movement disorder such as nystagmus or sixth nerve palsy.
Many smartphones can capture high-quality digital images and videos that can be transferred and analysed quickly and stored in a patient's electronic medical record, and image sharing between clinicians can foster collaborative care and improve patient outcomes. However, optometrists need to consider the patient's privacy and ensure that the image captured on their smartphone is used appropriately.
As health practitioners, optometrists are required to comply with the Australian Privacy Principles (APPs), which set out how optometrists must handle patient information.
Patient consent is essential when capturing images or videos using your smartphone or tablet. Patients when giving consent should understand the purposes of the clinical image, how the image will be used, who will have access to the image, whether it will be de-identified, and how the image will be stored. Once consent is obtained, document this on the patient's clinical file and delete the file from your device after the image has been transferred to your computer.
Clinical guidelines
Clinical images and videos captured on your mobile device are considered part of the patient's clinical record; therefore, you need to treat them exactly the same way you treat other information contained in your patient's record. Optometry Australia has provided guidance to our members on effective patient record keeping. 
In accordance with the APPs, optometrists must take reasonable steps to protect all of the patient's personal information including images and videos that the optometrist stores on their smartphone. It is important to ensure that the security settings on your personal device are adequate. This may be as straightforward as installing a password to access your device.
Optometrists also need to ensure that images are not automatically uploaded on cloud back-up sites or on social media platforms that are available on your device.
Finally, optometrists need to take reasonable steps in protecting patient information when transferring the image or video from their mobile device to their computer.
For further reading, the Australian Medical Association in collaboration with the Medical Indemnity Industry Association of Australia has published guidance on clinical images and the use of personal mobile devices.
Filed in category:
Uncategorised