Read time:

1:30min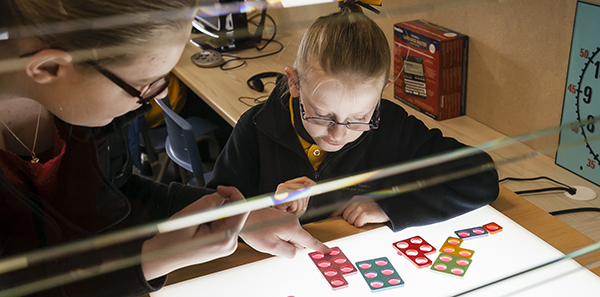 Insight student Natalie   Image: Insight Education Centre
______________________________
By Helen Carter
Journalist
A world class model of education at a school for blind and vision impaired children in Victoria is changing lives and would help others if adopted Australia-wide, its principal says.
Most students at Insight Education Centre for the Blind and Vision Impaired are blind or have a vision impairment, but students with less severe low visual acuity who are at risk of educational disengagement are benefitting, principal Tim Hemphill says.
The centre helps vision impaired children of all ages from babies to secondary school students.
Mr Hemphill says dual curricula, the standard Australian National Curriculum with the Expanded Core Curriculum embedded into all lessons, ensures access to a world class best practice educational model for blind and vision impaired students.
'The model focuses on explicit teaching and inferential learning, which in many cases students just don't access adequately in mainstream school settings alone,' he said.
The Expanded Core Curriculum includes communication modes such as Braille and large print format. It covers orientation and mobility, social interaction, independent living and life skills, recreation and leisure, career education, assistive technologies and sensory efficiency. Extracurricular activities include Braille music, ceramics and a kitchen garden program.
'Blind and vision impaired children often fall two to three years behind their sighted peers as learning in the classroom is mostly 85 per cent visual. Insight has introduced educational needs assessments with a blueprint for learning report to individualise learning and ensure that our students advance,' Mr Hemphill said.
'Nearly 70 per cent of blind adults are unemployed and, in isolation, the current 'integration' mainstream school model does not provide the entire framework students require for life skills or future employment. Explicit teaching is not delivered to students simply with a teacher aide adapting learning.
'We are trying to do everything we can to help our students have a fulfilling life, go to university and have the careers they want. Results from their assessments and feedback from students and parents indicates that our model is changing lives.
'By the time our students are older we will have dynamic connections with universities and TAFE colleges to empower them with better chances for careers so that they can find their places in society and life.'
The centre provides a hub of educational services for vision impaired students, regardless of where they live or go to school.
Some attend full-time or in dual enrolment at Insight's Berwick Specialist School campus, Victoria's only school for blind and vision impaired children from prep to year eight.
Others access intensive sessions at 10 mainstream primary and secondary schools in outer Melbourne and regional Victoria via outreach services including the InsightOut mobile classroom. The van supports more than 45 students and mainstream school staff with specialised education through one- or two-day sessions at their schools and these numbers will increase when two more mobile classrooms roll out this term.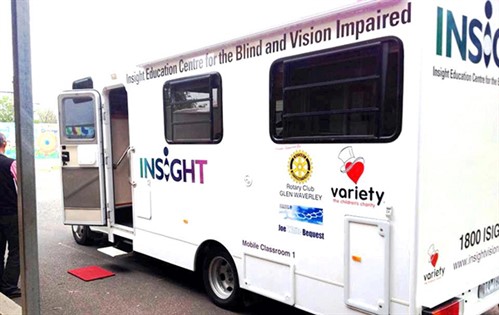 InsightOut mobile classroom   Image: Insight Education Centre
Satellite units
Two of a proposed four satellite units for kindergarten to year 12 students are expected to be operational by early 2017. These stand-alone two to four classroom units, equipped with specialist resources and teachers, will be at primary and secondary schools in Melbourne and regional Victoria.
'Our school aims to deliver a genuine pathway to inclusion for students to transition into mainstream schools. This will be made possible with the satellites,' Mr Hemphill said.
'Students will attend these units for several days a week and mainstream classes on other days with the goal of achieving full-time attendance in the host schools' mainstream classes, with ongoing support for their teachers from our satellite staff and resources.'
Step into kinder, prep
Insight also delivers, at its Berwick campus, step into kinder and prep mornings for one- to five-year-olds with a junior classroom teacher, early years blind and vision impaired orientation and mobility instructors, and occupational therapists.
They provide explicit learning for blind and vision impaired children and their parents in Braille, large print, maths, English, sensory skills, orientation and mobility. Insight plans to run these sessions in the satellite units for kindergarten students in mainstream schools.
About 1,500 children and young people in Victoria are blind or have low vision.
Alan Lachman, father of Insight student Francesca Lachman who is blind, became the driving force behind establishing the school after Vision Australia, formerly the Royal Victorian Institute for the Blind, closed its school for the blind.
Read more in the April issue of Optometry Victoria's Scope magazine.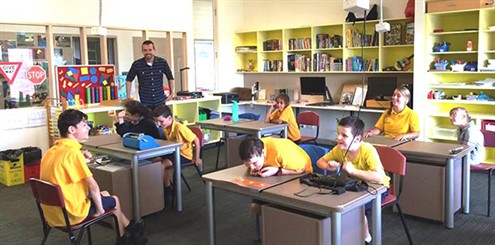 Image: Insight Education Centre
Filed in category:
Uncategorised