Read time:

1:30min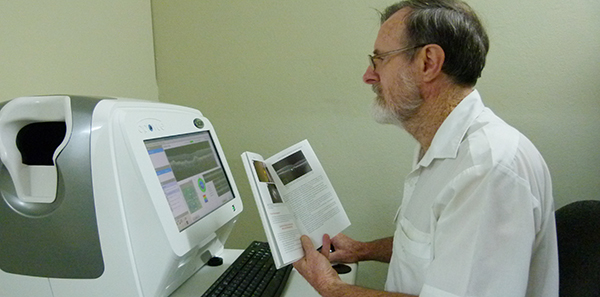 Neil Kearns refers to a book he bought from the Online Store
______________________________
By Helen Carter
Journalist
Neil Kearns likes the convenience of being able to browse online and order quality optometry books from one trusted site, which is the reason he supports Optometry Australia's Online Store.
The store has more than 800 titles of optometry, vision science and related reference books in its database.
In March, Mr Kearns ordered 12 optometry books as well as patient brochures and posters for his practice in Tanilba Bay, NSW.
The books he bought covered diverse topics. They include imaging the eye with OCT, neuro-ophthalmology, diabetic eye disease and retinal screening, primary eye care and clinical diagnosis, AMD management, anterior eye disease and therapeutics, and glaucoma and ophthalmology atlases.
Mr Kearns had recently bought an ocular coherence tomographer, which prompted him to check the latest OCT books on sale. As he had not updated his professional library for some time, he decided to see what else the Online Store offered.
He compiled a list of topics for books he needed and ordered them on the one site, and the books were delivered promptly.
Mr Kearns had not used the Online Store before, having previously ordered books by phone or fax.
Easy, convenient, trusted
'The Online Store was easy to use and navigate,' he said. 'A main benefit was the convenience because I was able to browse online at the weekend and order what I wanted. There's a good range of books offered and being able to find them all in the one spot on one website was an advantage.
'The store had a lot of the type of books I wanted and you know they are always quality books.'
Mr Kearns says it was good to be able to order the books from a website and organisation that he knows and trusts instead of an unknown website. He recommends the store to other busy optometrists who do not have time to physically go shopping for books or search online at different websites for individual books.
Wide range
Optometry Australia's Online Store manager Natalina Bortone says the store offers a wide range of eye-related products to assist optometrists, such as clinical and research optometry books and practice resources including brochures, eye models and posters.
The AOA Bookshop, as it was previously known, started about 25 years ago. It took orders only by fax, phone or email.
'Since the Online Store was revamped in 2015, it has made access to the products much more convenient for optometrists and their staff as they can now browse the contents online and order whenever they like,' Mrs Bortone said.
Mrs Bortone continually updates the book list as she is notified about new releases from publishers and she searches publishers' websites for forthcoming and new releases.
The reference books cover optometry, ophthalmology, medicines, pharmacology, optics, neuroscience, pathology and patient topics.
Specific areas include anterior and posterior eye disease, basic sciences, binocular vision, clinical procedures, clinical tests, contact lenses, dictionaries and atlases of diseases and conditions, e-books, glaucoma, history, low vision, neuro-ophthalmology, ophthalmic optics, optical dispensing, paediatric eye care, pharmacology, physiological optics, practice management, sports vision, surgery and vision therapy.
Brochures for patients include caring for your eyes, children, eye pathology, older patients, products and services, and vision problems.
Accessories include display stands, eye models, diabetic report pads, GP referral pads, children's referral forms, convergence cards, LogMAR reading cards, diabetic retinopathy appointment cards, prescription cards, paper bags and posters.
Members and practice managers can go online, browse, add items to the cart, check out and proceed to payment. Members can login or a buyer can shop as a guest.
All member transactions are recorded in the Member Hub on the Optometry Australia website for easy tracking. Once the order is dispatched, the member is notified via email and is given a tracking number that captures the item's journey at various points with Australia Post.
Members can also browse at the mobile book shop at the AVC, SA Blue Sky Congress, SRC, Super Sunday, WAVE and TLC conferences.
Visit the Online Store.
Filed in category:
Uncategorised