Read time:

1:30min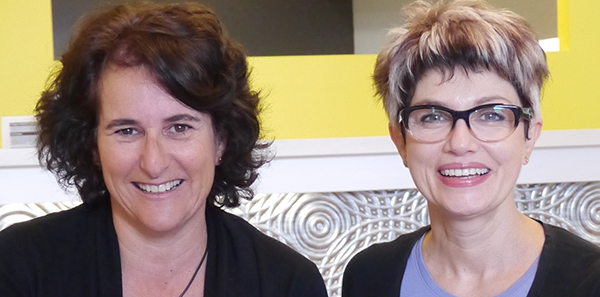 Liz Vidor (L) and Vicky Tranis
______________________________
By Helen Carter
Journalist
Many new patients and not one 'no show' have resulted from a new online booking system adopted by Melbourne optometrists Liz Vidor and Vicky Tranis.
The business partners, who own independent practice St Kilda Eyecare, signed up to the online appointment booking system, 1stAvailable, in early September.
'I encourage other practices to take up the system,' Ms Vidor told Australian Optometry. 'It is the future of convenience for our patients, and we were able to set our practice policies and customise the booking process to suit our individual practice.'
The Australian online health portal allows patients to make appointments with a range of health professionals, including optometrists. The system allows patients to select the optometrists they want, the time and day, and the type of optometry appointment they want. These include a comprehensive eye examination, an initial contact lens consultation or consultation for an existing wearer, a follow-up or review consultation, a children's vision examination, glaucoma screen test, or an emergency consultation.
The St Kilda practice was one of 20 ProVision practices involved in a successful trial of 1stAvailable.
'It was recommended by our ProVision business coach and our practice was asked to be part of the pilot program,' Ms Vidor said.
'It seemed like a very good idea to provide a convenient service to our existing patients and also attract new patients who were searching on the internet, often after hours. It is a simple system to manage and patients find it easy and convenient to use. There have been many new patients and so far we have not had a no-show from any patient booking online.'
According to 1stAvailable, 55 per cent of online bookings are outside business hours.
Ms Vidor says patient and staff comments have been very positive. 'It is great for our patients to make an appointment at any time when it suits them. They can also choose the optometrist that they prefer and select the appointment type that they require,' she said.
'The staff members have been very happy as patients have only complimented the ease of the system when they arrive for their appointment.
'Staff members do not need to do anything to manage the system. It is seamlessly integrated into our Sunix practice management system so that when a patient books online the appointment appears immediately. The practice staff receives an email confirmation so that we know that a booking has been made.'
Overcome problems
The system has also helped overcome problems previously encountered such as occasionally receiving emails from patients requesting an appointment and staff having to send emails back and forth to organise a suitable time.
'Now we can just direct them to our website to make a time they are happy with,' Ms Vidor said.
'The online booking system mirrors your appointment book in real time, so if you are not crossing off public holidays, leave or lunch breaks, you may find that a patient makes an appointment during this time.
'The system also requires that the office computer is always on and connected to the internet for after-hours bookings.' 
Ms Vidor says the system is cost-effective. 'There is a monthly subscription fee which is very reasonable as only one new patient a month would justify the cost,' she said. 'The trial is now over and we are happy to continue with the monthly subscription.' 
1stAvailable managing director Klaus Bartosch says that more than 120 ProVision members have signed up following the pilot scheme.
1stAvailable Limited is listed on the Australian Stock Exchange (ASX: 1ST), has booked close to five million health-care appointments online and is installed in more than 4,000 locations in Australia.
Under the partnership with ProVision, ProVision practices that have joined 1stAvailable will also have access to its easyRECALL product, which reminds patients they are due for an appointment. EasyRECALL reduces direct and indirect costs via a smart text message sent to the patient with a direct link to the appointment booking portal preselecting the service they are to book online. The system knows the patient's details so they can make their appointment in three clicks.
1stAvailable is offering members of Optometry Australia a special offer to join.
Filed in category:
Uncategorised