Read time:

1:30min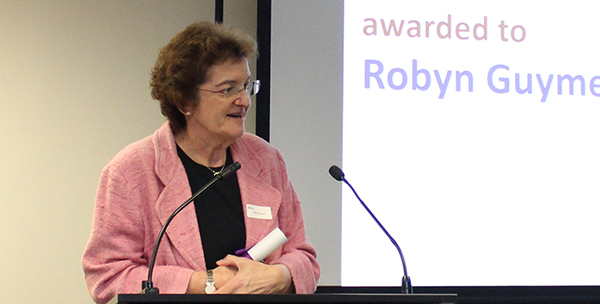 By Helen Carter
Journalist
Guymer receives CERA Award 
Ophthalmologist Professor Robyn Guymer received the annual CERA Award for enhancing the organisation, at the Centre for Eye Research Australia Scientific Exchange on 31 May.
Professor Guymer is the deputy director of CERA, leading a team of 20 researchers primarily investigating age-related macular degeneration. Outcomes from her research include the Laser intervention in Early Age-Related Macular Degeneration (LEAD) study, the Bionic Vision Australia project and an app for testing AMD.
The managing director of CERA, Professor Jonathan Crowston, said Professor Guymer was a world renowned clinician who encompassed everything that was great about working at CERA.
200 medicine name changes
The TGA is changing the names of about 200 medicines in Australia to make them consistent with international names.
There is a four-year transition period to allow health professionals, manufacturers and patients to adjust to name changes. A few medicines that are more frequently used or carry higher risks will have seven years to transition and will have dual labelling during this time.
Adrenaline will always be known as adrenaline (epinephrine) because of its use in life-threatening situations such as anaphylaxis.
Jerry Yik said in Australian Prescriber that the move would improve medication safety.
Insight into profession
Nearly one per cent of Australia's registered health practitioners are optometrists, Optometry Board of Australia statistics show.
A 2015-2016 annual report summary reveals that of 657,621 registered health practitioners in Australia during the year, 5,142 or 0.8 per cent were optometrists.
There were 339 new applications for registration as an optometrist and registration for the optometry profession grew by 4.6 per cent from 2014-2015. Student registration increased by 3.9 per cent to 1,652 registrants.
Read the summary and other OBA news in the OBA's May 2017 newsletter.
Decorative contact lenses harmful
Many novelty contact lenses which are not used to correct vision problems contain microbes and are potentially harmful to eyes, a US study shows.
The FDA's Forensic Chemistry Centre examined more than 300 non-corrective contact lenses, such as those worn at Halloween parties, and found that 60 per cent of counterfeit lenses and 27 per cent of unapproved decorative contact lenses had microbial contamination.
Of 29 different brands of non-corrective contact lenses examined, 48 per cent had at least one sample positive for microbial contamination. The contact lenses were obtained without prescription from an optometrist or ophthalmologist and were mainly bought from the internet or novelty stores.
GAT inaccuracy
Goldmann applanation tonometry measurements were discordant from dynamic contour tonometry measurements in eyes with thin corneas and advanced glaucoma, in a cross-sectional case series.
Researchers studied the accuracy of GAT correction equations, and whether there was an association between glaucoma stage and discordance of GAT and dynamic contour tonometry IOP readings.
They concluded that in the management of patients with glaucoma, measurement inaccuracy associated with GAT must be taken into account but GAT correction equations still involve the risk of unpredictable measurement errors.
Cross-linking cost effective
Corneal collagen cross-linking is significantly more cost-effective than corneal transplant for progressive keratoconus, a study reports.
Microsimulation model analysis was applied to simulated cohorts of 100,000 people with keratoconus assigned to cross-linking or transplant at age 25 years, with an estimated lifespan to a maximum 110 years.
Glaucoma and night IOP rises
New research confirms earlier work which associated optic disc haemorrhage with increased risk for glaucoma progression. 
It found that being an over-dipper is a significant risk factor for optic disc haemorrhage in normal tension glaucoma (NTG) eyes and detecting optic disc haemorrhage during follow-up is a potent predictor of future visual field progression.
Over three years, 375 people were studied to evaluate the link between NTG and blood pressure to investigate the effect of nocturnal blood pressure dips on the occurrence of optic disc haemorrhage in NTG patients and determine whether optic disc haemorrhage is associated with greater likelihood of visual field progression.
Optic disc haemorrhage was linked to IOP-independent risk factors and vascular mechanisms were found to play a part in the development of optic disc haemorrhage in some glaucoma patients. Non-dippers appeared at risk too. 
Filed in category:
Uncategorised