Read time:

1:30min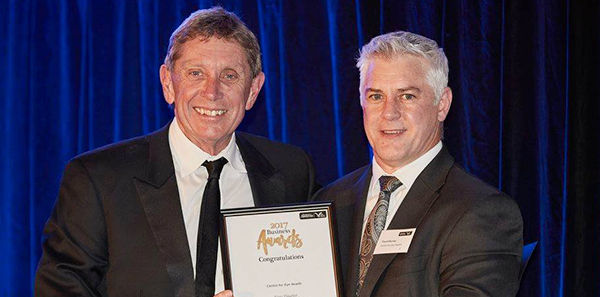 Centre for Eye Health executive officer David Murray (R) receiving the award from NSW Business Chamber board director Lyall Gorman   Photo: NSW Business Chamber
______________________________
By Helen Carter
Journalist
CFEH business award 
Centre for Eye Health has won the Excellence in Social Enterprise category at the South Eastern Sydney Regional Business Awards and is now a state finalist in the 2017 NSW Business Chamber State Business Awards which will be announced on 17 November.
The centre has assessed more than 40,000 patients since opening in 2009 to maximise access to eye assessments and reduce the incidence of preventable blindness through early detection. 
'Since opening our doors eight years ago we have been able to diagnose thousands of patients with eye disease who otherwise might not have received this service, and have initiated a glaucoma management clinic in a collaborative care model with local health district ophthalmologists,' director Professor Michael Kalloniatis said.
Hear CFEH executive officer David Murray 
ICBO calls for papers
The 2018 International Congress of Behavioural Optometry is calling for papers in lecture or poster format.
The congress will be in Sydney 26-29 April 2018, and themes are evidence, emerging models of practice, children's vision and exploring the visual process in action.
Deadline dates for submission of abstracts are 1 September 2017, notification of acceptance 6 December 2017 and author registration and early bird deadline 22 January 2018.
Online myopia course
Brien Holden Vision Institute will launch its online Managing Myopia course for eye-care practitioners on 20 June, offering 10 CPD points.
The institute created the course in response to a survey which found that nearly 70 per cent of practitioners still use single vision lenses as the main correction for myopia.
Optometrists in a pilot program said they found the program valuable and it was changing practice.
The course compiles evidence, guidelines and the latest advances for myopia management into a program which includes videos and interactive case studies to complete at your own pace, and a webinar on 5 July at 7:30 pm.
The course costs $120 and goes from 20 June to 7 July. Enrol before 12 June to receive a $20 discount using the code MYOPIAAUS2017. View information.
Trial of AMD pill
Sixty per cent of people who tried an oral treatment for neovascular AMD were able to skip eye injections, a study has found.
X-82, previously used to reduce tumours in cancer patients, is an oral tyrosine kinase inhibitor which blocks the action of vascular endothelial growth factor and platelet-derived growth factor.
The phase one dose-escalation study in 35 AMD patients found that all but one of the 25 who completed six months of treatment maintained or improved their visual acuity and 60 per cent required no anti-VEGF injections.
A commentary said a phase two trial had started recruitment.
Processing visual clues
Queensland Brain Institute researchers have made clearer how human eyes compute the direction of moving light.
The University of Queensland scientists used advanced electrical recording techniques to discover how nerve cells in the retina are integral to the eyes processing visual cues.
The study found that dendrites of neurons, previously thought to be passive, played a critical role in decoding images.
Filed in category:
Uncategorised