Read time:

1:30min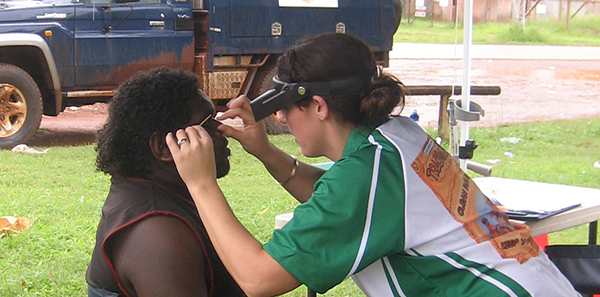 Optometrists should check all Indigenous patients for trichiasis, according to a health promotion officer from the University of Melbourne's Indigenous Eye Health Unit.
Fiona Lange is encouraging optometrists to ask all Indigenous patients if they have ever lived in remote or outback areas. She said that Indigenous people over the age of 40 years who had had trachoma as a child might present to an optometrist in later stages of the disease, with trichiasis.
'They may have been born or lived in a desert environment in remote, dusty outback areas but they could have since moved all over Australia and be living in urban or regional areas now,' she said.
'Optometrists could simply ask: "Have you ever lived remotely or in the outback?" and use clinical examination to look for scarring under the eye-lids, contracture of the lid margins, corneal opacification and eyelashes contacting the cornea.
'We are encouraging eye checks within all Aboriginal health exams and appropriate referral when eye problems are identified. To identify trichiasis you need to think of it, then use good illumination to see the dark lashes against the dark irides and use your thumb to pull the lid away.
'Another red flag is diabetes because Aboriginal people with diabetes need to have their eyes examined every year.'
Ms Lange said Australia was the only developed country among 53 developing countries with trachoma, due to overcrowding, limited safe functional plumbing and poor personal and environmental hygiene being common in remote Indigenous communities.
She said the Trachoma Elimination Program aimed to eradicate trachoma in Australia by 2020 and had had considerable success as trachoma rates had dropped from 14 per cent in 2009 to the current four per cent.
Despite this, 204 communities and nearly 20,000 Indigenous children still remained at risk of trachoma, she said.
Much of the large decrease was due to giving azithromycin to children with trachoma and all people with whom they had had contact, but screening and promotion of the 'clean faces—strong eyes' campaign had also contributed markedly.
This included providing face and hand washing facilities at schools, preschool services, clinics and sporting facilities, and hygiene promotion.
Flipping the eyelids and seeing five or more follicles under the lid meant they had trachoma and should receive antibiotics, along with all personal contacts, she said.
Ms Lange said that health promotion in communities must work across settings, sectors and disciplines to eradicate trachoma in the next six years.
'I think trachoma will be eliminated provided all disciplines keep working together and the ongoing challenge will be hot-spots where it will flare up and local delivery of services and campaigns can be adopted,' she said.
Currently in some small remote communities, 37 to 40 per cent of children have trachoma, she said.
Ms Lange said that 11,000 children were at risk of trachoma in the Northern Territory, a further 6,000 in Western Australia and 2,500 in South Australia.
Filed in category:
Uncategorised