Read time:

1:30min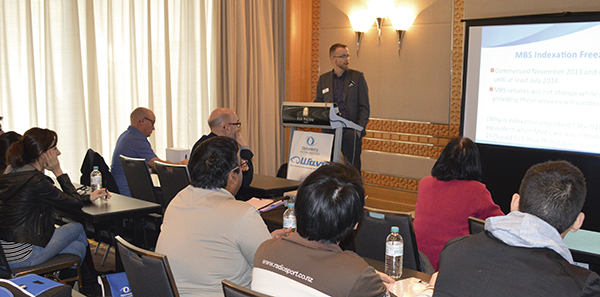 Luke Arundel leads a workshop on maximising Medicare and charging for consultations
______________________________
By Sandra Shaw
National Communications Manager
WAVE 2015 upheld the long tradition of the optometry profession's peak professional body delivering high-quality conferences.
A strong program with high-calibre speakers ensured that the 227 optometrists who registered not only gained their CPD points but also were given valuable information and advice to develop their clinical and business skills.
Thirty-seven optometrists travelled from interstate to attend WAVE in Perth on 8-9 August, and two were overseas visitors.
The weather was unseasonably cold, wet and windy, which encouraged everyone to enjoy the warmth inside the venue and stay close to the trade exhibition, chatting with industry representatives.
Optometry Western Australia CEO Tony Martella has thanked the industry exhibitors for their commitment to WAVE.
'These are long-term supporters who have stood by WAVE. I encourage optometrists to get behind these companies and recognise the great contribution they make to optometry, eye health and vision care,' Mr Martella said.
A social event was held on the Saturday evening, with drinks and finger-food served to guests.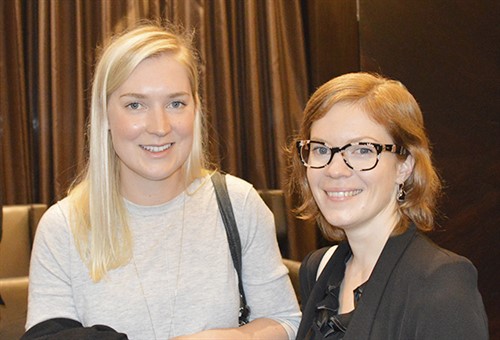 OWAGG president Kate Hegarty (L) and Kate Gifford at WAVE
The Optometry Western Australia Graduate Group, OWAGG, held a lecture event on 7 August, from 2 pm to 6.30 pm. The speakers tailored their presentations to meet the needs of the 17 enthusiastic early career optometrists who attended.
Mr Martella assures optometrists that next year's WAVE will have a different feel to it, as part of the plan to keep the conference exciting and interesting. WAVE 2016 will be held on 13-14 August in Perth.
Filed in category:
Uncategorised