Read time:

1:30min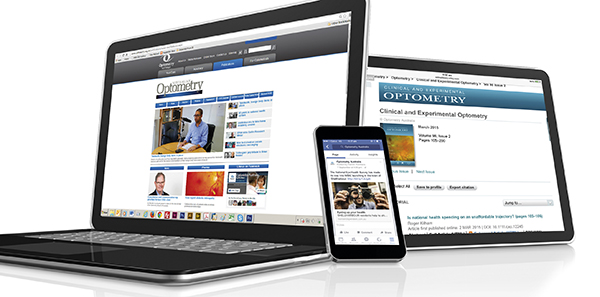 By Sandra Shaw
National Communications Manager
Australian Optometry and Clinical and Experimental Optometry will become exclusively digital publications in 2016.
The final print issues will be published in November and December, respectively, but both will continue to be published online.
The rising popularity of digital devices including smartphones and tablets, combined with members' preference for digital communication, has prompted Optometry Australia to make a decisive move into this space.
National CEO Genevieve Quilty said the decision rested on making smarter use of membership fees, with digital communication offering greater efficiency and value over print communication.
Members will have quick and easy access to the freshest news and information on their desktop computers or mobile devices at any time, wherever they are.
From January, members will receive a weekly electronic newsletter alerting them to the latest news and feature stories in Australian Optometry, published online at www.optometry.org.au.
Content will be updated virtually daily, connecting optometrists with breaking news.
The regular email alert to a new issue of Clinical and Experimental Optometry will continue to be sent to members every two months.
'We have been reviewing the cost of production and distribution and have determined that print prices, combined with rising mailing charges, have made it too expensive to continue producing and distributing member news in this manner,' Ms Quilty said.
'Over the past two years, we have been introducing more digital channels to service our members and to keep them informed of news and events within our profession.
'This has included the highly successful eNews, an online news stream on our website, and social media platforms including Facebook, Twitter and LinkedIn.
'We have learned from this that digital communication allows us a high level of efficiency and the power to deliver news as it happens. This means we can keep our members better informed and they have access to optometry news and information anywhere and at any time,' Ms Quilty said.
News App
An Australian Optometry App is being developed to deliver the news directly into the hands of optometrists. It will be freely available to all and provide open access to Australian Optometry Online.
A mid-year survey of members showed that 68 per cent of respondents would read Australian Optometry newspaper if it were available as an online-only publication and not in print.
The move by Clinical and Experimental Optometry to online-only publication is in line with other major optometry journals that have ceased print.
A digital platform will enable Optometry Australia to communicate in a more contemporary and timely way, allowing it to be innovative and responsive.
We have a strong track record of open rates for our electronic newsletters and access to Australian Optometry news and features online.
For several years we have used digital platforms to connect with optometrists — our website, e-newsletters, social media and an app for the journal — and these channels are showing high engagement and use.
We will use these channels to remind members that they can access our website for the latest news, information and activities, and our very comprehensive and useful member-only resources.
Access to our online news is already easy. Members can simply click a tile in a prime location on our website homepage, or click links in our e-newsletters. The Australian Optometry App will provide a complementary news feed.
We are informing all stakeholders of the changes, and our state organisations will help to share the messages with members.
COMING NEXT YEAR
Australian Optometry
   Australian Optometry newspaper will become a digital-only publication in 2016, with the
    December 2015 issue the last print issue to roll off the press.
   News on the Australian Optometry website will be updated almost daily, Monday to Friday,
    from 2016.
   A new Australian Optometry App will be launched, with free open access and real-time
    updates on iOS, Android, Windows Phone, Blackberry and tablet mobile devices.
   The Australian Optometry email alert will become a weekly alert in 2016, keeping
    members updated with open access links to the most important stories on our News
    website.
   eNews will be incorporated into the weekly Australian Optometry email alert in 2016,
    with links to both open-access stories and other member-only information
    that requires a login.
   Social media will continue to keep you connected with our news and features.
Clinical and Experimental Optometry
   Clinical and Experimental Optometry will become a digital-only publication in 2016,
    with the last print issue to be published in November 2015.
   Clinical and Experimental Optometry is published on the Wiley Online Library website
    with the options of viewing the Full Article in HTML, the Enhanced Article in HTML,
    and PDF format, and with full open access for members of Optometry Australia.
   The Clinical and Experimental Optometry App for iPad provides instant access to
    breaking research. It offers bookmarking and article sharing, and a readily readable,
    print-like experience enhanced with dynamic figures, tables and references. An app for
    Android is in development.
Pharma and Equipment in print
   The clinical favourite, Pharma, which is published quarterly in March, June, September
    and December, will remain in print and online in 2016.
   The annual Equipment will also remain a print and online resource in 2016.
Filed in category:
Uncategorised