Read time:

1:30min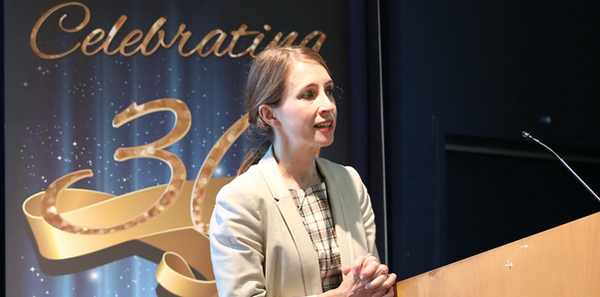 Professor Stephanie Watson launching the module   Image: Save Sight Institute
______________________________
By Helen Carter
Journalist
A world-first project launched in Sydney will assess real life treatment outcomes of collagen corneal cross-linking on keratoconus patients.
Save Sight Institute's Save Sight Registries online platform analyses real life treatment outcomes globally. The first two modules were for macular degeneration and diabetic retinopathy, and a third module, keratoconus, has been added to the registries framework.
The keratoconus module will collect and analyse real time clinical data and patient outcomes from current and emerging approaches to managing keratoconus. Collagen cross-linking will be the first treatment examined, making the module the world's first large-scale assessment of collagen cross-linking.
Clinical Professor Stephanie Watson, who heads the keratoconus module, said ophthalmologists were involved in recording data on the registry but optometrists had an important role in educating patients about the registry and would have a greater role in the future.
'Phase one of the registry allows ophthalmologists to enter and access data but phase two will look at how optometrists will be more actively involved,' she told Australian Optometry.
'I am looking forward to exploring the options and challenges for greater optometric involvement.
'Cross-linking is what we are analysing now but in the future it will be expanded for existing and emerging therapies. No-one else in the world has a system like this to collect data from all clinical settings.'
Professor Watson said collaboration was the most powerful tool in the fight against blindness and more people could be helped by working together and harnessing the huge amounts of available data.
The registries enable any clinician administering treatments and performing procedures to contribute. Ophthalmologists from Australia, New Zealand, Europe, Asia and America are participating.
The head of Save Sight Registries, Professor Mark Gillies, instigated the registries as a research tool with differences from randomised clinical trials eight years ago.
'Registries track patient outcomes in the real world,' he said at the 25 November launch. 'Clinical trials tend to exclude certain patient groups and are also conducted for a limited time frame with a limited number of patients.
'We track all patients over the long-term. It's quick and easy for clinicians to use during routine consultations, taking just 15 seconds to enter patient data.'
The registries allow doctors to audit their own patient outcomes anonymously by comparing results so that they can benchmark themselves with other clinicians. There is no charge to use the system, and patient and doctor data are anonymous.
Easily generated reports in graphical form helped clinicians anticipate how a prescribed treatment regime should work, Professor Gillies said.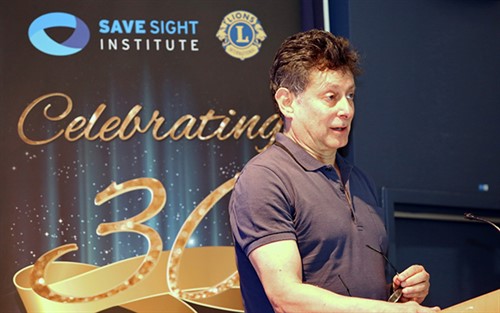 Keratoconus Australia president Larry Kornhauser   Image: Save Sight Institute
Keratoconus Australia president Larry Kornhauser, who provided seed funding to launch the project, said one of the most important aspects of the registry was its inclusion of patient reported outcomes.
'It is so critical to include those with the most at stake in the process, to ask them about their lived experience and to incorporate their responses in the overall assessment of treatment approaches,' he said.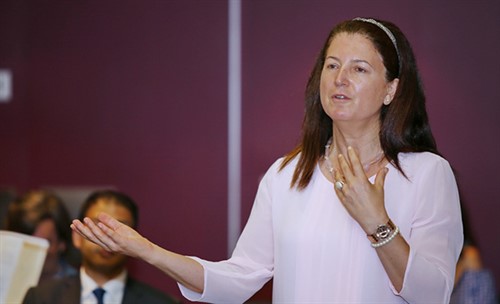 Optometrist Esther Euripidou asks a question at the launch   Image: Save Sight Institute
Role for optometry
Sydney optometrist Esther Euripidou, who sees keratoconic patients and comanages their treatment, attended the launch at Sydney Eye Hospital to learn more about optometrists' involvement and the latest information on case management of keratoconic patients.
'I have referred patients for collagen cross-linking. They are often lost to follow up so it's hard to be 100 per cent conclusive that they have had an optimal result,' Ms Euripidou told Australian Optometry.
'It will be particularly important to know if those who declined treatment declined in visual acuity and if they presented later for treatment, if it was just as effective at a later stage.
'It will give important information to younger people who are more likely to have progressing symptoms. Initiating suitable treatment at the earliest stage of progression is critical to preserving vision,' she said.
Ms Euripidou said Mr Kornhauser had addressed a problem, stating that many keratoconic patients were not happy with counselling from optometrists who were not skilled in fitting patients with keratoconus and that poorly fitting contact lenses could make keratoconus patients' problems worse.
She said she found it confronting and thought provoking listening to his personal experiences and about interactions with patients seeking support from the organisation, but she now felt more confident in her methods and approach with keratoconus patient counselling and management.
'I had questioned my initial over-testing and time spent with the patient at diagnosis but now I realise the importance of tailoring the approach to sensitive patients,' she said.
Corneal specialist Dr Con Petsoglou encouraged optometrists to refer to ophthalmologists involved in the initiative because data would be detailed in a way to allow patient follow-up and used for evidence-based approaches to future patient management.
Patients, optometrists, clinicians and industry stakeholders attended the launch and asked questions of a panel of corneal specialists including Professor Watson, Dr Petsoglou, Dr Yves Kerdraon and Dr John Males.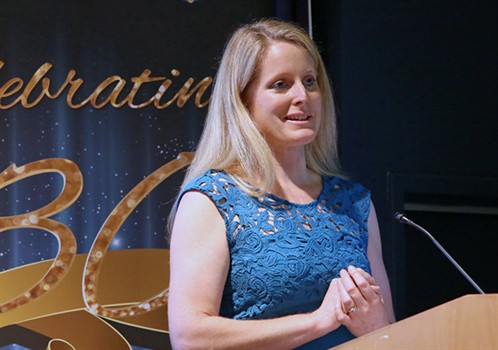 Keratoconus patient Michelle Urquhart   Image: Save Sight Institute
Keratoconus patient Michelle Urquhart was diagnosed as a teenager and has undergone corneal grafts.
'My world has often turned fuzzy as my eyesight fluctuated. I've felt very unsure about what the future held for me. I wasn't always able to see the features of my beautiful babies,' she said.
'It's been quite a journey but I'm now benefitting from the amazing research already undertaken. This new phase is very exciting and I know that the results from this registry will benefit many more people in the future.'
Ms Euripidou said it was great to see ophthalmologists, optometrists and patients working towards the common goal of understanding the condition and supporting those affected.
See the Save Sight Registries
Filed in category:
Uncategorised