Read time:

1:30min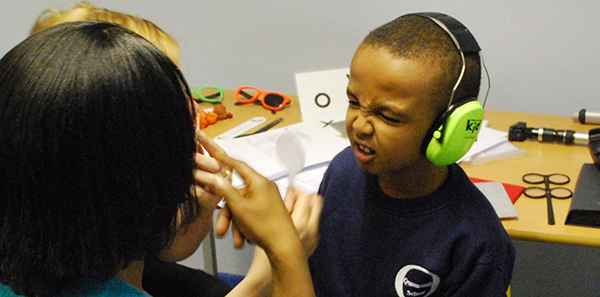 An autistic boy having an eye examination during the UK screening
______________________________
By Helen Carter
Journalist
An optometry clinic for children and adults on the autism spectrum, the first in Australia, will open in Adelaide this year.
Senior lecturer, optometrist Dr Paul Constable will be head of the autism optometric speciality clinic at Flinders University. The clinic will initially run once a week, with the opening planned for March, and the service will be free under Medicare.
A dedicated room at Flinders Vision will be modified to aid consultations. A 3-D video of the room will be able to be shown by parents to their children on home computers to familiarise the child with the set-up before they arrive.
'This will help reduce anxiety and allow the child to familiarise themselves with the environment, sounds and staff so it won't be so stressful or scary when they come in,' Dr Constable told Australian Optometry.
'The room will be purpose designed and a first in Australia, modelled on a similar one I visited at the optometry school at Cardiff University.'
The clinic will be a teaching resource as optometry students will be able to view consultations from outside the room via video. Research on visual function in autism will be conducted at the clinic.
'Some studies suggest people with autism have more binocular vision problems but generally across the spectrum they have visual problems in the same range as those without autism,' he said.
Dr Constable joined the Flinders University Optometry team in 2015 from City University London, where he was a lecturer in optometry and managed the undergraduate program, developing the Masters in Optometry course.
Many missing eye tests 
Dr Constable conducted vision screening on children with autism in schools in the UK and found that many children under the age of eight years had not had an eye examination, probably because other concerns and health issues often took precedence.
His screening found that 15 per cent required further investigation for undiagnosed visual problems, comparable with one in five British and Australian school-aged children having undetected vision problems.
'Hearing, dental and speech problems are looked after but often vision is not checked in people with autism,' he said.
'With many health workers such as speech and language therapists, psychologists, occupational or music therapists often vying for precedence, a child's vision may fall into the background amid the general desire to focus on communication and social skills.
'It may not be possible for a child or an adult with an autism spectrum disorder to express that something is wrong with their vision, due to language difficulties. Having health checks can be frustrating and stressful for them so this clinic aims to reduce the stress and frustration.'
Storyboard
One tool developed by Dr Constable and his colleagues is a visual time-table storyboard that tells the story in pictures of an eye test. This helps patients prepare for the consultation by showing them what to expect.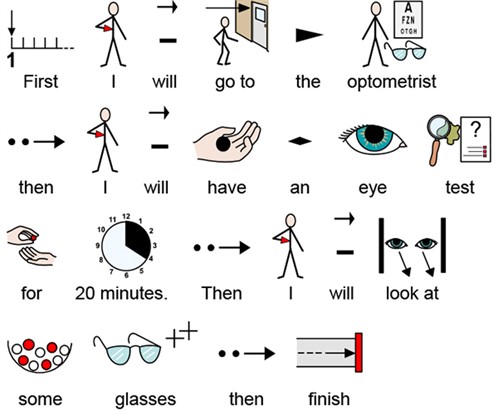 A storyboard developed by Dr Paul Constable to help children with autism prepare for an optometric consultation   Image: Dr Paul Constable
'For optometrists, examining a child on the autism spectrum poses several challenges owing to difficulties in communication and hypersensitivities to touch and light. For parents and carers, visiting a health-care professional with their child is often stressful as neither the child nor the parent may be aware of what will happen and how their child will react to the examination,' he said.
'It may be difficult to determine if there is a vision problem in a child with ASD [autism spectrum disorder], owing to the association in some children of often holding things close to themselves to examine an object in detail. In addition, difficulties with fine motor control or general clumsiness may indicate poor binocular vision but equally may simply be a part of the spectrum.
'Often children are not aware that they "cannot see" or that there is any problem with their vision and are unable to communicate this to a parent.'
Dr Constable said prevalence of colour vision anomalies was higher in boys and autism prevalence was four times higher in boys. As a consequence, screening for colour vision problems was another important reason for seeking an eye examination.
Dr Constable welcomes contact from optometrists interested in conducting vision tests on children and adults with autism (paul.constable@flinders.edu.au). He said they could also work together to develop further guidance for optometrists examining individuals on the spectrum.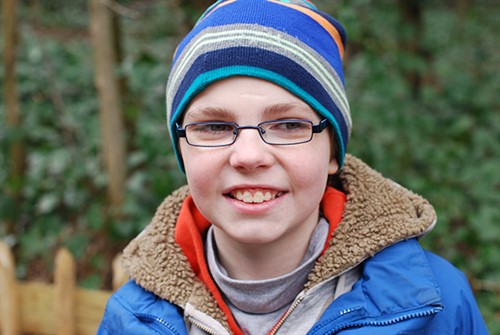 An autistic patient with his new spectacles after the UK screening
Dr Paul Constable's top 10 tips for optometrists treating patients with ASD
1. Letting the child familiarise themselves with the room and space will facilitate the test. The first visit may simply be dedicated to letting the child get to know what will happen. On subsequent visits you will be able to achieve a little more each time. Be prepared for multiple visits to complete an examination.
2. Time. Everything takes longer with a child on the spectrum, to process information, to make a response, to understand the process of the test.
3. Gain the attention of the child and establish an understanding of what is required of them. Make direct eye-contact to ensure they are focusing on what you are saying. Being 'eye to eye' will help the child hold their attention on you. Physically holding their hand can also help draw their attention to you.
4. Listen and involve the parent or carer who will have strategies (words, gestures) to guide the child's attention and actions.
5. Talk slowly and in short, simple, direct sentences. For example, 'First sitting, then looking' or 'First eye one then eye two.' The 'First X then Y' is a strategy used by speech pathologists to develop communication so this syntax is often understood by the child.
6. Talk to the parent or carer about what interests their child. It may be numbers, shapes or colours that can then lead the eye test. Parents or carers can often facilitate routine tests such as ocular motility and help establish vision using Cardiff or Kay picture cards. If the child likes to count, then ask them to count 'red' spots on the Ishihara plates rather than telling you the number.
7. Take turns when doing tests. 'First Mummy glasses on, then you.'
8. Be clear about how long the test will take and when it will end. A countdown clock in the room helps. The child will be reassured if they can see how many minutes remain and that there will be a clear end point.
9. A quiet, calm, uncluttered consulting room will help maintain the child's attention on one thing at a time.
10. Be sure both parent and child understand the need and effects of eye-drops. Eye-drops for refraction induce blur for two to three hours, are painful and to any child, cause distress. It is vital that this is understood by the child and may require the use of visual aids to illustrate what will happen.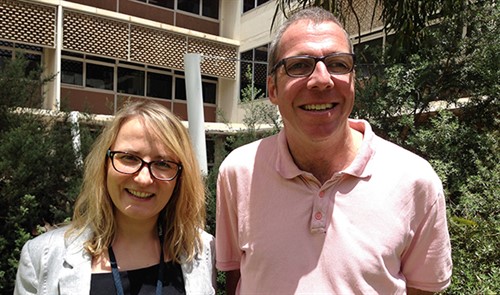 Alex Jaworski and Dr Paul Constable   Photo: Flinders University
New lecturers
Flinders University Optometry has welcomed two new academics to its staff.
Dr Paul Constable is developing a team-based learning approach to the optometry course at Flinders and will teach a new third-year topic, Normal Eye and Vision, from 2017.
He joined the Flinders team in 2015 from City University London where he was a lecturer in optometry and managed the undergraduate program, developing the Masters in Optometry course.
Dr Constable studied optometry at the University of Melbourne, graduating in 1991, before moving to London in 1992 where he worked as an optometrist. He has also worked in Ghana and Tanzania with Vision Aid Overseas.
He completed his PhD in Neuroscience at City University London in 2007, studying drug transporters in the retinal pigment epithelium and the mechanism of the electro-oculogram. His research areas span clinical electrophysiology, autism spectrum disorders and in vitro modelling of the outer blood retinal barrier.
Senior lecturer in Optometry and Vision Science, Alex Jaworski, will be involved with clinical skills teaching, providing support for students on clinical placements and developing innovative teaching and learning methods.
Ms Jaworski was formerly a lecturer in the University of Melbourne's Department of Optometry and Vision Sciences where she received a Dean's Award and a Department Award for Teaching and Learning.
She graduated from the University of Melbourne with a Bachelor of Science (Honours) in 1997 and a Bachelor of Optometry in 2000. Ms Jaworski completed a Graduate Certificate in University Teaching in 2009 and a Postgraduate Certificate in Ocular Therapeutics from the University of Melbourne in 2011.
Flinders Optometry Foundation Professor and Chair Professor Konrad Pesudovs said Dr Constable and Ms Jaworski brought a wealth of experience and a zest for teaching that students would love.
Filed in category:
Uncategorised