Read time:

1:30min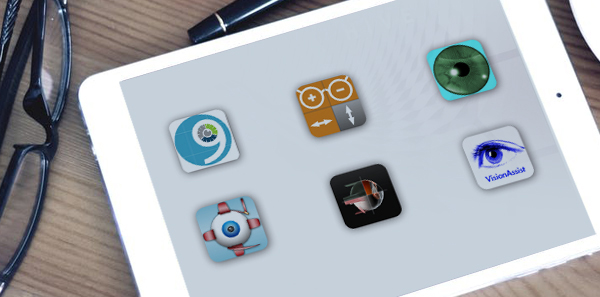 By Ashleigh McMillan
Journalist
Apps are just like buses: if you wait long enough, another one will come along. How do you decide which ones are worth spending time and money on?
Australian Optometry asked optometrist and tech enthusiast Leigh Plowman to share his favourite optometry apps with us. He says using apps over conventional software packages have multiple benefits for busy optometrists.
'Apps have made it quicker to look up information and they're cheaper than buying a full software package on a computer,' he said.
'It's easy to get directly to the answer you want by using an app, so if you want quick answers and you've got a patient with you, it's often easier to look it up on a tablet or phone straight away than wait for your computer.
'Apps also prove their worth if you're doing a nursing home visit or outreach work, because you could use a digital vision chart on a tablet and control with your phone. Apps are really helpful and even if you're in the clinic and in the same location all the time, it's still great to just try them out,' Mr Plowman said.
9 Gaze
Free, available on iTunes
Leigh says: 'This is a great way of taking photos for patients who have strabismus, which are different depending on where people look.
'This app solves the problem of trying to remember where the patient was looking, which can be tricky if you don't download the photos to your desktop computer straight away. With this app, you can easily see that the patient was asked to look up to the left or down to the right. 
'The second problem that the app solves is it makes it easy to create a collage of each of the nine photos at once.'
PracticeUpdate
Free, available on iTunes and the Google Play store 
Leigh says: 'PracticeUpdate allows you to stay up to date with expert commentary on highly useful journal articles for optometrists.
'They've got some really good articles across a number of different journals. They will highlight one article which they think will have the most impact, but also share articles about glaucoma, dry eye and a number of different conditions.
'Accessing the app saves time because you can quickly get up to speed on recent articles and new advancements.'
Parks Three Step
$2.99, available on iTunes
Leigh says: 'Vertical muscle deviations aren't common and I certainly don't do them every day, so the Parks Three Step app is a good reminder.
'It uses the iPhone's accelerometer by just turning the phone in the direction that the eye is turning. It's a quick way to get a guide of how these muscle patterns fit together and helps confirm your notes if your brain is a little bit foggy.'
NewVision To Go Complete
$89.99, available on iTunes
Leigh says: 'This allows me to see my Sunix appointment book for any day and make an appointment on the spot, which is great if someone calls you after hours or when you're away from the practice.
'It's very convenient, because you don't always have to go onto a computer and log on, it's all there.
'The NewVision To Go Complete app can also give some statistics, such as rolling annual turnover, and if you've forgotten the last name of a patient, you can search quickly by their first name.
Opticalc Contact Lens Calculator
$5.99, available on iTunes
Leigh says: 'Opticalc lets you type in spectacle script and get the ocular refraction. You can also look at toric lens over-refractions.
'Everything you need is there. The app was made by Rob McQualter, an Australian optometrist, and he's checked that it is accurate, which is reassuring because you often have to check that the other web-based ones are right.
'It can take some time to find out which calculator app you personally like using but this is my favourite right now.'
VisionAssist
$5.99, available on iTunes
Leigh says: 'This is essentially a digital hand-held magnifier on your mobile phone, which is handy and convenient for patients, because most people already have their phones with them throughout the day.
'I love to demo this app to low vision patients, to show them the effect of electronic magnification and improved lighting. If they have an iPhone, I'll send them a link to get it on the App Store. If not, then I'll refer them to Vision Australia for dedicated electronic magnifier options.'
Sight Selector Lite
Free but with in-app purchases, available on iTunes
Leigh says: 'This app does a good job at demonstrating different eye diseases and the anatomy of the eye, and it's great to have detailed pictures to show patients for explanations.
'My most commonly used topics are cataracts, blepharitis which includes meibomian gland illustration, and the spectacle multifocal lens diagram. Keep in mind that while the app is initially free, each different topic will have an additional cost.'
Read Optometry Australia president Andrew Hogan's favourite apps for optometrists in 2016
Filed in category:
Uncategorised