Read time:

1:30min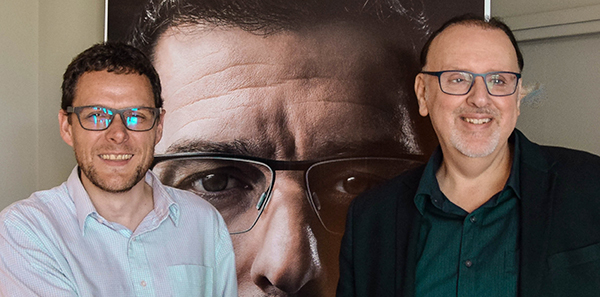 Rodenstock's Tim McCann (L) and Matrix Eyewear's Jim Kareh
_______________________________
By Rhiannon Riches
Assistant Editor
Frame and lens businesses partner with Rodenstock
Rodenstock is forging new business partnerships with Australian companies Matrix Eyewear and Hastings Optical Supplies.
Rodenstock Australia general manager Tim McCann said a decrease in the number of independent practices, deregulation of optical dispensing staff, and competition from corporate practices had provided the impetus for Rodenstock to remodel its frame and lens business.
Max Webb, managing director of Hastings Optical Supplies, said a recent upgrade of its production system had enabled it to expand its business to work closely with Rodenstock. Hastings Optical Supplies will initially supply hard coated single vision and bifocal lenses.
Australian frame manufacturer and distributor Matrix Eyewear will expand the Porsche Design Eyewear brand in the Australian market. Licensed to Rodenstock, the brand will be distributed by Matrix Eyewear from May 2016.
Practices will continue to order lenses through current Rodenstock ordering systems, while Porsche Design Eyewear frames will be ordered through Matrix Eyewear.
New Biofinity toric lens on the market
CooperVision has introduced Biofinity XR toric to its range of monthly silicone hydrogel contact lenses.
In a statement this week, CooperVision said its Biofinity XR toric lens offered high oxygen permeability and all-day comfort to patients who had both high prescriptions and astigmatism. The company said these benefits had existed for patients with high myopia and hyperopia since CooperVision's Biofinity XR sphere lens was introduced in late 2013.
CooperVision's professional services manager Joe Tanner said the toric lens provided an opportunity for optometrists to fit a greater number of patients in a silicone hydrogel material.
Biofinity XR toric lenses are available in sphere powers from -6.50 to -10.00 DS (0.50 D steps), -6.00 to +6.00 DS (0.25 D steps), +6.50 to +10.00 DS (0.50 D steps) with cylinder powers from -2.75 to -5.75 DC (0.50 D steps) with axes from 5 to 180 degrees in 5-degree steps, and +8.50 to +10.00 DS with cylinder powers from -0.75 to -2.25 DC (0.50 D steps) with axes from 5 to 180 degrees in 5-degree steps.
J&J launches Acuvue Oasys 1-Day
Johnson & Johnson Vision Care is launching Acuvue Oasys 1-Day contact lenses with its trademark HydraLuxe technology in Australia in May.
Dr Brian Pall, a senior principal research optometrist in clinical new product development with the company in Jacksonville, Florida, will speak at a series of seminars in Australia and New Zealand.
He will introduce optometrists to the science and technology behind the new lens and say that its tear infused design has been optimised to integrate with the patient's own tear film.
Seminar will take place on the Gold Coast (15 May) and in Perth (16 May), Adelaide (17 May), Melbourne (18 May), Canberra (19 May), Sydney (23 May) and Auckland (25 May).
CRT fitting workshop and myopia seminar
Contact Lens Centre Australia and Paragon Vision Sciences will hold a corneal refractive therapy fitting workshop and myopia management seminar on the Gold Coast in September.
Industry consultant Randy Kojima will speak about the role of corneal topography in prefitting assessment and postfitting clinical management of the CRT patient.
Ken Kopp is the director of clinical and professional services at Paragon Vision Sciences. He will explain the CRT dual axis design and CRT for hyperopia, and discuss strategies for trouble-shooting.
The University of Melbourne's Russell Lowe will cover the fundamentals of fitting CRT and explore the longitudinal clinical management of children with progressive myopia.
The seminar will take place on 22 September, 8:30 am to 4:30 pm, at QT Gold Coast. The seminar costs $385 including GST but organisers are offering the price of $360 if registration is fully paid before 1 July. Lunch, morning and afternoon teas and refreshments are included.
To register, contact Graham Lehman on 0410 481 159 or email.
Filed in category:
Uncategorised