Read time:

1:30min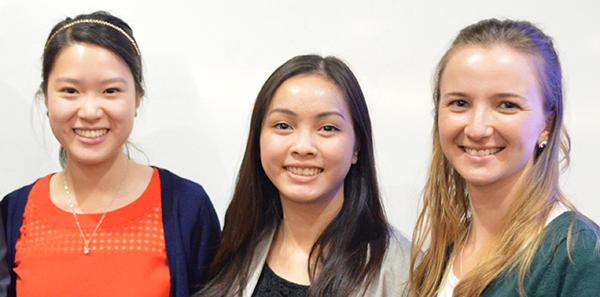 Graduates (L-R) Anna Go, Sarah Danh and Cimonette Du Toit
______________________________
By Ashleigh McMillan
Journalist
Recent graduates are prioritising location of practice and clinical opportunities over salary according to the 2016 Optometry Australia Recent Graduates survey.
More than 27 per cent of respondents said scope of practice was the highest priority when looking for employment, with a further 27 per cent choosing location as the most important priority. Salary and equipment were reported as the least important considerations when being employed.
Optometry Australia conducted the survey on graduate outcomes in March and April 2016, with respondents having graduated from their degrees in 2014, 2015 or early 2016. More than three-quarters of respondents were final-year students in 2015.
National policy manager Skye Cappuccio says that while most respondents reported sufficient time for appointments, adjusting initially to the time allowances was a commonly reported stressor in transitioning to clinical practice.
In response to these results, Optometry Australia is developing a resource of helpful tips to support new graduates in providing comprehensive and efficient consultations.
'The survey also showed the value placed on mentors and a supportive practice environment by new graduates. Optometry Australia strongly encourages employers of new graduates to ensure they have ready access to therapeutically qualified mentors, and that all practice staff are encouraged to support new graduates to adapt to the processes of the workplace while respecting their role as a clinician,' Ms Cappuccio said.
Employment conditions
Sixty per cent of optometrists surveyed provided most of their clinical services in a major city or surrounding suburb, while the majority of optometrists in rural towns or country areas were female. 
90 per cent of respondents had been in the same clinical job since they began practice and over half intended to stay with the same employer for an extended period
84 per cent reported being happy with their employment conditions
78 per cent said they were happy with the number of hours they were working per week, while the remaining graduates said they would prefer to work fewer hours per week.
Filed in category:
Uncategorised