Read time:

1:30min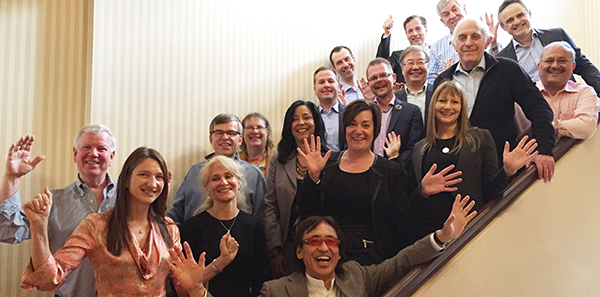 TFOS DEWS II steering committee
______________________________
By David A Sullivan
MS PhD FARVO
Senior Scientist, Schepens Eye Research Institute
Associate Professor, Department of Ophthalmology, Harvard Medical School
Founder, Tear Film and Ocular Surface Society
Dry eye disease (DED) afflicts over 40 million people in the USA, up to 50 per cent of the population in China and is one of the most frequent causes of patient visits to eye-care practitioners.
The impact of moderate to severe DED is comparable to conditions such as dialysis and severe angina, and is associated with significant pain, role limitations, low vitality and poor general health.
To increase our understanding of the aetiology, impact and management of DED, the Tear Film and Ocular Surface Society (TFOS) has launched international initiatives, including major conferences, multiple meetings and reports. Perhaps the best known TFOS activities related to DED are its four international Workshops: the TFOS Dry Eye WorkShop (DEWS), the TFOS Workshop on Meibomian Gland Dysfunction (MGDW), the TFOS Workshop on Contact Lens Discomfort (CLDW), and most recently TFOS DEWS II.
Dry Eye WorkShop
The first TFOS DEWS in 2007 was created to provide an evidence-based critical review of the definition, classification, epidemiology, diagnosis, management and research techniques of dry eye disease. The DEWS impact has been amazing.
As noted by Dr Gary Foulks, an internationally renowned ophthalmologist: 'The publication of the Dry Eye WorkShop Report1 in 2007 … was a landmark event in the history of our understanding and treatment of dry eye disease.'2
The online TFOS DEWS report has been opened tens of thousands times by people from around the world. The report is free and available on the TFOS website. According to an industry representative, the TFOS DEWS report is called the dry eye 'bible' by a European Medicines Agency official, and European pharmaceutical companies seeking guidance on how best to conduct a clinical trial have been directed to read this report.
Meibomian Gland Dysfunction Workshop
A recent study found that 86 per cent of qualified DED patients showed signs of meibomian gland dysfunction (MGD).3 Normally, meibomian glands secrete a lipid and protein mixture that provides a clear optical surface for the cornea, interferes with bacterial colonisation and retards tear overflow. These glandular secretions promote the stability and prevent the evaporation of the tear film, thereby playing an essential role in the health and wellbeing of the ocular surface. Conversely, MGD destabilises the tear film, increases its evaporation and osmolarity, and is the key trigger for the induction of evaporative DED.
The impact of the MGDW report,4 published in 2011 and available free on the TFOS website, was significant. In an article by Dr Amber Gainnoni and Dr Jason Nichols,5 an impressive 76 per cent of surveyed clinicians are now evaluating meibomian glands as part of their testing for dry eye disease. This is a greater percentage than in previous years and was attributed to publication of the TFOS MGDW report.
Contact Lens Discomfort Workshop
The TFOS decision to organise the CLDW was prompted by several considerations. These included:
The realisation that DED appears to be a major contributor to CLD, which may be the leading cause of patient dissatisfaction with and discontinuation of contact lens wear throughout the world.
CLD is a great concern for the future. For example, it is estimated that by 2020, hundreds of millions of Chinese will have myopia or presbyopia, conditions that often need to be corrected by the use of contact lenses.
There seemed to be little agreement among vision researchers and eye-care professionals about how to define and manage CLD's causes.
Even though half of all contact lens wearers experience CLD, there was no global consensus concerning the classification, epidemiology, pathophysiology and diagnosis, and proper design of clinical studies for CLD.
To achieve such a consensus, TFOS sponsored the CLDW in 2013. The Workshop participants used an evidence-based approach and a process of open communication, dialogue and transparency to achieve a global consensus concerning multiple aspects of CLD.
The resulting TFOS CLDW report,6 published in 2013 and available free on the TFOS website, not only defined CLD but significantly increased awareness of factors that may or may not contribute to the generation of CLD. Ideally, this CLDW report, as with the TFOS DEWS and MGDW reports, will stimulate innovative research in this very important field.
TFOS DEWS II
TFOS DEWS II was designed to update the definition, classification and diagnosis of dry eye disease, critically assess the aetiology, mechanism, distribution and global impact of this disorder, and address its management and therapy. This effort, which began in early 2015, involves more than 150 clinical and basic science experts from around the world.
Topics addressed at the DEWS II included: the definition and classification; sex, hormones and gender; epidemiology; pathophysiology; Iatrogenic DED; tear film; pain and sensation; diagnosis; management and therapy; clinical trial design; and public awareness and education. We anticipate that the evidence-based DEWS II report will be published in The Ocular Surfacein Spring 2017.
Overall, TFOS activities have helped to promote increased international awareness of external eye diseases, enhance governmental funding for tear film and ocular surface research, stimulate the development of therapeutic drugs and diagnostic devices, and influence the design and conduct of clinical trials of novel treatments for ocular surface disorders. At present, TFOS has a distribution to about 8,000 basic scientists, clinical researchers and industry representatives in more than 90 countries.
It is important to note that everything that TFOS does is related to its mission. TFOS expresses its appreciation to the many Australians who have greatly helped to achieve this mission. They include among others: James Brock, Nicole Carnt, Laura Downie, Nathan Efron, Blanka Golebiowski, Jason Ivanusic, Isabelle Jalbert, Maria Markoulli, Thomas Millar, Carol Morris, Eric Papas, Fiona Stapleton, Mark Willcox and Craig Woods.
OUT SOON
Optometry Australia's December issue of Pharma focuses on dry eye
1.  2007 Report of the International Dry Eye WorkShop (DEWS). Ocul Surf 2007; 5: 65-204.
2.  http://www.refractiveeyecare.com/2012/12/the-dews-report-in-perspective/ 
3.  Lemp MA, Crews LA, Bron AJ et al. Distribution of aqueous-deficient and evaporative dry eye in a clinic-based patient cohort: a retrospective study. Cornea 2012; 31: 472-478.
4.  Report of the International Workshop on Meibomian Gland Dysfunction. Invest Ophthalmol Vis Sci 2011; 52: 1917-2085.
5.  http://www.clspectrum.com/articleviewer.aspx?articleID=107175 
6.  Report of the international Workshop on Contact Lens Discomfort. Invest Ophthalmol Vis Sci 2013; 54: TFOS1-203.
Filed in category:
Uncategorised