Read time:

1:30min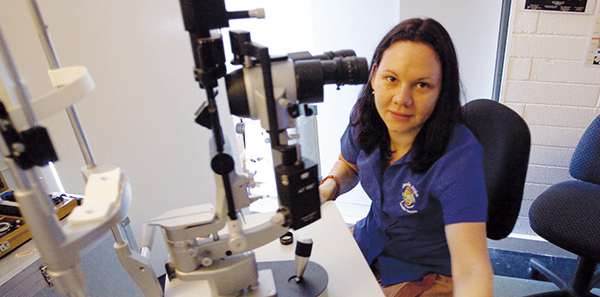 Anna Morse
______________________________
By Helen Carter
Journalist
About one-third of Indigenous people in remote areas of the Northern Territory are not having eye checks due to lack of optometric services, optometrist Anna Morse claims.
She estimates that about 70 per cent of demand is being met but says there is room for improvement.
Ms Morse will speak about expanding remote NT optometric services at NQV 2015 in Cairns in October and encourage optometrists to think about the role they can play in improving access to eye care for Indigenous Australians.
Ms Morse is program manager with the Brien Holden Vision Institute Aboriginal Vision Program and serves on Optometry Australia's Aboriginal and Torres Strait Islander Eye Health Working Group.
She is based in Adelaide during 2015 but previously worked in the NT for 10 years and will return there in 2016.
'There is still a way to go to meet population needs for optometric care,' Ms Morse said. 'About one-third of people are not being seen.'
Ms Morse and her team are aiming to build a more sustainable workforce model featuring a core team of NT-based optometrists working in a balance of private optometry and outreach services, supplemented by locum optometrists to help meet the need.
The program has relied heavily on locums who are private practitioners, and optometrists from the Australian College of Optometry completing placements of one to four weeks in remote areas of the NT.
Ms Morse credits the program's success to the team of locums who she says have developed the unique skills necessary for work in challenging remote settings.
'We are always keen to welcome new optometrists to the team. Some haven't had a chance to do this so it is often the first step in developing their skills for remote work,' she said.
'We do all the behind-the-scenes organising and big-picture planning, so that optometrists can just come and focus on doing their clinical work.'
After graduating from QUT, Ms Morse worked at Laubman and Pank in Alice Springs for four years, which included one day each week as part of the ophthalmology outreach team providing visiting services across 32 remote communities.
She also undertook Visiting Optometrists Scheme circuits in Central Australia, did locum work around Australia while with Laubman and Pank and since 2009 has worked with her team in Darwin to expand optometric outreach services across the Northern Territory.
Ms Morse says she has noticed slow but sure improvements in eye-care services and systems across the Territory during this time.
Key to this is working in equal partnership with Aboriginal health services, and supporting them to better understand eye-care services and referral pathways for their communities, she says.
'Understanding the patient perspective and responding to it is critical to avoid going blind or losing vision, although often people slip through the cracks and are not seen by the right people at the right time,' she said.
'The clinical role we play is integral but the big picture is the public health perspective.'
North Queensland Vision, organised by Optometry Queensland/Northern Territory, will be held on 3-4 October at the Pullman Cairns International Hotel.
NQV offers up to 43.5 CPD points, including breakfast seminars and assessment.
Register at www.etouches.com/nqv2015. For more information email c.presotto@optometry.org.au.
Filed in category:
Uncategorised