Read time:

1:30min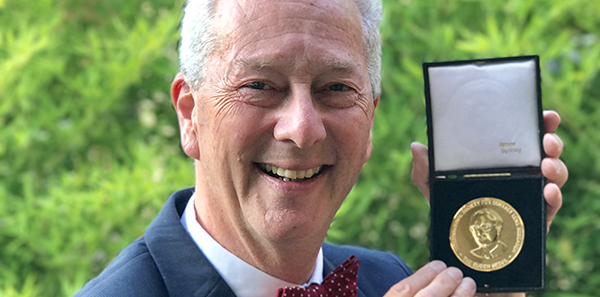 Ruben Medal winner Professor Nathan Efron AC   Image: Nathan Efron
______________________________
By Rhiannon Riches
Assistant Editor
Clinical and Experimental Optometry editor and chairman of the editorial board, Emeritus Professor Nathan Efron AC, has been awarded the Ruben Medal for outstanding contributions to contact lens research.
The Ruben Medal is awarded every two years by the International Society for Contact Lens Research, which is the peak international contact lens body of experts. The society is capped at 100 members who are leaders in the field working in academia, research, clinical practice and industry.
Throughout his career, Professor Efron has undertaken extensive research in the field of contact lenses.
He is an opinion leader and prolific author, having published more than 900 scientific papers, clinical articles and abstracts. He has also published eight books which have appeared in 16 editions and foreign translations.
Throughout his career, Professor Efron has been invited to speak at more than 500 conferences in 42 countries, and has won numerous major international research awards and prizes.
Professor Efron told Australian Optometry: 'I am especially pleased to have received the Ruben Medal, as it is awarded by my peers who work in the same area. Perhaps also, in a broader context, this award recognises the important and sustained contributions that have emanated from Australia and have served to make contact lenses more efficacious, safe and convenient.'
The Ruben Medal is named after Montague 'Monty' Ruben, a British ophthalmologist who pioneered the clinical application of soft and rigid contact lenses for therapeutic and cosmetic use.
Filed in category:
Uncategorised