Read time:

1:30min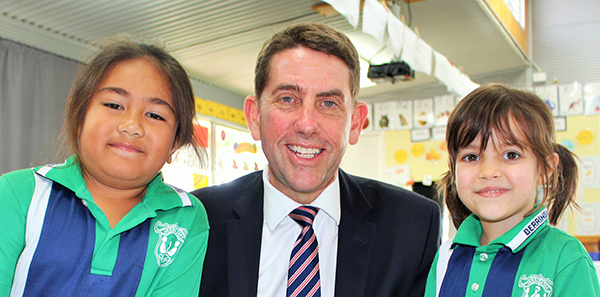 Queensland Minister for Health and Ambulance Services Cameron Dick with Berrinba East State School students Maddox Leapai (L) and Amelia Schaenzel at the program launch
______________________________
By Helen Carter
Journalist
Nurses will conduct a basic vision screening for every student in preparatory year in Queensland under a $14 million program launched by the state government.
Optometry Queensland Northern Territory has reservations about the nurses screening program and is rolling out its own program providing comprehensive eye examinations by member optometrists for children entering the Catholic school system.
It is concerned that a spot vision screener used by the nurses may not detect one in four children with significant refractive error or strabismus.
Under the Queensland Government program, more than 30 nurses will be appointed by February 2017 as part of the government's Primary School Nurse Health Readiness Program. There are currently about 65,000 preparatory students and the program aims to screen each new preparatory cohort each year.
Queensland Minister for Health and Ambulance Services Cameron Dick said funding for the program in government and non-government including Catholic primary schools was being rolled out over four years.
He visited Berrinba East State School near Brisbane on 31 August to announce the project.
Referred to optometrists
A spokeswoman for the minister told Australian Optometry that children who did not pass the screening test would be referred to optometrists.
'Those who require a high priority referral will be referred to the Ophthalmology Clinic at Lady Cilento Children's Hospital, or to their GP to obtain a referral to a private ophthalmologist,' she said.
'Nurses will work with parents to follow up referrals. Nurses are trained in vision screening and are using a range of testing protocols including photo-screeners, which are fully-automated screening devices that screen for amblyopia risk factors, as well as visual acuity tests.'
Mr Dick said in a media release: 'Our government is committed to ensuring Queensland children start their schooling with keen and healthy eyes so they can begin their education journey on the right foot.'
He said vision screening was vital in early childhood, particularly for conditions such as amblyopia which affects about one in every 50 Australian children and if not detected early and treated, can lead to blindness.
'Without early detection, these conditions can negatively impact on a child's social and educational development, as well as increase the risk of total blindness in adulthood,' Mr Dick said.
'By starting treatment while a child's visual pathway is still maturing, up to age eight, we have a greater chance of reversing this damaging condition without any long-term effects on vision. We know that early intervention is the best prevention and by introducing this vital screening program, we can identify and act on health issues and give Queensland children the best chance of reaching their full potential.'
About 3,350 preparatory students in Brisbane have been screened in the first stage of the program.
Eight registered nurses and three clinical nurses are establishing the program in South East Queensland and will form a central hub to provide project co-ordination, education and support for program nurses across the state.
Nurses will soon be appointed in the Sunshine Coast, West Moreton, Central Queensland and South West Hospital and Health Services. More will be appointed throughout the rest of the state by February next year.
Reservations
Optometry Queensland Northern Territory president Dr Stephen Vincent said the program was affiliated with the Lady Cilento Children's Hospital ophthalmology department.
'Queensland University of Technology and Optometry Queensland Northern Territory are not involved in this program or in the training of nurses who will administer the vision screenings,' Dr Vincent said.
'Optometry Queensland Northern Territory  has several reservations about the proposed screening program, particularly that the screening includes measures of visual acuity only, and a "spot vision screener" pending the results of a validation study.
'Similar vision screening devices used in paediatric studies conducted in America typically have a sensitivity of around 75 per cent. That is, one in four children with significant refractive error or strabismus will not be detected by the instrument.
'Our organisation has not been provided with information on how nurses will be trained, or the specifics of the referral process following a failed screening or indeed what the thresholds for failure are. It appears that some children who fail screenings would be referred to ophthalmology and some to optometry,' he said.
Optometrist testing in Catholic schools
Dr Vincent said Optometry Queensland Northern Territory was currently rolling out its own vision program for children entering the Catholic school system in Queensland.
Under the Smart Eye Start program, children will receive a comprehensive eye examination from an Optometry Queensland Northern Territory optometrist before starting school.
'Given the mounting body of evidence that relatively low magnitude uncorrected refractive errors may adversely impact on academic performance, a comprehensive eye examination conducted by an optometrist will give Queensland children the best chance to perform to their full potential during the early school years,' Dr Vincent said.
More than 70 percent of Catholic schools in Queensland are involved in the Smart Eye Start program and Optometry Queensland Northern Territory continues to have positive discussions with state schools.
The organisation will be periodically updating forms being included in preparatory year enrolment packs, with the next update to schools happening in October. To register as an optometrist for the Smart Eye Start program, complete the Participation Agreement form and return it to Sally Turner at s.turner@optometry.org.au.
Filed in category:
Uncategorised