Read time:

1:30min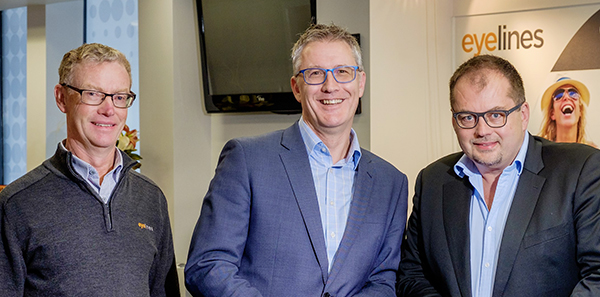 (L-R) Will Downie, Derek Fails and Chris Beer
______________________________
By Ashleigh McMillan
Journalist
Eyelines CEO Will Downie hopes that by joining George & Matilda Eyecare, Eyelines' 13 independent practices will be more able to compete with optometry's multinational corporations.
Mr Downie said the combined size of George & Matilda would provide Tasmania-based Eyelines with the ability to further primary eye care in an economically viable way.
'George & Matilda is a great group for us to partner with as it has the economic scale to allow us to better compete long-term with the two large multinationals. Joining this network means we will have the strength of a national footprint and the economic scale of a group with much more buying power,' Mr Downie said.
Eyelines was established in 1996 and employs 18 optometrists. In addition to its 13 practices, its staff visits 23 rural and regional locations including St Helens and King Island throughout the year.
The Australian-owned George & Matilda Eyecare is led by former Luxottica Asia Pacific CEO Chris Beer, and is providing marketing, branding and technology for partners, while also taking on each practice's back office responsibilities.
The announcement follows the acquisition of theeyecarecompany, Hanks Optometrists and Peter Hewett Optometrist to the group.
Eyelines' founding optometrist and non-executive director Derek Fails said that when George & Matilda approached them, it was looking for successful, well-run and ethical businesses.
'As an independent group, we could foresee reducing margins in our profit and increasing supply chain costs. Independent practitioners are often isolated, particularly as the two multinational corporations consolidate their businesses in Australia.
'George & Matilda is looking to ensure the sustainability and success of independent optometry, by giving practices access to the buying power and logistics of a larger group, while still maintaining the independent aspect of putting patients first.
'We had to consider how we could increase the job security and community engagement of our independent practices, and George & Matilda was able to give us that,' Mr Fails said.
Mr Fails describes himself as a 'resource' for Eyelines' business managers and young optometrists. He is also employed as an optometrist in Port Macquarie, New South Wales with Hanks Optometrists.
Mr Fails said he expected Eyelines' profits to increase due to the collective buying power of George & Matilda.
'Eyelines had been having discussions with Chris Beer about the concept, and I think there are lots of people around Australia who are probably in conversation with George & Matilda,' he said.
'In particular, it's the back-end logistics and supply chain advantages that they can bring to the table for independent optometrists, enhancing their ability to practise effectively. The relationship means optometrists can prioritise patient care and put all their effort into the most important sections of their practice.
'It's marvellous to be working with like-minded optometrists such as Tony Hanks and Margaret Lam. It's a great compliment to the team and our solid business model of patient-centric focus that we were recognised by Chris Beer,' Mr Fails said.
Co-branding of Eyelines practices with George & Matilda Eyecare will not occur immediately.
Filed in category:
Uncategorised