Read time:

1:30min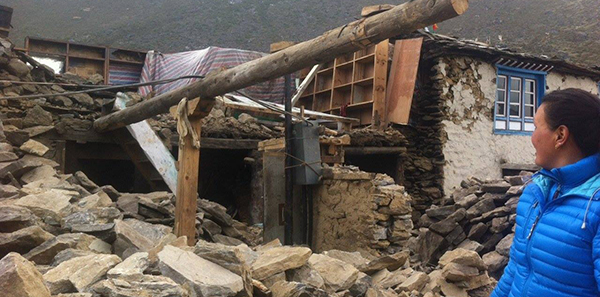 A local Sherpa woman stands next to her damaged home after the second earthquake
_____________________________
By Shaun Chang
BOptom GradCertOcThera
President of Eyes4Everest
Eyes4Everest is holding a fundraising dinner to help the Sherpas of Nepal.
Eyes4Everest is a team of Australian and New Zealand optometrists who provide primary eye care for Sherpas and other residents of the Everest National Park in Nepal. This region was the epicentre of the most recent earthquake and our community has suffered heavy property damage.
People are camping outside as they are afraid to return to their homes and children cannot return to a sense of normality because schools are closed.
As the people who deliver eye care for the Sherpas, we know they need a secure home to return to. That is why we have teamed up with the Himalayan Trust, which is on the ground working with community leaders to start the rebuilding process.
Most recent reports indicate that 1555 households and 47 schools were completely destroyed and 4697 households and 43 schools were partially damaged.
Eyes4Everest is holding a fundraising dinner on behalf of the Himalayan Trust on 21 June at the Nepalese Mustang Restaurant in Crows Nest, NSW.
Entry to the event is $50 and includes a three-course meal plus the opportunity to win prizes on the night.
On the night, we will be asking guests to write their prayers for Nepalese community on a Tibetan Prayer Flag, which we will personally deliver to Everest Base Camp in October this year. The Sherpa believe that as the prayers fade from the scorching sun and howling wind, they float towards the heavens. Please RSVP your attendance by Monday 8 June at eyes4everest@gmail.com. 
Filed in category:
Uncategorised