Read time:

1:30min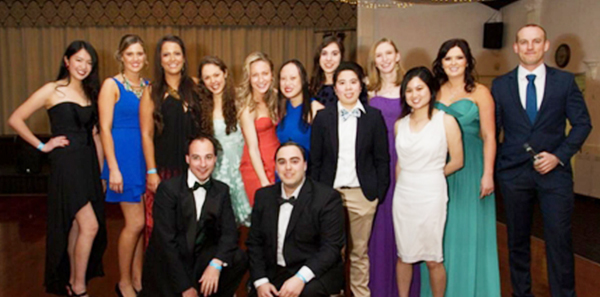 Flinders University final-year optometry students, including the first 12 graduating students, at the Students Association's inaugural 2014 Eye Ball.
(L-R rear) Lece Xu, Sophie Van Kleef, Tamra Karolewicz, Gemma Surridge, Kate Weller, Mary Suen, Anna Gatsios, Lauren Field, Vanessa Partington, Dean Milner; (middle row) Thi-Thi Nguyen, Kei Shia Lim; (front) Luke Higgins, Jason Didone.
________________________________________
By Helen Carter
Twelve students from Flinders University's final year optometry class have passed the requirements of their course and will be the first optometrists to graduate from the university.
A further four students will continue their studies next year.
Optometry project manager at the university Carly Hocking said the nine female and three male graduating students were all offered optometry positions this year, and would start work in 2015.
'Flinders University's commitment to supporting rural workforces is evidenced by the graduate outcomes of this cohort,' she said.
'Four students have accepted positions in rural Australia, while two have accepted positions that combine both metropolitan and rural practice. Graduates will be located across the country in cities and towns including Adelaide, Perth, Bendigo, Wangaratta, Port Lincoln, Berri, Whyalla and Victor Harbor.'
Ms Hocking said that addressing the shortage of optometrists in rural and remote locations was a key priority for the university's optometry program.
'We are committed to recruiting and graduating students from areas of need so that we develop an optometric workforce in a sustainable way,' she said.
The five-year double degree consisting of Bachelor of Medical Science (Vision Science)/Master of Optometry was established in 2009.
The students participated in six placements of six weeks during the final 18 months of the program. These included placements in rural and remote locations and specialist placements such as low vision and paediatrics, in corporate and independent optometry.
Students also undertake clinical practice in collaboration with Head Optometrist, Jason Booth and his team, at the university's $7.4 million community clinic, Flinders Vision, which was launched this year.
Foundation Chair and Head of Optometry, Flinders University, Professor Konrad Pesudovs, said the goal was to produce a small number of high-quality graduates annually who would transition into the workforce in areas of optometric need, with a specific focus on addressing rural shortages.
'I am immensely proud of our inaugural graduating cohort of students,' he said. 'As a group, they have exceeded my expectations and have set an impressive benchmark not only for the Flinders University students who follow in their path but also a new benchmark for optometry students across the country.
'Feedback from our placement partners has been extremely encouraging, with some saying that our students are among the best that they've seen. This confirms that our course design is in tune with industry needs. Our program encompasses a substantial amount of case-based learning in addition to clinical practice.
'Our students perform more than 500 eye examinations during the course of their studies and their experiences are enriched through placement opportunities, thanks to the support of our 54 placement partners.'
Professor Pesudovs said there was a small intake in the first year of the program, which included the 12 graduates. 'We aim to enrol about 40 students each year. In 2014, our total cohort stands at approximately 160 students across all [five] year levels,' he said.
The graduation ceremony will take place in 2015.
Filed in category:
Uncategorised