Read time:

1:30min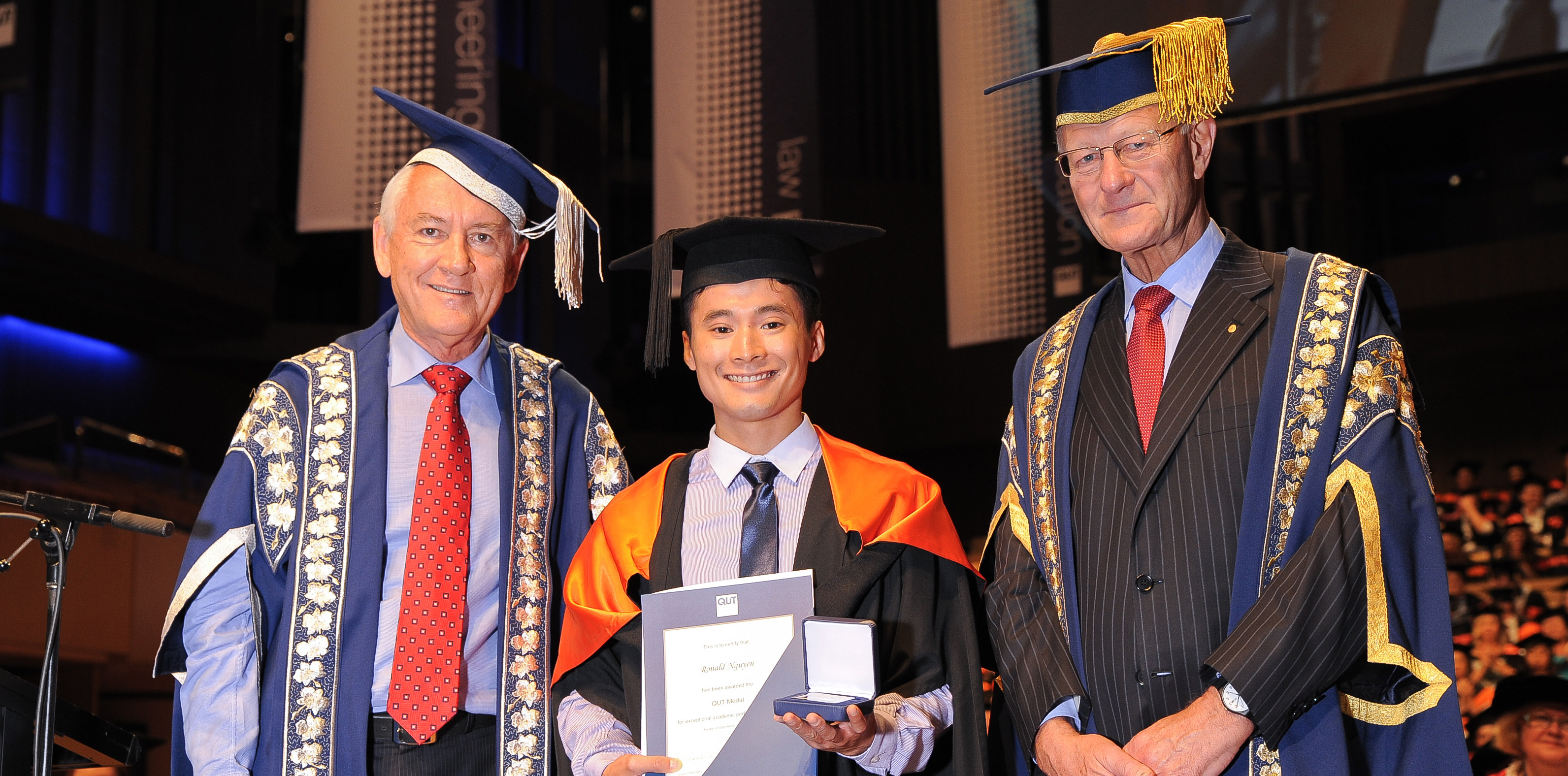 Master of Optometry graduate Ronald Nguyen (centre) receives the QUT University Medal. 
Photo: Elite Photographics
______________________________
By Helen Carter
The second cohort of Master of Optometry students from Queensland University of Technology's School of Optometry and Vision Science has graduated.
Head of School Associate Professor Peter Hendicott said 45 students completed their five-year program by graduating from the Master of Optometry following their Bachelor of Vision Science, which they completed in 2012.
They graduated in a ceremony held at the Queensland Performing Arts Centre Concert Hall, Brisbane, on 10 December, alongside graduates of the Bachelor of Vision Science and other disciplines within the Faculty of Health.
One of the graduates, Ronald Nguyen, was awarded a University Medal in recognition of his excellent academic performance across the dual-degree Optometry program.
'We are very pleased to recognise our second group of graduates from the Bachelor of Vision Science and Master of Optometry program, and welcome them to the family as optometrists and colleagues,' Professor Hendicott said.
'They have benefitted from the clinical advice and experience of more than 150 of our colleagues in optometry and ophthalmology who have hosted them on clinical placements in their practices across the country and internationally.
'The graduates are spreading far and wide across the country, joining practices in urban and regional Australia, and across the diversity of practice styles we have in Australia,' he said.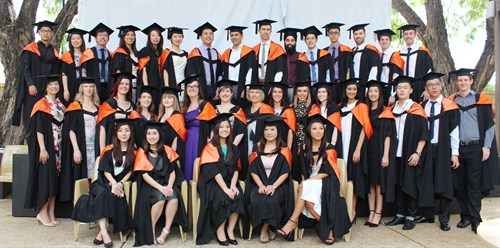 QUT Master of Optometry graduation 2014. Pictured are the 36 graduates who attended. Nine were unable to attend.
Photo: Associate Professor Peter Hendicott
Optometry Australia National President, Brisbane optometrist and former QUT graduate, Kate Gifford, gave the graduation address.
'You might think that your brain is full now, and that it's closed for business, but your professional education is life-long,' she said.
'You will learn from your patients and your colleagues. You will learn from continuing professional education, assimilating scientific research into your clinical practice. Your QUT degree has given you the tools and passion to become a perpetual learner.
'Experiencing the academic, clinical, professional education and leadership aspects of my profession has seen my 11 years take me from right where you are all sitting today to a career that is fulfilling, rewarding and endlessly interesting.
'As a new graduate, everything feels like a scary challenge and I can remember that it took me a few years before I could wake up in the morning and think: "Yes, I can handle anything or anyone who walks through my door today." Over time things get easier and more automatic. Continue to question your knowledge and invest your energy in seeking complexity in your work, and you'll never get bored with it.
'In a public health role you'll see your expertise translate into better outcomes for a handful to many thousands of people. Seek the rewards for your efforts, which in the health arena are delivered to you far beyond your wage or title.
'Success through a meaningful career is what's ahead for all of you today. This is an exciting and challenging time for health, with an ageing population and increase in chronic disease, and technological advances that can both help and hinder our ability to deliver best practice clinical care.
'Today you've each collected your golden ticket, and shaping your journey is up to you.'
Filed in category:
Uncategorised