Read time:

1:30min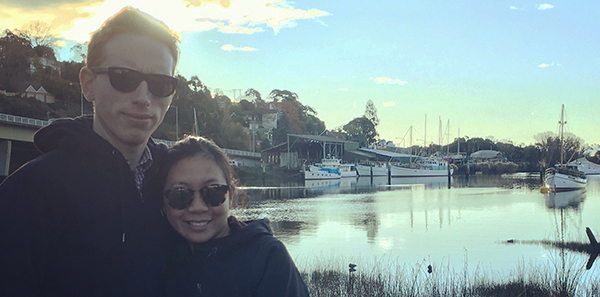 Josh and Glady Clark in Tasmania
______________________________
By Helen Carter
Journalist
After moving from Sydney to Tasmania, Joshua Clark is encouraging other young optometrists to consider leaving the city and giving regional work a go.
Mr Clark, who will speak at Optometry Tasmania's 'Tasmania's Lifestyle Congress' on 2-4 September, moved from Sydney to Launceston with his optometrist wife Glady at the start of the year.
'From my point of view work is more varied, there is less competition and patients value you more,' he said.
'There is greater need in country areas and ophthalmologists are booked in advance and see patients only if they really have to so you get to see lots of pathology, diabetes cases and more interesting cases.
'The quality of life is fantastic. There's minimal Saturday work, it takes a few minutes to drive to work and people are friendly.'
After practising in Sydney for seven years, the couple moved to the Northern Territory to work with remote communities for the Brien Holden Vision Institute for two months, then moved to Launceston to work for OPSM.
'It's a good career move and is worthwhile trying something different while you are young,' Mr Clark said. 'We've had a fantastic time and the scenery and golf are great.'
Multifocal contact lenses
Mr Clark will speak at Tasmania's Lifestyle Congress about Alcon's Dailies Total1 Multifocal contact lenses, which were launched in Australia in July as an alternative to bifocals or reading glasses for presbyopes.
Alcon says that because the water content approaches nearly 100 per cent at the outermost surface of the lens and the hydrophilic surface is almost as soft as the corneal epithelium to enhance comfort, the contact lenses address end of day dryness and discomfort that many contact lens wearers experience after the age of 40 years.
'I'll talk about opportunities in the market-place, case studies and why I prescribe them,' Mr Clark said. 'People aged in their 40s and 50s often like wearing them for a day or two a week for sport or outings, rather than on a full-time basis.
'Only about 10 per cent of optometrists will actively speak about contact lenses but there's definitely a market and the more people know about them, the more will want them. There's a very high strike rate among patients who try these and like them.'
Other presenters at TLC include lead optometrist at the University of Melbourne glaucoma clinic Dr Graham Lakkis who will speak about new concepts in visual fields and oral prescribing for therapeutic optometrists, Margaret Lam who will discuss myopia control, Naomi Meltzer who will talk about new special lens technology for AMD, and Professor Bang Bui who will cover glaucoma pathogenesis.
Event sponsor CooperVision also sponsors the congress dinner and the contact lens breakfast on Sunday morning.
TLC will be held at the Hotel Grand Chancellor, Hobart on 2-4 September. It offers up to 39 CPD (13.5T) points for the full congress including the Low Vision Seminar on Saturday.
Filed in category:
Uncategorised