Read time:

1:30min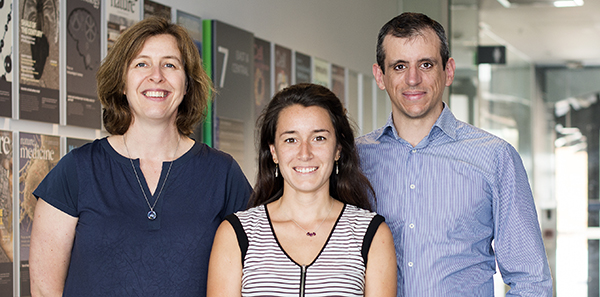 By Helen Carter
Journalist
Genetic clues to risk of MacTel 
Melbourne scientists have reported the world's first evidence of the genes that cause macular telangiectasia type 2 (MacTel) after analysing genetic data from 476 people with MacTel and 1,733 controls.
The Walter and Eliza Hall Institute of Medical Research team established five loci in the genome most likely to influence a person's risk of developing MacTel and described them in a media release as a 'treasure map, telling us where to keep digging to discover the specific genes.'
People with the MacTel genetic risk loci had changes in their metabolism, specifically in glycine and serine levels, indicating a possible link between the level of glycine and serine in the body, and onset of the incurable, untreatable degenerative eye disease which leads to blindness.
AMO in J&J's hands
Johnson & Johnson has completed the acquisition of Abbott Medical Optics (AMO), a wholly owned subsidiary of Abbott.
The $4.325 billion acquisition, announced last September, includes ophthalmic products in consumer eye health, cataract surgery and laser refractive survey. These products will join with Acuvue Brand Contact Lenses business and the combined organisation will operate under the brand name Johnson & Johnson Vision.
'With the addition of AMO's world-renowned ophthalmic surgery business, J&J Vision is poised to become a world leader in eye health,' Company Group Chairman, Johnson & Johnson Consumer Medical Devices, Ashley McEvoy said in a media release.
Retinal cell may cause myopia
A cell in the retina which is highly sensitive to light may cause myopia when it dysfunctions, US scientists report. 
Researchers said the dysfunction may be linked to the time children spend indoors.
They said it had long been known that the retina contained a signal to focus the image in the eye, and the signal is important for regulating eye growth in childhood, but which cell carried the signal was unknown. They named it the ON Delayed retinal ganglion cell.
Smartphone dry eye risk in children
Prolonged smartphone use is linked to paediatric dry eye disease, a Korean study has found.
Researchers tracked 916 children aged from seven to 12 years from urban and rural settings and identified dry eye in 6.6 per cent. Those with dry eye spent less time outside and city children were more likely to be affected.
Researchers postulated that a reduced blink rate during prolonged smartphone use caused faster evaporation of the tear film.
Indigenous scholarships open
Allied health scholarships for Indigenous people are now inviting applications.
The Royal Flying Doctor Service 2017 Aboriginal and Torres Strait Islander Health Scholarships, to undertake a clinical placement in remote or rural Australia, close on 31 March.
The Roberta Sykes Scholarships provide financial assistance to Indigenous postgraduate students wanting to study or conduct research overseas or at Harvard University, and to Indigenous Australians wanting to undertake short executive education courses overseas.
Check out more opportunities with Indigenous Allied Health Australia.
Diabetic retinopathy growing among youth
One in five young Americans with type 1 diabetes and seven per cent of those with type 2 diabetes have been diagnosed with diabetic retinopathy, according to new research.
The study followed 4,008 people aged 21 years or younger with diabetes for three years and found children as young as six years diagnosed with proliferative diabetic retinopathy.
Researchers found that those with uncontrolled blood sugar jeopardised their vision. For every one point increase in HbA1c, diabetic retinopathy risk increased 20 per cent for those with type 1 diabetes, and 30 per cent among those with type 2 diabetes.
They urged regular ophthalmic screening to detect diabetic retinopathy early to help preserve sight.
Contact lens speakers
Organisers of the International Cornea and Contact Lens Congress 2017 conference See the Light, to be held at Sofitel Sydney on 8-10 September, have announced the speakers for the program.
They include optometrists Paul Rose, Dr Laura Downie, Professor Helen Swarbrick, David Stephenson and Alan Saks.
Cornea and contact lens grants
Applications are open for The Cornea and Contact Lens Society of Australia's 2017 Research Award.
Successful applicants receive $3,500 towards their research and a certificate of appreciation, and may share their research outcomes on the CCLSA website.
Return the application to info@cclsa.org.au by 5 pm on 31 March.
More time to apply for scholarships
Women & Leadership Australia has extended its scholarship nomination deadline until the end of March for a national initiative to support the development of female leaders in the health sector.
The initiative provides women with grants to enable participation in leadership development programs which are part-time and delivered nationally.
Register interest before 30 March.
Compounding error caused partial blindness
A pharmacist who substituted an eye-drop ingredient without checking it was safe has been banned from compounding pharmaceuticals after six patients were left partially blind.
Pharmacy News reported that the NSW Civil and Administrative Appeal Tribunal heard that Nicolas Bova from Caringbah, NSW used Dextran T (500) Sulphate instead of Dextran T (500) while making a compound for ophthalmologist Dr James McAlister.
Dr McAlister ordered 10 bottles of the eye-drops for keratoconus cross-linking procedures in December 2011. Six patients left partially blind due to scarring of their eyes after the therapy later sued him.
Filed in category:
Uncategorised