Read time:

1:30min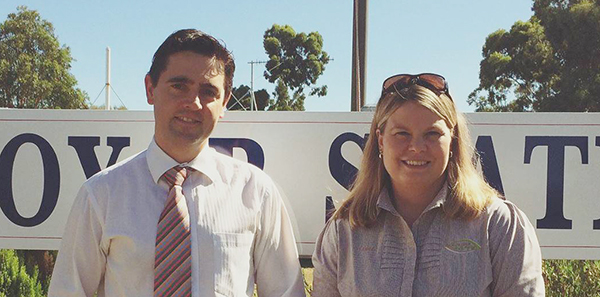 Optometrist Tom Roger and practice manager Leesa Glennie
______________________________
By Rhiannon Riches
Assistant Editor
Queensland optometrist Tom Roger has pioneered a novel concept of a school-based full-scope optometry clinic in the tiny town of Cooyar in the Darling Downs.
Cooyar and the surrounding area has a population of about 300, and Tom is owner of Eyecare Eyewear which has independent practices in Dalby, Chinchilla and Warwick.
'The Cooyar school clinic was not a vision screening but a full-scope optometry and dispensing service,' Tom said.
Nurses screen preparatory students' vision in Queensland under a $14 million primary school nurse program established last year and led by Children's Health Queensland. 'Once a parent is told their child's vision is fine because they've had their vision screened by a nurse at school, there's risk of a false negative,' Tom said.
'I've been involved in a lot of school-based vision screenings. Firstly, the time allocated per student is much greater for a full-scope service, and secondly, a vision screening is designed to detect if there is a problem and whether the patient needs to see an optometrist.'
He is experienced in providing domiciliary care in nursing homes, so it wasn't a stretch to provide a full-scope clinic at the school in Cooyar, about 65 kilometres from Dalby.
He used Survey Monkey, a free online survey software and questionnaire tool, to contact parents and obtain parental consent. 'There was no mobile phone reception at the school, so I had to manually input patients' details,' he said.
Tom tested 16 students in one day at Cooyar State School, and invited parents to sit in on their child's eye examination. 'I'm not aware of any other optometrists who have conducted a full-scope optometry and dispensing service at a school, not just a vision screening,' Tom said.
About half of the 16 students he examined needed spectacles, which he dispensed on the day with the assistance of his practice manager, Leesa Glennie, and the Medical Aids Subsidy Scheme.
The Cooyar State School principal had invited Tom to visit the school. 'Thanks to Kendall Seccombe, Cooyar's innovative principal for organising the clinic,' Tom posted on Eyecare Eyewear's Facebook page.
The idea has caught on and another school in the area has invited Tom to provide a full-scope optometry service.
Filed in category:
Uncategorised