Read time:

1:30min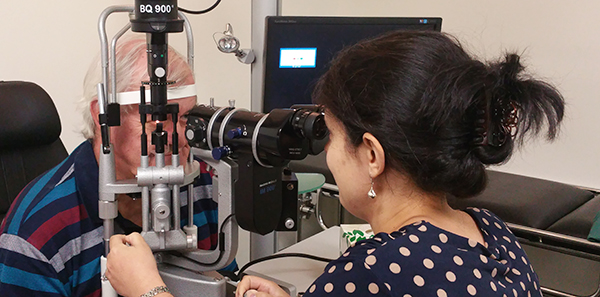 Dr Katherine Masselos (R) at the Glaucoma Management Clinic
______________________________
By Ashleigh McMillan
Journalist
The Glaucoma Management Clinic in Sydney has increased sessions from monthly to fortnightly to keep up with demand.
The clinic has had 329 visits from 108 glaucoma patients since opening in May 2015 as part of the Centre for Eye Health (CFEH).
Director of the CFEH Professor Michael Kalloniatis said the clinic was established to provide triage for services to public hospital ophthalmology departments.
'These 108 patients are examples of patients who are accessing ophthalmic care who will not be on hospital waiting lists or will not neglect their care due to financial reasons,' Professor Kalloniatis said.
Cost is an important consideration for those being referred to the clinic, with 19 per cent of patients identifying the expense of private ophthalmological care as the catalyst for their shift to the clinic.
Of the 108 referred patients, 55 per cent are on glaucoma medications, seven per cent have been referred on for laser treatment and 34 per cent continue to be monitored. Four per cent of patients have been discharged from the centre.
The clinic is beginning to see patients referred from the Prince of Wales ophthalmology department for continued care and check-ups.
Each Prince of Wales Hospital patient is assessed by the ophthalmologist at the CFEH to ensure the shared-care model will be suitable for their local optometric practitioner.
'Patients who would usually be seen at Prince of Wales Hospital ophthalmology are now in a different clinic and are not clogging up a public hospital, which means someone else can take that place in the long run. This will reduce the hospital waiting list,' Professor Kalloniatis said.
He said the clinic was still in a growth phrase, as patients were just beginning to return for their second or third appointments.
As the number of returning patients increases, the clinic hopes to run two sessions per week, one for ophthalmological assessments and one for monitoring returning patients.
'We've been co-managing patients at the CFEH with respect to diagnosis for the last six years. But we're still learning, working together with the ophthalmologist and with the optometrist here, and with the optometrists out in private practices who are referring patients to us,' Professor Kalloniatis said.
The CFEH sees on average 6,000 patients a year. More than 1,200 optometrists are registered to refer to the CFEH in New South Wales and the Australian Capital Territory, with half of them referring at least once a year.
Filed in category:
Uncategorised