Read time:

1:30min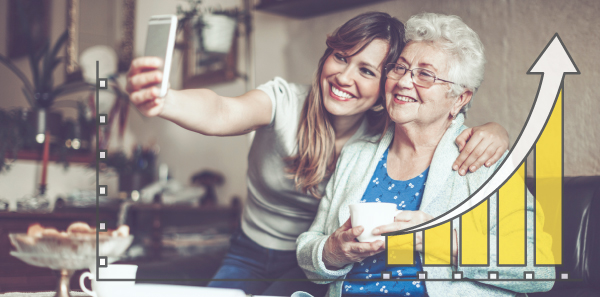 By Kerry I'Anson
National Brand and Corporate Relations Manager
Good vision for life campaign messages have reached a potential 5.5 million consumers each month since launching.
Our campaign has been delivered 1,905 times on Austereo networks in all major capital cities, excluding Darwin. When combined, these radio networks give us a potential monthly campaign exposure to more than five million people.
In October, at least 1.38 million of this total audience were aligned to our target consumer of 40-59 year old Australians. This represents an increase in October of 320,000 consumers over September.
Messages delivered via the campaign's consumer Facebook page also contributed strongly to our reach figures, thanks to our growing fan base. Since launching this page, we have attracted about 215 new fans a week which, at the end of October, enabled our 1,051 followers to extend our campaign messages by another 251,000 people. This represents an increase in October of 137,000 consumers over September.
We are also delivering a suite of paid advertisements across Facebook with links to either the consumer website or our Facebook page. In October, these advertisements had the potential to reach an additional 239,000 consumers. In the two months since the launch, our paid activities have generated 18,700 clicks on our links, giving us an average click-through-rate (CTR) of 2.55 per cent which sits above Facebook's 0.98 per cent average CTR benchmark. (Source: MarketingCharts Q1 2016)
Visits to goodvisionforlife.com.au remain strong, attracting 15,300 users in September and in October generating 29,800 page views. After the homepage, 'visiting your optometrist' and 'vision problems' remain the two most popular content sections. There have been 1,031 Find an optometrist page views, excluding searches, with views growing 16 per cent from September to October on this site.
We are also delivering solid returns on our digital display advertising, averaging 1.9 million impressions per month. These impressions, which are the number of times our advertisements are shown on a search result or page within the Google network, have motivated 7,000 people to click on our banner ads which have taken them to our consumer website. This gives us a CTR of 0.185 per cent compared to the global benchmark of 0.17 per cent and the Australian benchmark of 0.07 per cent. (Source: Smart Insights April 2016)
Our paid search marketing/pay-per-click (PPC) campaign has achieved an additional 277,000 impressions per month, resulting from search engines serving up our advertisements when consumers search on certain key words. From these impressions, 5,188 people have clicked through to our website.
Importantly our digital media buying house is constantly altering our PPC to generate a higher CTR, which is highlighted by the fact that in September our CTR for PPC was 0.066 and in October it had risen to 1.42. Global benchmark comparisons are not possible as the rate changes depending on the search methodology.
In November, our television campaign began on Channel 7 and this will also bolster our reach by at least 425,000 consumers. Each time our advertorials have aired on either The Morning Show or The Daily Edition, we have seen an immediate spike in visits to our website.
Good vision for life monthly campaign report for October 2016 
Filed in category:
Uncategorised