Read time:

1:30min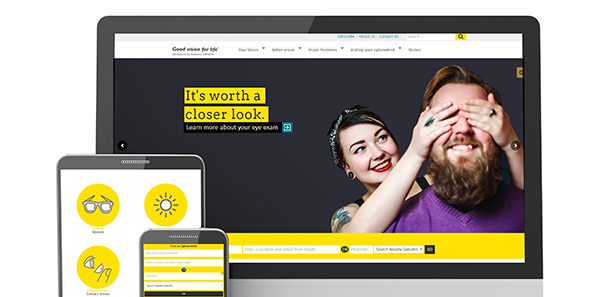 By Kerry I'Anson
National Brand and Corporate Relations Manager
With the digital component of the Good vision for life campaign launching next week, Optometry Australia is sharing with its members the campaign's creative elements.
The creative direction reflects members' comments on how they wished to be portrayed: warm, friendly and professional. It is underpinned by the key messages of the importance of prevention and early detection.
Many community health campaigns dwell on fear and while we wanted to highlight the consequences of not having routine eye examinations throughout life, our desire was to build a campaign that motivated action and not dread.
Image selection and writing style are vital to delivering this campaign objective, so we have selected images that are warm, friendly and fresh, complemented by a writing style that is contemporary and engaging.
The centrepiece of the campaign is a new consumer website goodvisionforlife.com.au which is now live. The website will be the campaign's primary call to action, supporting a wide range of eye health and vision information as well as the Find an optometrist search functionality.
Visitors to goodvisionforlife.com.au will have the opportunity to learn more about eye health by signing up for our new consumer newsletter. While much of the content on the site will remain static, the stories section will be updated frequently with consumer-friendly news and feature articles on eye health and vision management; and in time interesting stories about the technology that sits behind the lenses that the profession prescribes.
A digital campaign that goes live on 6 September and features online advertisements has been designed to drive traffic to the new website and to search for an optometrist. The advertisements reflecting the prevention and early detection messages will be placed on websites frequented by our target audience, which comprises 40-59 year-old Australians, the majority of whom have children under 18 years, are still in the workforce and have ageing parents.
A new Good vision for life Facebook page has also been launched. We encourage our members to follow and engage with it.
The final elements of the campaign will incorporate a radio campaign which kicks off at the end of September on Austero's Triple M and Fox metropolitan stations nationally, as well as a limited television campaign later in the year.
To enable members to get involved, a range of campaign materials is now available for members to download. These include social media posts, web tiles and banners, and print advertisements. A range of posters is also available to download and use immediately. Over the coming weeks, Optometry Australia will offer for a small charge a poster print-on-demand service to members.
Campaign support materials will continue to be developed for member use.
To comply with advertising standards for health professionals, Optometry Australia reminds members that testimonials cannot be used to promote a practice, procedure or optometrist. All advertising must abide by the Guidelines for Advertising Regulated Health Services.
Optometry Australia will continue to keep members informed of the campaign's impact.
Filed in category:
Uncategorised