Read time:

1:30min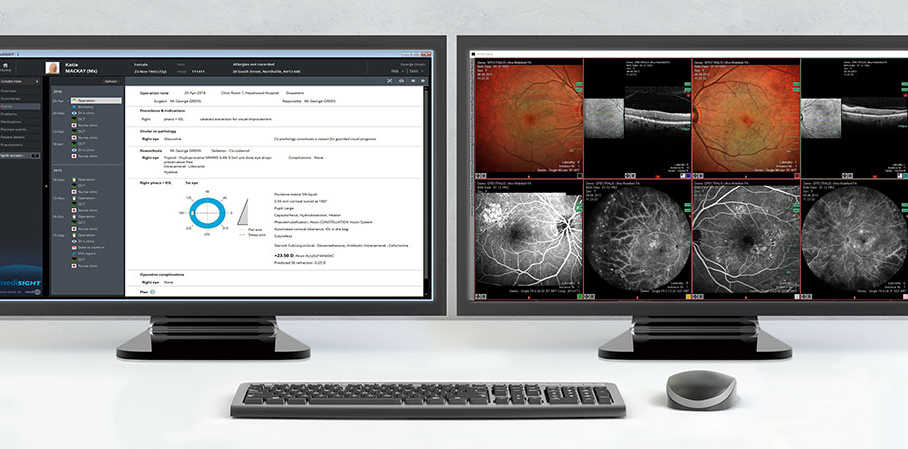 Through the acquisition of Medisoft, Heidelberg Engineering has expanded its healthcare IT portfolio with advanced electronic medical records solutions (left monitor) that complement the HEYEX Platform for Ophthalmic Image Management and Device Integration.
Image: Heidelberg Engineering
______________________________
By Helen Carter
Journalist
Heidelberg expands
Heidelberg Engineering will expand its ophthalmic healthcare IT business with the acquisition of EMR supplier, Medisoft.
Heidelberg Engineering GmbH announced on 18 April that it had acquired 100 per cent ownership of Medisoft Limited, a UK-based provider of electronic medical records software solutions for the ophthalmology market including ophthalmologists and other eye-care professionals.
Heidelberg Engineering already offers ophthalmic image management solutions and will continue focusing on its core business of diagnostic imaging platforms for eye-care professionals.
Medisoft will continue operating out of its UK headquarters.
No change in resistance
Making chloramphenicol available over the counter has not changed resistance patterns of bacteria from conjunctivitis cases, a British study has found.
The study of 8209 conjunctival swabs from adults attending a large hospital over 12 years found that resistance to chloramphenicol had remained stable since being made available over the counter.
Researchers concluded that topical chloramphenicol remained a suitable first-line treatment for bacterial conjunctivitis.
Student travel fellowships
Applications for student travel fellowships will be available in July 2017 to attend the American Academy of Optometry's annual meeting in Chicago.
The meeting will be from 11-14 October in Chicago, Illinois.
No increased vascular risk
Intravitreous administration of ranibizumab does not increase the risk of systemic vascular events in patients with diabetic macular oedema, a new analysis suggests.
The pooled analysis of 1767 patients with DME from six company-sponsored studies showed that rates of cardiovascular and cerebrovascular events were comparably low in all arms. Overall, 936 patients were treated with ranibizumab 0.5 mg, 250 with ranibizumab 0.3 mg and 581 patents with sham/laser.
However, researchers said it was uncertain whether this conclusion applied to patients with DME at high risk for vascular disease including those with a history of stroke or myocardial infarction who were not included in the trials.
New dry eye treatment
America's Food and Drug Administration has approved a five per cent ophthalmic solution of lifitegrast (Xiidra) for treatment of the signs and symptoms of dry eye disease.
It is the first lymphocyte function-associated antigen-1 (LFA-1) antagonist to be approved for any indication in the US.
Chaperone report
A report has been released on using chaperones to protect patients attending health practitioners who are being investigated for allegations of sexual misconduct.
The Medical Board of Australia and the Australian Health Practitioner Regulation Agency released the Independent review of the use of chaperones to protect patients in Australia and accepted all recommendations including strengthening and renaming APHRA's chaperone protocol to the Practice monitoring protocol.
The board and AHPRA commissioned the review in August 2016 to consider whether, and in what circumstances, it is appropriate to impose a chaperone condition on the registration of a health practitioner to protect patients while allegations of sexual misconduct are investigated.
The report recommends regulatory reform to no longer use chaperones as an interim restriction while sexual misconduct is being investigated, establishing a team within AHPRA working with the medical board to improve handling of sexual misconduct complaints and strengthening monitoring and providing more information to patients in exceptional cases where chaperone conditions exist.
Filed in category:
Uncategorised