Read time:

1:30min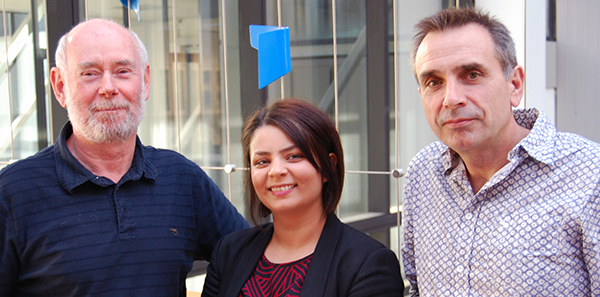 Associate Professor Trevor Sherwin (R) with project researchers University of Auckland Professor in Ophthalmology Colin Green and Research Fellow in Ophthalmology, Dr Carol Greene   Photo: University of Auckland
______________________________
By Helen Carter
Journalist
UPDATE January 2018 – Optometry Australia has not received any further updates about this treatment at this stage. For more information about, and support for, keratoconus, contact Keratoconus Australia.
New Zealand researchers are trying to establish whether an eye-drop can permanently reshape and stabilise the cornea to provide a potential treatment for keratoconus and blinding corneal disease.
The University of Auckland Department of Ophthalmology team has developed an innovative tissue engineering approach using an eye-drop solution containing very low levels of a combination steroid and growth factor to reshape and stabilise the cornea in a controlled manner.
Lead researcher Associate Professor Trevor Sherwin said successful trials in human tissue in vitro and rodent trials in vivo had been completed, and an optometrist had been recruited to conduct pachymetry, keratometry and topography analyses on sheep trials just starting.
'The steroid and growth factor have been previously used in the human eye individually but not in combination so we believe we will be able to progress regulatory approval for clinical trials in humans relatively smoothly,' he said.
The treatment might eventually involve a reshaping contact lens with the eye-drop treatment incorporated into it.
Optometrists' role
'Treatment of earlier stage patients could easily be done by therapeutically endorsed optometrists and the monitoring of progress in halting of the disease and restoration of corneal shape is well within the scope of practice of the appropriately trained therapeutic optometrist,' Professor Sherwin said.
The team has just received $150,000 in government funding over 24 months to continue its research.
Professor Sherwin is Associate Dean (Postgraduate) in the Faculty of Medical and Health Sciences. He has a PhD in cell biology and specialises in cornea research including cell reprogramming, ocular stem cells, corneal engineering and the pathogenesis of corneal dystrophies.
He said the research would lead to benefits for people who required treatment for conditions resulting from blinding corneal eye pathology such as keratoconus but the technology was also expandable to multiple tissue regeneration indications including myopia.
'On completion, the team will translate the technology to biotechnology and pharmaceutical companies in the ocular care market,' Professor Sherwin said.
'Using specific differentiation factors we were able to induce expression of type II collagen. We particularly targeted this collagen as it is expressed in the embryonic cornea during development but is slowly replaced by type I collagen in the fully developed cornea. Thus expression of type II collagen essentially returns the cornea to a developmental stage that was last experienced in the embryo.
Altering corneas
'We originally showed that unaffected human corneal tissue in a dish could be thickened and stiffened but retained the optical properties of a normal cornea. We also treated human keratoconic corneas in vitro and they thicken and stiffen without altering the optical properties.
'We then tested if the corneas of a living animal could be changed by our treatment and used rodent models to show that again we could alter thickness and stiffness without altering the optical properties,' he said.
The team then showed it could induce and cease the treatment, which it believes will allow them to control the extent of thickening and stiffening for each patient.
'What we want to show in the sheep trial is that we can reshape a human-sized cornea prior to thickening and stiffening it so that not only can we halt the progression of keratoconus but we can also restore corneal shape,' Professor Sherwin said.
'Our ultimate aim is to regenerate the cornea in vivo in both form and function.'
After successful trials in sheep, the team hopes to apply for human clinical trials.
'Initially these would target end-stage patients who are facing corneal transplantation to thicken, stabilise and reshape the cornea to avoid a corneal transplant,' he said.
'Success at this stage would lead to treating keratoconic patients earlier with a view to regenerating their corneas and restoring a functional shape via an orthokeratology-like lens prior to application of the treatment.'
Professor Sherwin said the treatment might reduce the demand for donor corneas. In New Zealand about half of corneal transplants are for end-stage keratoconus patients. This treatment could also benefit other patients with other eye conditions awaiting corneal transplant, he said.
Myopia
If the treatment proved efficacious and safe in keratoconic patients, the team would aim to target myopia.
'Our treatment could reshape and stabilise the cornea without the need for removal of stromal tissue by laser. This would initially target adult patients who require permanent correction and would aim to replace contact lenses or glasses,' he said.
'Initial experiments indicate that a three-week treatment regime may be enough to permanently reshape the cornea. Again success in this area could lead to treating children who are showing myopic progression early enough to prevent that progression.'
The project researchers work alongside ophthalmologists and optometrists in the Department of Ophthalmology and the New Zealand National Eye Centre at the University of Auckland.
Filed in category:
Uncategorised