Read time:

1:30min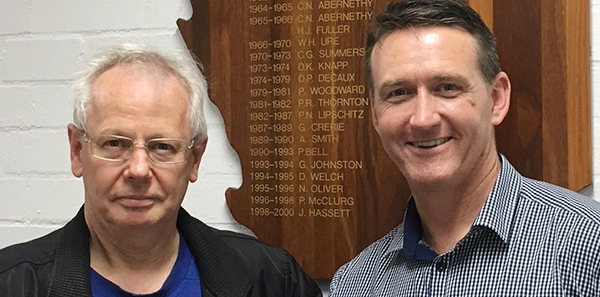 Dr Robert Howie (L) and Darrell Baker
______________________________
By Helen Carter
Journalist
Perth optometrist Dr Robert Howie is the new president of Optometry Western Australia, having succeeded long-term outgoing president Darrell Baker.
Dr Howie took over leadership at the Optometry WA annual general meeting on 25 October. Mr Baker, who became president in 2009, will remain a director on the board. Other than the presidency, the board remains unchanged with treasurer Geoff Smith and directors Darrell Baker, Hui-Lin Chan, Gary Crerie, Simon Hogan, David Hsu and Roxanne Medhora.
Melbourne-born and educated, Dr Howie moved to Perth a year after graduating in optometry and has practised there for three and a half decades. He has been a member of Optometry WA for the entire time and a director on the board for five years.
'Rob has been a WA director since 2012 and is a committed optometrist, working for OPSM Dianella and in corporate optometry for many years,' Optometry WA CEO Tony Martella said.
'Rob has recently been actively involved with our CPD Committee. For a year or so he has introduced our monthly CPD evenings for Optometry WA members at the Lions Eye Institute. At these evenings our members hear talks by ophthalmologists and network.
'He is committed to the profession and the role optometry plays in the community, as well as having a strong belief in the role the organisation can and does play among the profession,' he said.
'We thank Darrell for his long and committed service and look forward to Rob's contribution.'
Growth in membership
'I've thoroughly enjoyed my time as president, and wish Rob all the best in this rewarding role. As a state organisation, I'm pleased to look back and have witnessed our success in servicing our local members,' Mr Baker said.
'This is reflected in the progressive growth in membership numbers, levelling out in recent times, and also reflected in the engagement of those members with our local office and their support of our many CPD events.
'We hold a unique state conference, WAVE, that has a reputation for innovation and relevance, and on a governance level, I'm very pleased to see our board composition move toward a younger and more representative one.'
Dr Howie completed a science degree followed by an optometry degree at the University of Melbourne, which he finished in 1980. After graduating he worked for a year for optometrist Rebecca Shavitsky on the sixth floor of Myer in Melbourne.
The long daily commute from the township of Healesville and the attraction of WA's warmer climate provided impetus for his move to the west to practise at Laubman and Pank in Dianella, seven kilometres from Perth. Apart from practising there, he assists with management.
'I've been at the same practice for 36 years, and in 2001 it was taken over by OPSM,' Dr Howie said.
'Some of the changes I've witnessed include fundus photography, the Optos scanning laser, improvements in soft contact lens design, materials and care solutions, disposable contact lenses and especially disposable lenses which help with dry eye and all day comfort.
'Also glaucoma treatments have improved with better drugs and laser treatment, and treatment of retinal fluid leakage has vastly improved with anti-VEGF injections.'
Ophthalmology partners
Dr Howie said working relationships between optometrists and ophthalmologists had improved significantly in Perth over recent decades, due in part to the hard work of Tony Martella and the organisation in WA.
'Optometrists and ophthalmologist in Western Australia all work together, seeing each other as friends and colleagues. The ability to communicate images has resulted in more accurate referrals and better triaging of subsequent ophthalmology appointments and treatments,' Dr Howie said.
'When I first started practising, there was only one ophthalmology group passionately working with optometrists. Now the relationship between the professions has improved greatly, partly due to generational change, involving ophthalmologists with our networking and education events and the substantial amount of work done by ophthalmologists, optometrists and Optometry WA in nurturing relationships.
'Ophthalmologists value our referrals because they are easier to work with than referrals from GPs. Also ophthalmologists are inundated with work so they like to share the load, especially since therapeutic training means we can help them so much more now.'
In 2011 Dr Howie gained his therapeutics endorsement after studying in Perth with University of New South Wales lecturers who travelled to WA to deliver the course, arranged by Optometry WA.
'We need to prove our worth to stay within Medicare. We need to provide value to members, provide value for money, keep up with what members are doing and listen to what they say,' he said.
Dr Howie recognises that the demographic of the profession is changing towards more part-time and more female practitioners.
'We have to embrace and work with these changes so we stay relevant and valued by all members of our profession,' he said.
Filed in category:
Uncategorised