Read time:

1:30min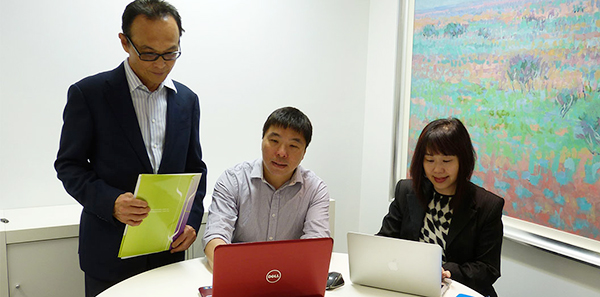 CocoNET Technologies founder Eddie Fan (centre) with Boon Lim and Aimee Chow
______________________________
By Rhiannon Riches
Assistant Editor
In collaboration with the state divisions, Optometry Australia is upgrading its membership database over the next three months to improve the services it provides to members.
The IT project involves replacing the existing SAP Business One membership database and in due course, the current network of seven websites that incorporate the national organisation and all six state organisations.
The upgrade to cloud-based technology will enhance the security of members' data and stabilise the database.
The project will be co-ordinated by a new committee, the IT Project Group, comprising representatives from the six state organisations and Optometry Australia national office.
CEO Genevieve Quilty says Optometry Australia has secured the services of two expert IT consultants, Fusoniq and CocoNET Technologies, to partner with the organisations in the delivery of this latest IT project.
'Fusoniq will be responsible for redeveloping our website including our News and Features page. Fusoniq director and engineer Michael Fu was the lead consultant on our Good Vision for Life website project,' Ms Quilty said. 'We have partnered with Fusoniq over many years and are looking forward to this element of the project.
'Our priority is the replacement of the membership database, which has commenced. CocoNET Technologies will be responsible for developing our new membership management system. The solution, the 360 Membership system, is being used by a number of member-based associations. Specific modules will also be developed for events, CPD points, our Online Store and classifieds,' she said.
360 Membership is a cloud-based service that will provide 24/7 uninterrupted access to the 360 Membership system from any location. The system is also PCI (Payment card industry) compliant and utilises data encryption technologies.
CocoNET will maintain the servers, update the software and back-up Optometry Australia's data in a secure hosting facility based in Australia, eliminating potentially expensive site visits by IT staff for software upgrades, bug fixes or routine housekeeping functions.
CocoNET is a Sydney-based company that was established in 1996. Its founder Eddie Fan, manager Boon Lim and project manager Aimee Chow have been working with Optometry Australia's IT Project Group to replace the existing SAP Business One membership database with the 360 Membership system.
Changes to member profile 
As part of the preparation, Optometry Australia has been required to disable members' ability to update their details directly in the Member Hub.
Member access was disabled on 11 November and a message to members comes up when they log in after this time.
'While we are planning for this upgrade, we are asking all members to email changes to their member profile to national@optometry.org.au,' Ms Quilty said. 'This email portal will be accessed daily and changes made to the database on members' behalf. We will advise members when we have made their changes. We hope that interim arrangement is not too inconvenient to members.'
Filed in category:
Uncategorised