Read time:

1:30min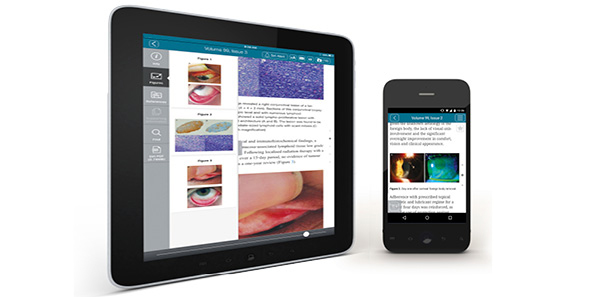 By Sandra Shaw
National Communications Manager
An Android app is now available for members to access Clinical and Experimental Optometry.
The app is easy to download and requires only the Optometry Australia member login.
It joins its stablemate, the journal's iOS app, which has been available since 2014.
Optometrist Tim Martin has installed the Android app on his smartphone and tablet. 'Both are quite easy to use and navigate,' he said. 'The login process was also much easier, being able to use my Optometry Australia username and password rather than Wiley details.'
Mr Martin practises in Narre Warren, a suburb south-east of Melbourne.
Members can read Clinical and Experimental Optometry wherever and whenever they like from their tablets or smartphones, with full access to the journal.
The apps for Android and Apple devices provide a convenient browsing and reading experience, and enable members to keep up to date faster with important developments in optometry and vision science. The apps offer many benefits:
Be notified when new issues are available
Download articles and issues for offline perusal
Save your favourite articles for quick and easy access
Browse issues before you decide to download them
Stay current with the latest articles through Early View
Share articles with colleagues
Open access to the journal is a benefit of membership of Optometry Australia. Visit the Optometry Australia website for the journal App Download Instructions.
Access options
Optometry Australia understands that ease of access and convenience are important for members to read the journal. Members now have the choice of accessing the journal's articles on the Wiley Online Library website or on iOS and Android apps for tablets and smartphones.
Members can go straight to Wiley's Clinical and Experimental Optometry home page, login, and have immediate open access to articles. They first need to complete a two-step process: Step 1 to Register and Step 2 to Affiliate on the Wiley site.
Registration and Affiliation are a one-time process. Once a member has affiliated, they will not need to use their Membership Number and Access Code again. The website will remember their login every time.
Follow these instructions to Register and Affiliate on the Wiley website.
News stories and contents alert emails direct members to interesting articles in the journal, with links providing easy and direct access to the journal website.
Student access
Optometry students can access the journal through the apps using their university's subscription. They should download the app from the iTunes or Google Play store, for iOS and Android, respectively; open the app and go to Settings.
At the top of the screen is a 'Get access' button which when tapped offers several options. Students should select the middle button: 'I use the network at my Workplace or University'. This brings up another screen with instructions to follow.
Students need to be logged into their university's network when they set up access to the app. The access will need to be refreshed every three months.
Read Clinical and Experimental Optometry on the Wiley Online Library.
Members requiring assistance can contact the journal administrator Nicholas Walker, n.walker@optometry.org.au or 03 9668 8513.
Filed in category:
Uncategorised